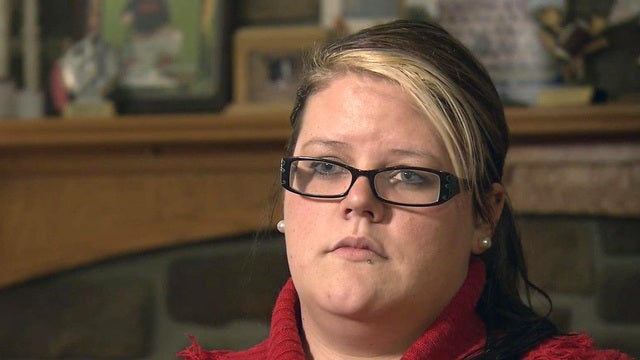 North Carolina woman Jamie Cole fights pregnancy discrimination
Mother-of-three Jamie Cole had a high-risk pregnancy last year. The 27-year-old certified nursing assistant was told by her doctor to stop lifting patients at the nursing home where she worked.
Now Cole has said her career was derailed because of her pregnancy, reports CBS News correspondent Mark Strassmann.
Cole's case is similar to one involving a pregnant UPS driver who said she lost her job because she could no longer lift heavy packages. The U.S. Supreme Court is reviewing that case, and its decision could affect millions of working women across the country. The justices will decide if federal anti-discrimination law offers enough protection during pregnancy.
"He just didn't want me lifting in the last trimester because it could've put me into pre-term labor; anything could have happened," Cole said.
Cole asked for lighter duties at work. Instead, she claims her employer, the Brain Center for Health and Rehabilitation near Asheville, stopped giving her shifts.
"I was hurt really bad," Cole said. "I had two other kids at home. I have a mortgage, I have car payments, I have bills. It took a lot away from our family. My kids don't deserve that."
The 1978 federal Pregnancy Discrimination Act guarantees pregnant employees the same rights as other employees with short-term disabilities.
Between 1997 and 2011, pregnancy-related discrimination complaints with the U.S. Equal Employment Opportunity Commission (EEOC) jumped 43 percent.
"She shouldn't have been forced to choose between following her doctor's orders and coming to work," American Civil Liberties Union attorney Ariela Migdal said.
Migdal represents Cole and other pregnant workers.
"When women are pushed out during their pregnancies, it sets them back on an income gap and puts them into financial insecurity," Migdal said.
Only four states offer no additional legal protection for pregnant employees. One of them is North Carolina, where Cole lives and works.
Some, like employment attorney Seth Berenzweig, believe federal law offers enough protection.
"Since the [Pregnancy Discrimination Act] really adequately provides protection, and really it does it pretty aggressively, even when a state like North Carolina doesn't tee up that legislation, these employees are still provided considerable protection," Berenzweig said.
After Cole had her third child, she found work at another nursing home.
In a statement, the Brain Center in North Carolina told CBS News its "goal is to meet our employees' employment needs... We believe we have done so in Ms. Cole's case; however, we continue to review our policies, procedures and practices as the employment laws change."
Cole is seeking back wages and compensation and her complaint with the EEOC is pending.
She said it has been worth fighting her case to help other women in the future.
"I have a little, little girl. I have nieces. I don't want them to all go through that," she said
As a working mother, Cole is the family breadwinner -- like 40 percent of American households with children.
Thanks for reading CBS NEWS.
Create your free account or log in
for more features.