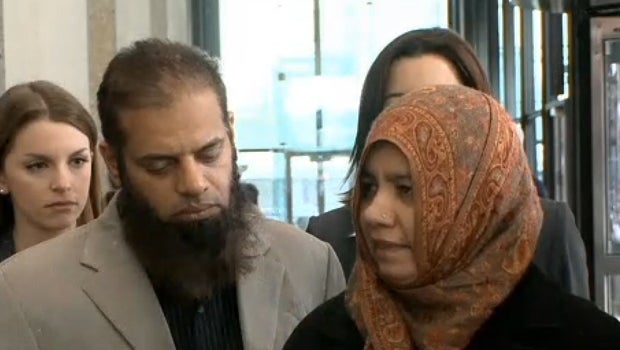 Mother of American teen tells ISIS: "Leave our children alone!"
CHICAGO -- The suburban Chicago mother of a 19-year-old American facing a terrorist charge for trying to join Islamic State of Iraq and Syria (ISIS) militants accused the group on Tuesday of brainwashing youths into joining their ranks via social media. And she declared, "Leave our children alone!"
Mohammed Hamzah Khan's mother cried softly as she read her statement in a federal courthouse lobby in Chicago. Minutes earlier, her son appeared in orange jail garb in an upstairs courtroom to plead not guilty to attempting to provide material support to a foreign terrorist group.
Zarine Khan, flanked by her husband, Shafi, said her family felt compelled to speak out in the wake of "unspeakable acts of horror" in Paris last week that killed 17. One gunman reportedly pledged allegiance to ISIS, while two others cited al-Qaida.
"The venom spewed by these groups, and the violence committed by them find no support in the Koran, and are completely at odds with our Islamic faith," Zarine Khan said, CBS Chicago reported. "We condemn this violence in the strongest possible terms."
About a dozen Americans were believed to be fighting in Syria, while more than 100 have either been arrested on their way to Syria or went and came back, FBI Director James Comey said last fall.
Mohammed Khan, who lived with his parents in a middle-class Bolingbrook neighborhood, was arrested in October as he sought to board an international flight in Chicago on the first leg of a plan to sneak into Syria to join ISIS militants, court documents allege.
Weeks later, prosecutors revealed that Khan's 17-year-old sister and 16-year-old brother were in on the plot and had been detained at the airport with Khan. According to court documents, the girl once used the Twitter handle DeathIsTheeNear to send a favorable tweet about a video of beheadings -- placing a smiley emoticon in the text. The younger siblings haven't been charged.
Investigators later found a three-page letter in Khan's bedroom in which he apologized to his parents for leaving so abruptly. But Khan, who studied at the Roman Catholic Benedictine University in Illinois for a year, added he felt obliged to go from disgust with Western society and from anger over U.S.-backed bombing of ISIS fighters, court filings alleged.
"This nation is openly against Islam and Muslims," he wrote.
Adept propagandists managed to woo Mohammed Khan into falsely believing they had established a legitimate Islamic government in parts of Syria and Iraq, Khan's lawyer, Thomas Durkin, told reporters Tuesday.
"He's a very devout, committed, thoughtful kid who bought into some very slick advertising," Durkin said. He has said there is no evidence Khan aspired to do anything other than live in territory controlled by ISIS.
Another suburban Chicago youth, Abdella Tounisi, then 18, pleaded not guilty in 2013 to a seeking to provide material support to a foreign terrorist group -- in his case, al-Qaida-affiliated Jabhat al-Nusra in Syria. He also allegedly searched online for information about joining up.
"We condemn the brutal tactics of ISIS and groups like it, and we condemn the brainwashing and recruiting of children through the use of social media and Internet," Zarine Khan said Tuesday.
Khan's mother and father, originally from India, are both naturalized U.S. citizens. Khan was born in the Chicago area. His parents did not know of the plans to journey to Syria until their son's arrest, Durkin has said.
Khan's mother ended her statement Tuesday before a dozen reporters and TV cameras by directly addressing ISIS and its leader, Abu Bakr al-Baghdadi.
"We have a message for ISIS, Mr. Baghdadi and his fellow social media recruiters," she said, raising her voice. "Leave our children alone!"
Thanks for reading CBS NEWS.
Create your free account or log in
for more features.