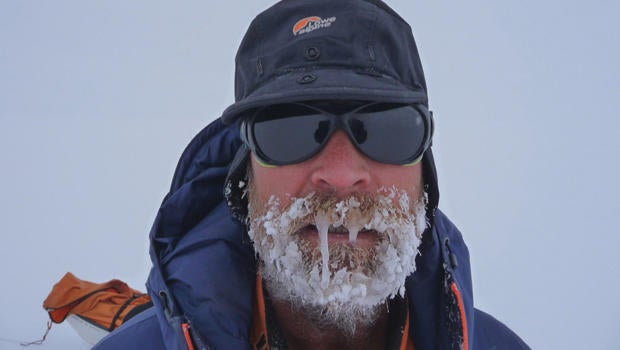 "The White Darkness": One explorer's obsession with Antarctica
It may be the most desolate and forbidding landscape on the planet. Before he tried to cross Antarctica alone in 2015, British explorer Henry Worsley got some advice: "Don't ever think you're going to conquer the Pole," he recalled. "If you're really lucky, the Antarctic will allow you in for a snapshot. But don't ever think you're going to beat it."
Treking the vast frozen continent, Worsely would say, was like being "an atom on an ice cube."
Journalist David Grann chronicles Worsley's expedition in his new book "The White Darkness" (Doubleday). "It's important to say nobody had even attempted this before," he said.
Worsley's inspiration was another British explorer whom he revered: Ernest Shackleton, honored on the walls of the Explorers Club in New York
Shackleton led three expeditions to Antarctica in the early 1900s. Worsley, a descendant of one of Shackleton's crew, became obsessed with his adventures.
"I really believe very strongly in marriage not stopping individual dreams," said his wife, Joanna Worsley.
She and their children, Max and Alicia, would write messages on Henry's skis before his trips. Joanna's message was encouraging ("Come back to me safely, my darling"), as was Max's ("Push it fat ass!").
"I really believe very strongly in marriage not stopping individual dreams," she told Anthony Mason, "and I didn't worry about him, ever."
Why not? "He was invincible, Henry."
He had been an officer in the elite British commando unit, the SAS.
Worsley made his first trip to the Antarctic in 2008 as part of a three-man team re-enacting Shackleton's journey to the South Pole.
The expedition meant the world to Henry, said Joanna: "His face said it all. You don't often see someone quite that happy. He really was."
"He wasn't expecting to go back," said Mason.
"I was expecting him to go back."
"Why?"
"The Antarctic seems to grip people. It seems to grip them and not let go. And it had got him."
In 2015, Worsley planned a trip no one had ever attempted: crossing one thousand miles of Antarctica solo and unsupported.
On November 13, 2015, in a satellite phone message, the 55-year-old explorer announced he was off, hauling a 325-pound sled of food and supplies.
"Lots of familiar noises returned as I set off. The squeak of the ski poles driving into the snow. And then when you stop, the unbelievable silence..."
Almost from the beginning, he ran into problems. "Everything seemed to go wrong," said Grann. "He found himself in one white-out after another. He was pinned down in his tent."
On Day 25 he messaged: "Miserable, mind-numbing monotony is how I would describe my day."
But Worsely pressed on. And after 51 days, 656 miles, he reached the South Pole. He sent a postcard home from the U.S. research station there.
Joanna read it: "I will never forget what I owe you. Onwards."
But in satellite calls she could sense in his voice something was wrong. "He got very upset, he cried a lot. He had never done that."
She urged him to abandon his expedition and call to be airlifted out: "And he just said, 'I know I'm not gonna make it. I will call them. But please let me make the call.'"
On Day 70, just 30 miles shy of making history, he finally did. Flown to a medical station, he called Joanna to report he was safe and having a cup of tea.

It was the last time she talked with him.
Doctors soon realized Worsley had bacterial peritonitis, an infection off the inner lining wall of the tissue of the abdomen. "He went into septic shock, and all his organs began to fail," said Grann.
Two days later, Henry Worsley died in surgery. He was posthumously awarded Britain's Polar Medal, also given to his hero, Shackleton.
His expedition flag, a silk flag all in tatters, was brought home to Joanna, who, in time, went to the cold land that had claimed her husband. "I wanted to experience the Antarctic," she said. However, she said, "I didn't learn what he loved, Anthony, I didn't."
"But you needed to be there?"
"But I needed to be there."
In her grief, Joanna Worsley had doubted her husband's love: "I was worried that he loved the Antarctic more. You stay in a black fog of grief for a year. And when I came a little bit out of that black fog, I knew that I didn't believe that."
"And you knew that how?" Mason asked.
"Because if he had loved the Antarctic more than us he would have never made the call."
She described a photograph she saw only after he'd died, in which he had written in the snow, "I am the Antarctic."
"It took my breath away," she replied. "And I thought, 'Gosh, yes. He is the Antarctic. He is the Antarctic.'"

For more info:

Story produced by Jason Sacca and Mikaela Bufano.
Thanks for reading CBS NEWS.
Create your free account or log in
for more features.