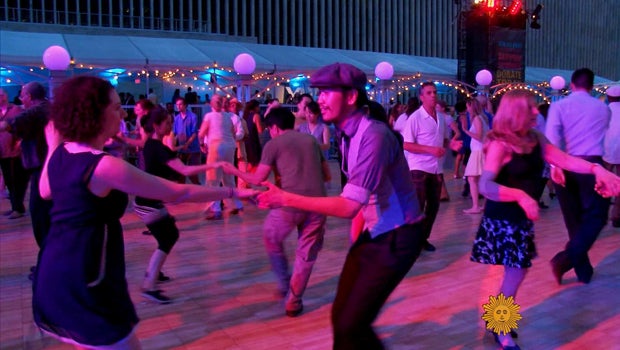 ​The timeless allure of swing dancing
We just had to give summer one last whirl. Michelle Miller leads the way:
Dancing under the stars can be enchanting, romantic and timeless.
Every year in parks across the country, bands strike up tunes from a by-gone era, and dancers of all ages start to swing.
"It's the greatest social dance in the world, because everybody around the world can swing," said Norma Miller, a member of the original swing generation. At age 94, she still travels the world living up to her title as the "Queen of Swing."
This year, Miller was a distinguished guest at New York's annual dance festival, called "Midsummer Night Swing."
"What better place, New York and Lincoln Center?" she said. "You give us the prestige, we give you the dance!"
It's a dance that enthusiasts Heidi Rosenau and her husband, Joe, have mastered, complete with vintage outfits.
"It's as fun as it looks," said Heidi. "You see us smiling when we do it, it's really that fun."
"It's infectious," said Michelle Miller.
"I mean, can you stand to this music? Or do you have to move? I have to move!" said Heidi.
Whether it's the infectious music or the joy of movement, from Lincoln Center to San Francisco, Grand Rapids and Chicago, across the country swing is catching on with a new generation.
The styles, says Norma Miller, are as varied as the locations.
"You've got West Coast swing, then you've got the Carolina shag. Then you got the Balboa shag, which they do in California," she said.
Whatever the style, as the song goes, it don't mean a thing if it ain't got that swing.
Growing up in Harlem during the 1920s and '30s, Norma Miller was there at the beginning.
"Everybody came to where we were," she said. "So it was not unusual for me to see Duke Ellington, I saw Ella Fitzgerald when she started. Jazz changed the whole concept of what people thought of America. And then here came a dance" -- a dance tailored to the high-octane sounds of Count Basie, Glenn Miller and Chick Webb.
"You could go out, for 50 or 75 cents you buy a ticket to come into the Savoy, and the ladies got in free," said Norma.
Norma Miller began performing professionally as a teenager. Her specialty: the Lindy hop, named after Charles Lindbergh's famous 1927 flight, where he "hopped" across the Atlantic.
The dance features high energy and aerials. It was created by swing royalty, Frankie Manning.
"So many of the steps he introduced caught on, and they're still done today," said Cynthia Millman, a swing expert and co-author of Frankie Manning's autobiography.
"These were the greatest dancers of this type of dance in the world," she said. "In fact they traveled the world showing [the Lindy Hop], and they were in films."
Films like the Marx Brothers' "A Day at the Races," in which 17-year-old Norma Miller lit up the screen; and "Hellzapoppin'," in which she wore a white chef's hat and danced her heart out front and center.

To watch the extended Lindy hop dance sequence from the film "Hellzapoppin'" (1941), click on the video player below.
Michelle Miller said, "Some say that was the best routine of swing dance of all time."
"I think everybody would probably agree with that," said Millman. "I call it Frankie's masterpiece. I said, 'So is that, like, the best you ever did, that routine?' And he said, 'No. We were so tired, we'd been filming for three days. We did it so much better so many other times.' But it gives you an idea of how amazing they were, because that is just spectacular."
And hard to resist.

Norma Miller teamed up with Frankie Manning's son, Chazz Young, to teach Michelle Miller a few moves, including that legendary aerial. (Watch video at left.)
And it all paid off.
Proof that a dance nearly a century old still has the power to make you swing.
"You see people come off the dance floor, they're smiling or they're laughing," said Norma Miller. "It's not too many things that do that like swing dance. And I'm so proud of that."
For more info:
Thanks for reading CBS NEWS.
Create your free account or log in
for more features.