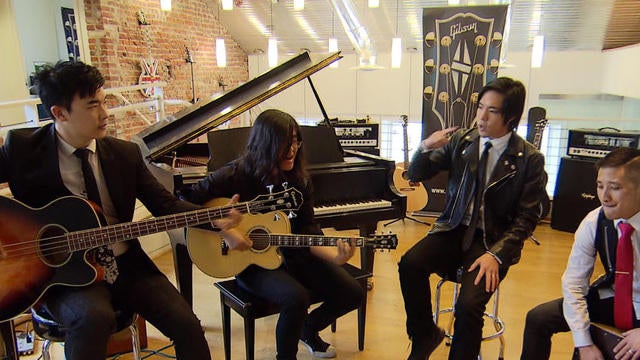 Rock band The Slants battles for its name at Supreme Court
An Oregon rock band is heading to the Supreme Court Wednesday to fight for its name. The band has tried to trademark its name for more than six years. But the government says it could be offensive.
In 2006, Simon Tam formed an all-Asian rock band called The Slants, hoping to inspire and empower young Asian-Americans who he felt were underrepresented in the entertainment industry. Tam saw his new band name as something to be proud of; the government disagreed, reports CBS News correspondent Jan Crawford.

They call their music "Chinatown dance rock," and they've traveled the world, reaching out to Asian-American communities and even entertaining U.S. troops overseas. But to the U.S. Patent and Trademark Office, their name is racist.
"Almost a quarter of my life has been spent in court over this name because I decided to name a band called The Slants," said Tam. The 35-year-old founded the all-Asian band in 2006, and the name was a key part of the group's message.
"We have an outdated, obscure racial slur that we want to flip on its head and turn it into something powerful," Tam said. "I was ridiculed as a kid for having slanted eyes. Now I'm saying it's something I can be proud of, not something to be ashamed of."
"To the trademark office, you're what?" Crawford asked.
"To the trademark office, we're racist," Tam said.
The government refused to give Tam a trademark and in its Supreme Court brief argues: "Nothing in the First Amendment requires Congress to encourage the use of racial slurs."
"There are thousands of really gross trademarks out there, and no one thinks the government is associating with or endorsing those vulgar, kind of gross, sometimes silly trademarks," said First Amendment lawyer Megan Brown.
Brown points to other bands that refer to race in their name whose trademarks have been approved -- like NWA and Uncle Kracker – as proof the government's definition of what may be offensive is inconsistent.
"Lots of people are uncomfortable with the government sort of selectively and subjectively trying to make these judgment calls about what the legal standard is and who's going to be offended and how offended," Brown said.
The case could have far-ranging implications. Using the same reasoning in 2014, the government canceled trademark protection for the Washington Redskins.
For Tam and The Slants, it's now up to the Supreme Court.
"I'm hoping that after Wednesday we can go back to being a band -- not the band that's fighting at the Supreme Court or the band that's been fighting the trademark office, but the band who releases music and can communicate a positive message for their community," Tam said.
Tam said if he loses, the band will not change its name. But without a trademark, they've had a hard time signing with a record label and protecting their brand from impostors who disagree with their message.
Thanks for reading CBS NEWS.
Create your free account or log in
for more features.