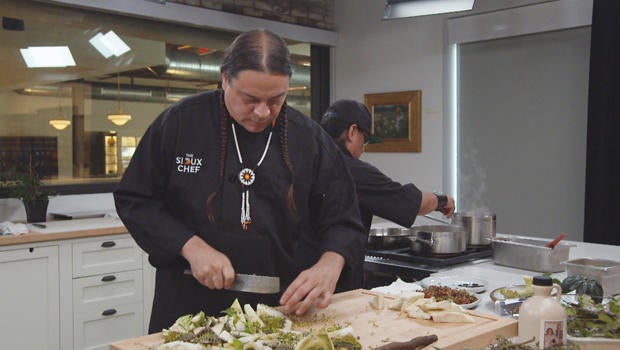 "You can throw a dart at a map of North America, and wherever it lands, there's gonna be culture, food, people and flavor to play with right there, and so many stories to tell you can write a book," said chef Sean Sherman. And he's done just that.
For Sherman, who belongs to the Oglala Lakota Tribe, foraging in the Minnesota countryside is like a spiritual return to a time when Native Americans lived on the plants and animals that grew wild across a country that was theirs.
Sherman is on a mission to celebrate and showcase native cuisine and give the past, and a future.
He spent a couple of decades cooking in fancy kitchens around Minneapolis, before deciding to apply what he knew to native foods. His book, "The Sioux Chef's Indigenous Kitchen," won this year's James Beard Award for Best American Cookbook.
The Sioux Chef is the name of the catering company he started in 2014.
"It's fun to put artistry on the plates and make food look pretty, but it's really about having these food pieces tell their story," Sherman told correspondent Martha Teichner. "'Cause we think about our grandparents and great-grandparents and the foods they ate, and for a lot of Native American peoples who were removed from their food ways, they started to lose those stories."
European settlers seized their lands, their bison were killed, and poverty corrupted their diet.
"If you look at the epidemics that we have and health crisis on native reservations, you see immense amount of type-2 diabetes, obesity, heart disease, all these things based off a bad diet," Sherman said.
Which is why Sherman is taking his recipes for healthy traditional food to reservations, including the Prairie Island Indian Community, southeast of Minneapolis along the Mississippi River, home to members of the Dakota Nation.
Enlisting kids from the tribe to help him gather and cook foods their ancestors ate may not look like a political statement, but it is.
Sherman said he is "decolonizing" their diet."
The dishes he served at Prairie Island Indian Community? "Tonight we have cedar braised bison with wild aronia berries that we harvested."
Not on the menu: beef, chicken, refined sugar, dairy products, wheat flour – foods brought by European settlers.
Sean Sherman's goal is not just to produce a healthy meal, but to feed the soul of a nation...
"Having this chance to impact communities, all of my being poured into it, you know, I really feel it," he said, "and I am gaining a voice that we're able to share to help others have a voice. That feels great."

Recipes from The Sioux Chef:

For more info:

Story produced by David Rothman.

For more recipes from "Sunday Morning" visit the 2018 "Food Issue" Recipe Index
Thanks for reading CBS NEWS.
Create your free account or log in
for more features.