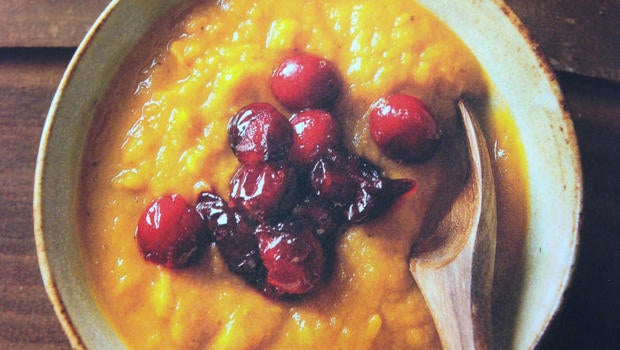 Recipe: Squash and Apple Soup with Fresh Cranberry Sauce
A Native American recipe from Sean Sherman, author of "The Sioux Chef's Indigenous Kitchen," winner of the 2018 James Beard Foundation Book Award for Best American Cookbook.
Sherman says, "This rich, flavorful soup has a creamy texture without cream. We use the small, tart crab apples that grow in backyards and along the borders of farm fields."
Squash and Apple Soup with Fresh Cranberry Sauce
(Wagmú na Tȟaspáŋ Waháŋpi nakúŋ Watȟókeča T'áǧa Yužápi)
Serves 4 to 6
Ingredients:
2 Tablespoons sunflower oil
1 wild onion, chopped, or ¼ cup chopped shallot
2 pounds winter squash, seeded, peeled, and cut into 1-inch cubes
1 tart apple, cored and chopped
1 cup cider
3 cups Corn Stock (see below) or vegetable stock
1 Tablespoon maple syrup or more to taste
Salt to taste
Sumac to taste
Cranberry Sauce (see below) or chopped fresh cranberries for garnish
Instructions:
Heat the oil in a deep, heavy saucepan over medium heat and sauté the onion, squash, and apple until the onion is translucent, about 5 minutes. Stir in the cider and stock, increase the heat, and bring to a boil.
Reduce the heat and simmer until the squash is very tender, about 20 minutes.
With an immersion blender or working in batches with a blender, puree the soup and return to the pot to warm.
Season to taste with maple syrup, salt, and sumac. Serve with a dollop of Cranberry Sauce.
Corn Stock
Save the corncobs after you've enjoyed boiled or roasted corn on the cob, or you've cut the kernels for use in a recipe. Put the corncobs into a pot and cover with water by about 1 inch. Bring to a boil and partially cover. Reduce the heat and simmer until the stock tastes "corny," about 1 hour.
Discard the cobs, and store the stock in a covered container in the refrigerator or freezer.

Cranberry Sauce
Makes 1½ cups
Use this to drizzle over roasted squash or turkey, or for a dessert sauce.
Ingredients:
1½ cups cranberries, fresh or frozen
¼ cup cider
¼ cup maple syrup
Salt to taste
Crushed juniper to taste
Put all the ingredients into a saucepan and set over medium heat. Bring to a simmer, stirring occasionally, and cook until the cranberries have popped and the mixture is thick. Remove from the heat and put into a fine-mesh sieve set over a bowl. Press the mixture firmly with the back of a spoon and scrape the underside of the sieve to capture all of the fruit pulp. Taste and adjust the seasoning. Serve warm or cool.

Recipes from "The Sioux Chef's Indigenous Kitchen" by Sean Sherman with Beth Dooley. © 2017 Ghost Dancer, LLC. All rights reserved. Reprinted by permission of the University of Minnesota Press. Available via Amazon.

For more info:

For more recipes from "Sunday Morning" visit the 2018 "Food Issue" Recipe Index
Thanks for reading CBS NEWS.
Create your free account or log in
for more features.