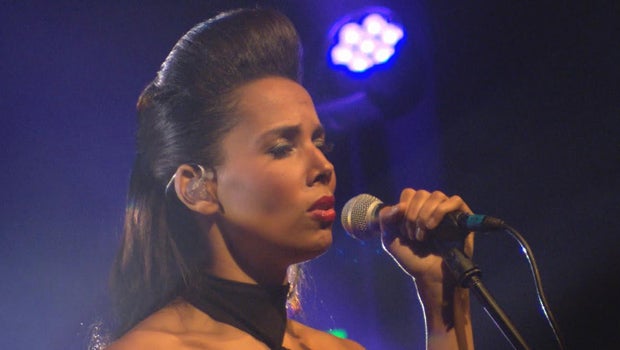 ​The roots of Rhiannon Giddens
Introducing Rhiannon Giddens, an up-and-coming singer with a voice and a style all her own. Martha Teichner has her story:
How often can you witness a moment that changes a career?
For Rhiannon Giddens, it was this: her performance during the "Another Day, Another Time" concert in New York City on Sept. 29, 2013, seen in this Showtime documentary:
Giddens was like a musical explosion onstage. What happened next was like an explosion in her life.
Did she understand the impact of that performance? "No, no. I had no idea," she said. "And I really didn't know until, like, the reviews started coming out, and I was just like, OK! And then, you know, the conversation with T-Bone happened."
T-Bone Burnett, the legendary record producer, asked Giddens whether he could produce her first solo album.
"I've been doing this 50 years now," Burnett said. "It's no mystery anymore who's good and who's doing it -- you see?"
Called "Tomorrow Is My Turn," the album has been nominated for a Grammy.
Giddens recalled, "He said, 'What's your dream record?' And I had this list of songs, and I said, 'Well, what do you think about this?' And he said, 'Great.'
"This was on a scale of nothing that I had experienced. I don't know if I really realized what I was getting into. It was a long process of trying to figure out how to make this work without feeling like I was abandoning the Chocolate Drops."
In 2005, Giddens, along with Dom Flemons and Justin Robinson, started the critically-acclaimed, Grammy-winning Carolina Chocolate Drops, to lay claim to the African-American piece of the history of traditional American music.
"We all had a really strong mission to uncover this music and to show it to the world," she said.
For Giddens, it's been personal: "My dad's white, my mom's black, and I've struggled with being mixed race. I kind of have found my identity through the music, through the roots music of North Carolina, and kind of realized that that's my identity as a North Carolinian."
But opera, not the roots music of her native North Carolina, was why she left Greensboro to study at Oberlin College in Ohio (left).
So why didn't she end up an opera singer? "As much as I loved doing it, there was so much other stuff, other music that I was getting interested in. I'm so grateful for the training."
Right now though, she's trying to recognize the Rhiannon Giddens who is emerging. Onstage, the down-home country girl has grown up and gone glam. The Carolina Chocolate Drops are along for the ride, but Giddens is the only original member left -- and there's no doubt, it's her show.
Touring is nothing new for Giddens. Between concerts, she grabs moments with her family, such as on the campus of the University of California, Santa Barbara during a series of shows on the West Coast.
Her husband, Michael Laffan, and their son, Caoimhin, and daughter, Aoife, travel with her as much as possible. The rest of the time, they live in Ireland (where Laffan was born), so that the kids will learn Irish.
On the road, home is a chartered bus -- something new, a step up after years of the family and the band driving themselves from concert to concert in rented minivans. "Yes, 12 people on a rockstar bus," said Giddens. "Wait a minute ...13?"
Laffan put his own musical career on hold to make their fractured lifestyle work. "I'm the primary caregiver, I would say," Laffan told Teichner. "So I make breakfast, I make sure [of] their meals, I make sure they've got something to do during the day."
They agreed her career was the priority.
"You don't want it to slow down now when, if you ride the wave, you might get up further, faster," Giddens said.
Last spring, she was at the White House, belting out a gospel number. You can't see it in the PBS broadcast, but Rhiannon Giddens was barefoot.
"You perform in bare feet?" asked Teichner.
"Uh huh. For me the bare feet are grounding. I'm connected to the Earth in a way that I cannot be any other way."
So, as far as she's come, and no matter how far she goes, Rhiannon Giddens is never far from North Carolina.
To hear Rhiannon Giddens perform "Black Is the Color," from the album "Tomorrow Is My Turn," click on the Soundcloud player below.
For more info:
Thanks for reading CBS NEWS.
Create your free account or log in
for more features.