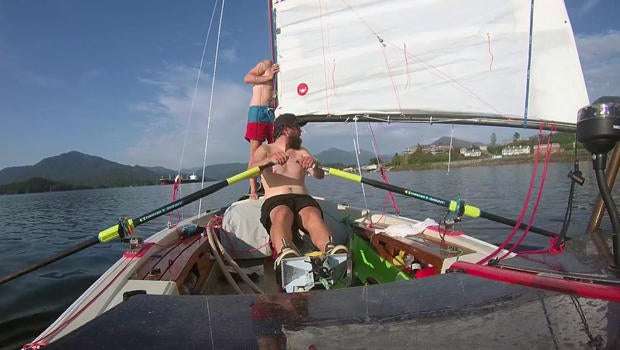 "Row, row, row your boat" are more than the words to a children's song; they COULD be the key to victory in a race that starts this Thursday. On the theory that the past may be prologue, Luke Burbank takes us back one year:
It's a Wednesday afternoon in Port Townsend, Washington, just hours before the annual Race to Alaska gets started. Sailors like Matt Johnson are nervously making final adjustments, while crew captains get a final briefing, of sorts.
"If you are here for the swap meet, you're in the wrong place," one official says. "If you are here to take a challenge, make it your own, and create a story that may live in your life forever, you are in the right place! Yeah!"
And what a challenge it is. The Race to Alaska is one of the more unusual, more punishing events in American sport -- a grueling 750-mile boat race from Port Townsend to Ketchikan, Alaska with just one rule: No motors.
"It's a gnarly piece of coast," said race founder Jake Beattie. "It's truly one of the last and wildest places on Earth. The tides run really fast, the wind howls, and when you get wind against tide, the sea becomes incredibly angry and dangerous."
Last year, some 200 sailors entered the race … some in row boats and pedal boats, others in high-tech carbon fiber catamarans, not to mention homemade dingies with sails. Some raced in teams. And others went it alone.
"The good part of being alone is that you win all the arguments," one sailor said. "You don't know which one of you is going to win the argument, but one of you is going to win it!"
One of the biggest challenges? As Thomas Nielsen learned first-hand, it was figuring out how to get some semblance of sleep on the water.
Food is another problem -- lugging it along, and sometimes forcing yourself to eat it. "We've been really trying to shovel the food down, which is surprisingly not that easy," one sailor reported. "The hunger and the enjoyment of food as a ritual has just kind of disappeared."
And maybe the hardest struggle of all for the sailboats: what to do when the wind didn't blow.
"I was thinking we might get ten hours of rowing in throughout the whole trip," one sailor said. "And we've been doing about 16 hours a day."
"Removing the ability for you to depend on a little button that starts a motor, it changes your relationship to the water when there's no get-out-of-jail-free card," said Beattie.
And no fun for competitive cyclist Matt Johnson who may have made the biggest sacrifice of the entire race before it even started, using all his wine and beer money to pay for the single-seat, peddle-powered boat he worked on for months in his garage.
"I don't expect to win it," Johnson said.
"Well, then some might ask, why do it?" asked Burbank.
"'Cause I wanna see how far I can go, or how fast I can go," he said.
As it turned out, not that far. He broke a pontoon just minutes into the race and had to turn back. But he wasn't alone; almost half the teams never even made it to Alaska, and those that did endured many pungent weeks at sea.
But there are moments of beauty out there with the dolphins and the whales.
One crew, Team Mad Dog, didn't have time to take in the scenery. They sailed day and night for four days straight, sleeping in 20-minute shifts, and winning in record time.
Their prize was $10,000 -- barely enough to tow the boat home from Alaska. Second prize (and we're not kidding here): A set of steak knives.
One sailor rowing his boat remarked, "To reach Ketchikan, you have to build your own little victory, every hour of every day."
Despite the dangers, no one has died in the race (yet). But limits have been and will be pushed, and then broken.
Which is just how race founder Jake Beattie planned it.
"I've never met a more powerful teacher than the sea," Beattie said. "And I'm excited for more people to have those sort of crucible moments out there on the water."
For those looking for a guaranteed "crucible moment," this year's Race to Alaska starts June 8 in Port Townsend. No motors allowed.

For more info:
Thanks for reading CBS NEWS.
Create your free account or log in
for more features.