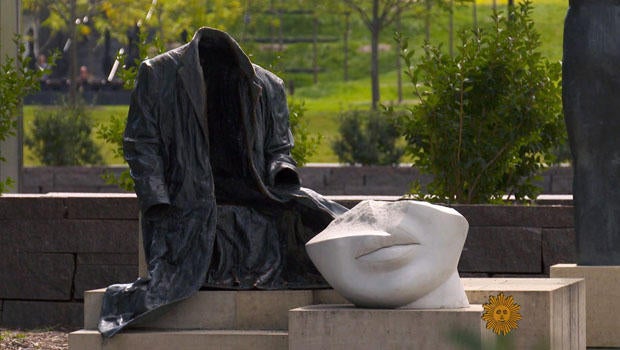 Anna Werner offers us a look at what's new in art:
In the land of Paul Bunyan, Babe the Blue Ox is king. But step aside, Babe -- in Minneapolis, a giant sculpture in royal blue now commands all the attention: A giant rooster.
"A cockerel," said museum director Olga Viso. "It's like a general on a horseback. Instead of a general on horseback, you have this rooster, right?"
"The piece really stands out," said Werner. "You can see it from the highway."
"You can see it from all directions, yup. Yeah. It's definitely a destination piece that people love to come see and stand by."
This big bird anchors the renovated Minneapolis Sculpture Garden at the Walker Art Center, where Viso oversaw the year-long, $10 million project that features 49 sculptures in provocative shapes and sizes.
Werner asked, "Do you find that having the sculpture garden pulls visitors into a museum they might not have otherwise visited?"
"Yeah, exactly. It makes the museum more accessible, more human, more approachable," Viso replied.
Works by some recognizable names fill the 19- acre space: Roy Lichtenstein, Robert Indiana, Alexander Calder and Ellsworth Kelly … and the museum seeded some new works on the grounds here as well, commissioning installations by artists including Theaster Gates, Nairy Baghramian and Mark Manders -- pieces that welcome visitors in for a stroll.
One work visitors won't see here: the sculpture "Scaffold," a piece representing historic executions sanctioned by the U.S. government, including the hangings of 38 Dakotas at the end of the tribe's war with the United States in 1862. Native American leaders protested its inclusion, leading to the museum's decision to remove it.
"Is that caving to public pressure, because you're worried about bad publicity?" Werner asked.
"No, I think it's being responsive to the Dakota community here and what it represented," Viso said.
That hasn't stopped visitors from streaming in by the thousands.
And this isn't the only museum sure to attract crowds this fall.
In Ohio, "Rodin - 100 Years," at the Cleveland Museum of Art, marks the centennial of Auguste Rodin's death with a showcase of some of the master sculptor's greatest works (through May 13, 2018).
In addition to the exhibition in Cleveland, the artist will be feted at museums across the country (part of the worldwide commemoration of his centennial), including:
Michelangelo stars in an upcoming exhibit at the Metropolitan Museum of Art; and Johannes Vermeer comes to the National Gallery of Art in Washington, D.C.

Perhaps the most anticipated show this fall is Yayoi Kusama's "Infinity Mirrors," which travels to The Broad in Los Angeles after record-breaking shows in both Washington, D.C. and Seattle.
More exhibitions:
EAST
"Proof: Francisco Goya, Sergei Eisenstein, Robert Longo" at the Brooklyn Museum, New York City (Through Jan. 7, 2018)
Brings together the work of three innovative chroniclers.
"Louise Bourgeois: An Unfolding Portrait" at The Museum of Modern Art, New York City (Sept. 24, 2017-Jan. 28, 2018)
Explores the prints, books, and creative process of the celebrated sculptor.
"Mark Rothko: Reflection" at Museum of Fine Art Boston (Sept. 24, 2017-Sept. 3, 2018)
The exhibition spans the full range of Rothko's career, from early Surrealist works to his iconic Color Field paintings.
"Hot Metal Modern: Design in Pittsburgh and Beyond" at the Carnegie Art Museum, Pittsburgh (Sept. 26, 2017-Dec. 21, 2018)
A showcase of great design objects from around the Steel City.
"Jimmie Durham: At the Center of the World" at The Whitney, New York City (Nov. 3, 2017- Jan. 28, 2018)
The artist and activist (a political organizer for the American Indian Movement during the 1970s) was an active participant in the downtown New York City artistic community in the 1980s, later residing Mexico, then Europe.
"Old Masters Now" at the Philadelphia Museum of Art (Nov. 3, 2017-Feb. 19, 2018)
Treasures from one of this country's most remarkable collections, featuring works by Botticelli, Bosch, Titian, Rembrandt and Monet.

MIDWEST
"Chicago Architecture Biennial," Chicago (Through Jan. 7, 2018)
Free exhibition featuring 140+ architects and artists, the largest architecture and design exhibition in North America.
"Tarsila do Amaral: Inventing Modern Art in Brazil" at the Art Institute of Chicago (Oct. 8, 2017-Jan. 7, 2018)
This exhibit devoted to the Brazilian artist focuses on her synthesis of avant-garde aesthetics and Brazilian subjects.
"Through the Eyes of Picasso" at the Nelson-Atkins Museum of Art, Kansas City, Mo (Oct. 20, 2017-April 8, 2018)
This traveling exhibition, focusing on Picasso's deep-seated interest in African and Oceanic art, makes its sole stop in the U.S.
"Monet: Framing Life" at the Detroit Institute of Arts (Oct. 22, 2017-March 4, 2018)
Works by the artist and by fellow Impressionist Pierre-Auguste Renoir, created during the formative years of the Impressionist movement.
"Master Strokes: Dutch and Flemish Drawings from the Golden Age" at the Oklahoma City Museum of Art (Oct. 28, 2017-Jan. 2018)
Traveling outside of Great Britain for the first time, this marvelous new exhibition presents some of the most important works from the Victoria and Albert Museum's outstanding collection of Dutch and Flemish drawings.
"Keith Haring: the End of the Line" at the Cranbrook Art Museum, Bloomfield Hills, Mich. (Nov. 17, 2017-March 11, 2018)
In 1987, Keith Haring created a massive temporary mural at the Cranbrook. Thirty years later, the museum revisits that landmark work, providing a compelling overview of the last few years of the legendary street artist's career.

SOUTH
"Paul Graham: The Whiteness of the Whale" at the High Museum of Art, Atlanta (Through Oct. 22, 2017)
This exhibition brings together three of the internationally renowned British photographer's most celebrated bodies of work, dating between 1998 and 2011.
"Stuart Davis: In Full Swing" at the Crystal Bridges Museum of American Art, Bentonville, Ark. (Through Jan. 1, 2018)
Featuring more than eighty paintings and drawings, from a leader in the American modern art movement.
"Yayoi Kusama: All the Eternal Love I Have for the Pumpkins" at the Dallas Museum of Art (Oct. 1, 2017-Feb. 25, 2018)
This installation is one of the artist's signature Infinity Mirror Rooms.
"Mona Hatoum: Terra Infirma" at the Menil Collection, Houston (Oct. 13, 2017-Feb. 25, 2018)
The London-based artist creates work that addresses the growing unease of an ever-expanding world, one that is as technologically networked as it is politically fractured by war and exile.
"Frank Stella: Experiment and Change" at the NSU Art Museum, Fort Lauderdale, Fla. (Nov. 12, 2017-July 8, 2018)
This mammoth retrospective will feature 300 artworks, including paintings, relief sculptures, and drawings, created over Stella's prolific six-decade career.
"Prospect New Orleans" (Nov. 18, 2017-Feb. 25, 2018)
A citywide triennial of contemporary art emphasizing collaborative partnerships. More than 70 artists are scheduled to participate, including Kara Walker, Rashid Johnson, Kader Attia and Alfredo Jaar.


WEST
"City of Dust: The Evolution of Burning Man" at the Nevada Museum of Art, Reno (Through Jan. 7, 2018)
Explores the remarkable story of how the legendary Nevada gathering evolved through collaborative ritual, from humble countercultural roots on San Francisco's Baker Beach into the world-famous desert convergence it is today.
"Abstract Expressionism: Looking East from the Far West" at the Honolulu Museum of Art (Through Jan. 21, 2018)
The exhibition presents major works by American masters alongside those by Asian-American artists, including Ruth Asawa, Saburo Hasegawa, Isamu Noguchi, and Hawai'i art icons like Satoru Abe, Isami Doi, Tadashi Sato, and Tetsuo Ochikubo.
"Question Bridge: Black Males" at Oakland Museum of Art (Sept. 29, 2017-Feb. 25, 2018)
Intimate videos of a diverse group of 150 black men across the United States are woven together and arranged to simulate face-to-face conversations between participants.
"Teotinuacan: City of Water, City of Fire" at the de Young Museum, San Fransciso (Sept. 30, 2017-Feb. 11, 2018)
Explores how artworks from the ancient city in Mexico shape our understanding of Teotihuacan as an urban environment.
"Andrew Wyeth: In Retrospect" at the Seattle Art Museum (Oct. 17, 2017-Jan. 15, 2018)
On the 100th anniversary of the artist's birth, this retrospective examines Wyeth's 75-year career by featuring 110 of his works.
"Alexander Calder: Scaling Up" at SFMOMA, San Francisco (Oct. 31, 2017-Aug. 19, 2019)
The exhibit takes a look at the small scale and surprisingly tactical beginning to the artist's most sizable works.
Thanks for reading CBS NEWS.
Create your free account or log in
for more features.