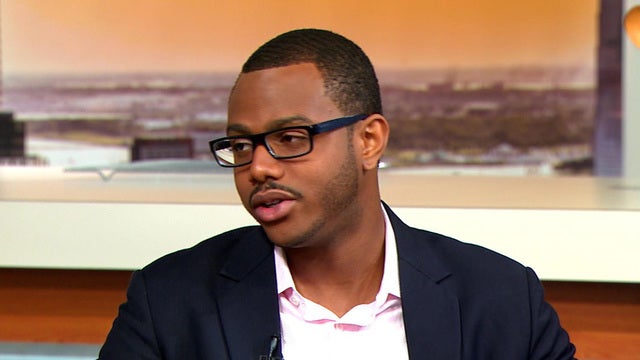 At age 11, Kwame Onwuachi was exposed to a new culture and cuisine when he moved to live with his grandfather in Nigeria. Now just 26 years old, the New York native is about to open a restaurant in Washington D.C. called "The Shaw Bijou."
Here are some of Onwuachi's signature dishes.
Seared bone in wagyu ribeye with roasted tomato soubise
Serves 4
Prep time: 1 hour
Ingredients:
1 1/4 pound, bone-in-rib eye steaks
Kosher salt
Berbere spice
2 tablespoons canola oil
4 tablespoons unsalted butter
4 thyme sprigs
3 garlic cloves
1 rosemary sprig
Directions
1. Take the steak out of the fridge and let stand at room temperature for 30 minutes to 1 hour. Season the rib eye steaks aggressively with salt and berbere.
2. In a large cast-iron skillet, heat the canola oil until shimmering. Add the steaks and cook over high heat until crusty on the bottom, about 5 minutes. Turn the steaks and add the butter, thyme, garlic and rosemary to the skillet.
3. Cook over high heat, basting the steaks with the melted butter, garlic and herbs, until the steaks are medium-rare, 5 to 7 minutes longer.
4. Transfer the steaks to a cutting board and let rest for 10 minutes. Cut the steaks off the bone, then slice the meat across the grain. Serve alongside the roasted tomato soubise.
Roasted tomato soubise
Serves 4
Prep time: 30 minutes
Ingredients
2 medium vine-ripe tomatoes, stemmed
1 tablespoon olive oil
Kosher salt to taste
2 tablespoons canola oil
1 medium white onion, thinly sliced
1 cup heavy cream
1/2 cup whole milk
Directions
1. Preheat the oven to 400 F. On a baking sheet, toss the tomatoes with the olive oil and salt. Transfer to the oven and roast for 5 minutes, then remove and let cool.
2. In a large skillet, heat the canola oil over medium-high heat. Add the onions and cook until soft and translucent, 6 to 8 minutes.
3. Add the tomatoes and cook until they have fully broken down, 5 minutes.
4. Stir in the cream and milk, and bring to a light simmer. Cook, stirring occasionally, until lightly thickened, 10 minutes.
5. Transfer to a blender and purée until smooth. Season with salt and set aside.
Crispy potato tostones and garlic with roasted sofrito aiol
Serves 4
Prep time: 35 minutes
Ingredients
2 pounds small marble-sized potatoes, Yukon gold
Kosher salt
Canola oil
Directions
1. Boil potatoes with salt and water for 25 minutes or until tender. Remove potatoes and let them cool to the touch.
2. Gently squeeze the potatoes, one at a time, between your palms so that they flatten slightly but remain in one piece.
3. Pour ¼-inch of oil into a medium frying pan set over medium-high heat. Add the potatoes in batches, and fry them on both sides until brown and crispy.
4. Drain on a plate lined with paper towels and season with salt while hot.
Roasted sofrito ailoi
Prep time: 45 minutes
Ingredients
1/2 cup olive oil
2 tomatoes, chopped
2 onions, chopped
12 garlic cloves, chopped
2 jalapenos, sliced
1 sprig of cilantro
1 tablespoon hot smoked paprika
juice of 1 lime
3 egg yolks
1 1/2 cups canola oil
Kosher salt
Directions
1. Heat olive oil on medium heat in a heavy-bottomed pot. Add the tomatoes, onions, garlic, jalapenos, cilantro, and paprika. Simmer for 30 minutes or until all of the vegetables are tender and have broken down.
2. Add the contents to a blender and puree until smooth. Season with salt and cool.
3. In a food processor, add the yolks and lime juice and drizzle in the canola oil a little at a time until an emulsion forms and creates a mayonnaise like substance.
4. Remove the aioli from the food processor and fold in half of the cooled sofrito. Season with salt and serve with crispy tostones.
Seared mission fig salad with ash rind chevre, arugula, pumpernickel tuiles and pickled cherries
Serves 4
Prep time: 30 minutes
Ingredients
1 loaf Pumpernickel bread
Canola oil
5 mission figs, halved
1 cup granulated sugar
1/2 cup sugar
1 cup red wine vinegar
2 tablespoons sugar
1/4 pound black cherries, pitted
2 cups olive oil
Kosher salt
8 ounces arugula
1/2 pound ash rind chevre, crumbled, for garnish
Directions
1. Preheat oven to 350 F. Slice pumpernickel thin, brush with canola oil and sprinkle with salt.
2. Place the pumpernickel slices on a wire rack and bake for 10 minutes or until crispy. Remove, break into shards and let cool.
3. Take the mission figs and dip the flat halved side in granulated sugar, place the figs in a large skillet flat side down. Place the pan on the stove and turn the flame on medium.
4. Cook for about 4 minutes, letting the sugar caramelize but be careful not to burn. Remove the figs from the pan with a spatula and place on a plate with the flat side facing up.
5. Mix the water, vinegar and 2 tablespoons sugar together until the sugar dissolves. Add the pitted cherries and soak for at least 10 minutes.
6. After 10 minutes remove the cherries and whisk in the olive oil to make vinaigrette, season with salt.
7. Toss arugula and cherries together with a couple tablespoons of the vinaigrette. Arrange on a platter and garnish with figs, chevre, and pumpernickel tuiles. Serve immediately.
Blistered shishito peppers with a caramelized sambel
Serves 4
Prep time: 30 minutes
Ingredients
2 shallots, sliced
10 cloves garlic, minced
2 tablespoons ginger, minced
4 fresnos, minced
1 stalk lemongrass, yellow part only, sliced
2 tablespoons palm sugar
1 tablespoon fish sauce
Juice of 3 limes
2 tablespoons canola oil, plus 3 tablespoons
1 pound shishito peppers
Zest of 2 limes
Zest of 1 lemon
Kosher salt
Sea salt
Directions
1. In a heavy bottomed saucepan add 2 tablespoons of canola oil on medium high heat. Add the shallots, garlic and ginger and sauté for 5 minutes.
2. Add the fresnos and lemongrass and sauté for another 5 minutes. Then add the sugar and fully incorporate.
3. Once it starts to caramelize and stick to the bottom of the pan add the fish sauce, making sure to scrape the bottom of the pan in the process. Cook for another minute or so and then remove from the heat.
4. Add to a food processor and pulse until chunky. Season with kosher salt and lime juice and reserve.
5. In a large sauté pan, add 3 tablespoons of canola oil on medium high heat until it starts to smoke. Add shishito peppers and sauté until they blister and brown on each side.
6. Remove, season with sea salt, lemon zest and lime zest and serve with sambal.
Speculoos cheesecake with yellow raspberries
Serves 10
Prep time: 2 hours, plus 4 hours to chill
Ingredients for crust
5 tablespoons unsalted butter, melted, plus room-temperature butter for pan
2 cups ground graham crackers
½ cup sugar
½ teaspoon coarse salt
Ingredients for filling
2 1/2 pounds bar cream cheese, room temperature
1 1/2 cups sugar
1 teaspoon finely grated lemon zest, plus 1 tablespoon fresh lemon juice
½ teaspoon coarse salt
4 large eggs
1½ cups speculoos or cookie butter spread
1 pound yellow raspberries
Ingredients for burnt honey sauce
½ cup honey
1 cup heavy cream
¼ teaspoon kosher salt
Directions
1. Preheat oven to 375 F. Make the crust: Butter a 9-by- 3-inch spring form pan. In a food processor, pulse graham crackers until fine crumbs form; add melted butter, sugar, and salt,and pulse to combine.
2. Press crumb mixture into bottom and about 1 inch up side of pan. Bake until set, 12 to 15 minutes; let cool on a wire rack. Reduce oven to 325 degrees.
3. Set a kettle of water to boil. Make filling: Using an electric mixer, beat cream cheese on medium until fluffy, scraping down side of bowl. Gradually add sugar, beating until fluffy.
4. Beat in lemon zest and juice, and salt. Beat in eggs, one at a time, scraping down side of bowl after each addition. Beat in speculoos. Wrap bottom half of pan in foil.
5. Pour in filling; place in a roasting pan. Pour in boiling water to come halfway up side of spring form. Bake until just set in center, about 1 hour and 45minutes.
6. Remove the pan from water; let cool 20 minutes. Run a paring knife around the edge; let cool completely. Cover; chill for at least 4 hours until you serve. Top with yellow raspberries.
Directions for burnt honey sauce:
1.In a medium saucepan, boil the honey on medium-high heat until it starts to change color.Once it is medium-dark- brown, remove from heat. Let cool for a minute or two and add heavy cream. It will bubble up and then start to melt together.
3. Season with salt, reserve and cool. Slice the cheesecake with a thin sharp knife that has been dipped in warm water. Make sure to wipe clean and re-dip after each slice. Top with the burnt honey sauce.
Maloney's swizzle
Serves 1
Ingredients
1 ounce lime juice (scant)
3/4 ounce simple syrup (50:50)
2 ounces white rum
8 dashes Peychaud's Aromatic Bitters
10-12 mint leaves
2 mint prigs, for garnish
Directions
1. Add the lime juice and simple syrup to a cocktail shaker tin with 10-12 mint leaves. Gently twist a muddler over top of the mint to release the menthol from the leaves. (Be careful to not macerate the leaves, which releases bitter components.)
2. Add the rum and pour the contents into a collins glass. The mint should settle to the bottom of the glass.
3. Fill the glass 3/4 full of crushed ice. Add dashes of Peychaud's Bitters until you have a lovely bright red layer atop the drink. Then top with more crushed ice for a "high and dry" effect. High and Dry means the ice comes over the top of the glass but the washline of the drink is well below the top of the glass.
4. Garnish generously with 2-3 mint sprigs, clapped between your hands, right next to the straw for the guest to smell while drinking.
Thanks for reading CBS NEWS.
Create your free account or log in
for more features.