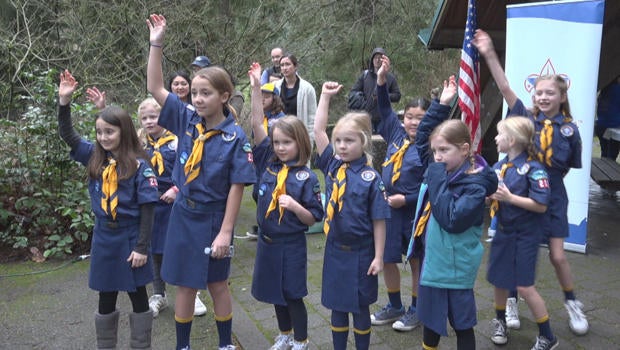 The changing face of the Boy Scouts
"BE PREPARED" is the Boy Scout motto. It means "Always being ready to do what is necessary to help others." But does that include welcoming your kid sister into the troop? Our Cover Story is reported by Tony Dokoupil:
Last Sunday in Portland, Oregon, a new group of Boy Scouts marched off in search of adventure.
Time was being a called a "girl" in the Boy Scouts was an insult. Not anymore. As of three weeks ago, the Boy Scouts of America are admitting girls as Cub Scouts.
And what do boys think of all this?
"I already have to deal with my sister all day, every day," said Calvin Hickey. "And this is, like, the only time I get away from her really. So …"
Calvin's sister, Mackenzie, was the first girl in the Pacific Northwest to sign up. He said, "Just be nice to the girls and don't be mean. Or else you won't get picked on a lot."
Eight-year-old Jordanna Garcia had been coming to scouting for years, tagging along with her brother, Daniel.
"Sometimes he would do, like, carving and other stuff. I just had to sit in the car, just do my notebook and start doing whatever I did," Jordanna said.
Daniel noted, "I could hear inside her mind that she was really jealous about that."
"You read my mind, bro," she smiled.
A couple of days ago, they did Pinewood Derby. "I did a watermelon car," she said. "And he did a –"
"Ferrari," Daniel noted.
To be sure, it's still a work in progress, but something had to be done. Since the early 1970s the Boy Scouts have lost two-thirds of their annual membership -- some four million boys. And that's a tradition they want to change while still preserving almost everything else.
With the light fading in the mountains of Utah, Boy Scout Troop 1262 out of Salt Lake City hustles to pack and stack an old-fashioned defense against the elements: an igloo.
"If you're too cold, let's build a fire," said one Scout leader.
Building campfires and igloos is the kind of outdoor adventure that's defined the Boy Scouts of America for more than a hundred years.
The Boy Scouts began as a movement in England in the early 20th century. It took off in America almost immediately as a way to keep young men (as the Scout Oath puts it) "physically strong, mentally awake and morally straight."
Tens of millions of American boys have taken that oath, but only the most determined attain scouting's highest rank: Eagle Scout, an elite group of American men, from billionaires like Michael Bloomberg to presidents like Gerald Ford.
Eagle Scout Neil Armstrong sent a message to the annual Scout Jamboree, just before the Eagle landed on the moon.
"I'd like to say hello to all my fellow Scouts and Scouters at Farragut State Park in Idaho," he said. "Apollo 11 would like to send them best wishes!"
"We don't know if that lunar module was named the Eagle because of the preponderance of Eagle Scouts, but we like to think we had just a little bit of involvement in that!" laughed Michael Surbaugh, the Chief Scout Executive for the Boys Scouts of America.
"Kids want what we have: the traditional aspects of outdoors, camping, adventure, hiking. This is what we do."
The fact that fewer kids were doing it, he says, has to do with Mom and Dad.
"And you think about how families then, in the '70s, '80s and '90s, started to change," he said. "More pressures on the family. More activities for children. Moms now are in the workforce. But because we didn't adapt our program design, we just had a slow, steady erosion."
An erosion he does not believe is tied to policies that many saw as exclusionary.
"I think we probably had some erosion of membership due to controversy over, you know, whether to have gay youth and gay adults," Surbaugh said. "But I think we were losing far more kids because family structures were changing, and we hadn't changed our program design."
Which brings us back to Troop 1262, one of the fastest-growing troops in America. The Scouts are almost all Burmese refugees, their families resettled here from Thailand.
Volunteer leader Saborn Va was also once a refugee; he escaped Cambodia's so-called killing fields.
"These guys came from a land where they have to hunt and fish and be on the outdoors to survive, right? And so they bring those things. They bring those skill sets with them."
Dokooupil asked, "If not for scouting, what do you think they'd be doing?"
"Well, I mean, I'll tell you what the boys told me: 'If it wasn't for scouting I'd probably be involved with a gang somewhere,' because that's where all their friends are," Va replied.
When asked what the public's image of a Boy Scout at its peak in the 1970s was, Surbaugh replied, "That's easy; 90% would've said, 'Green shorts, long socks, help a little old lady across the street.'"
"Would they also say, 'White'?" Dokoupil asked.
"They would probably see it as suburban, white."
But now? "If you asked what does a Boy Scout look like, I think they would say it looks like a kid."
That image includes all races, and all genders.
But one group that's definitely not happy with the Boy Scouts' decision to admit girls is the Girl Scouts of the USA. "We were really taken aback because we were just told of this decision, and then they quickly announced it," said Sylvia Acevedo, Chief Executive Officer of the Girl Scouts.
"You know, frankly, [we're] two separate organizations, but we've been working together in communities for over 100 years."
Acevedo, a rocket scientist, says she owes it all to the organization she now leads.
"Scouting, Boy Scouting -- high adventure, camping -- we offer that, too," she said. "And we have these amazing programs that are so relevant to the 21st century. And we have the best leadership program that has been designed and developed for girls. And we know what it takes to get girls to succeed."
Still, some girls are excited to follow their brothers into scouting. They can join all-girl Cub Scout dens right now, and older girls will be eligible to become Eagle Scouts in 2019.
Back in Utah, it's clear that's still a pursuit with the power to change young lives for the better.
At a ceremony in Salt Lake City, five new Eagle Scouts -- veterans of igloos and so much more -- beamed as they received their medals, an honor their sisters may soon pursue as well.

For more info:
Thanks for reading CBS NEWS.
Create your free account or log in
for more features.