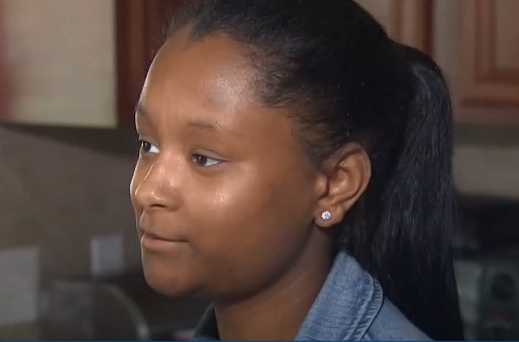 Texas attorney general backs school that expelled student over Pledge of Allegiance
The Texas Attorney General has intervened in a federal lawsuit that was filed on behalf of a student who was expelled from school after she chose not to stand for the Pledge of Allegiance, CBS affiliate KHOU reports.
Attorney General Ken Paxton intervened, through a court filing, "to defend parental rights protected under a Texas law that standardizes the practice of reciting the Pledge of Allegiance in public schools, but allows parents to have their children opt out," said a news release from the Attorney General's office.
Texas state law prohibits students from sitting during the Pledge of Allegiance unless they have written consent from a parent or guardian, KHOU reports.
India Landry filed a lawsuit after she was kicked out of school last year when she was a senior at Windfern High School, in Harris County. She and her mother claimed the principal made an arbitrary decision to punish her given that Landry sat down for the Pledge of Allegiance in hundreds of previous cases.
"I don't believe the flag is for what it says it's for," Landry said last year, KHOU reported. "For liberty and justice and all that."
"It's obviously not with what's going on in America today," she said.
Houston Attorney Randall Kallinen, who filed the lawsuit on Landry's behalf, believes free speech protections extend to silent protests.
"The outcome will hopefully be that the school will recognize that students do not have to stand for the pledge of allegiance," Kallinen said.
The new court filing, dated September 25, says "The State of Texas, by and through the Attorney General of Texas, moves to intervene in this case to defend the constitutionality of Texas Education Code Section 25.082."
"As the United States Supreme Court has repeatedly recognized, parents have a fundamental interest in guiding the education and upbringing of their children" it says. "That interest rightfully includes determining whether their children should participate in the time-honored tradition of reciting the Pledge of Allegiance to the United States flag. Plaintiffs challenge Texas's statute directing school districts to have their students recite the Pledge unless the student is excused by a written request from a parent or guardian. Texas intervenes to protect that parental right."
KHOU reports that Landry has not returned to the school and missed graduation.
A school district spokesperson said it does not comment on pending litigation, according to KHOU.
The case is set for trial in April.
Thanks for reading CBS NEWS.
Create your free account or log in
for more features.