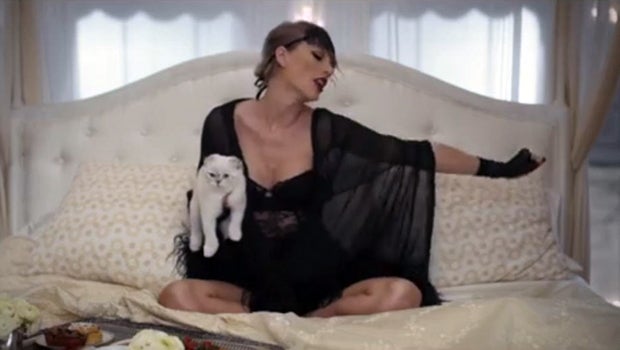 Taylor Swift goes crazy in "Blank Space" music video
Taylor Swift plays a jealous lover who goes crazy over a beau -- so, basically, a parody of all the things people have ever said about her -- in the music video for her latest single, "Blank Space."
The video first surfaced online Monday morning but it was quickly taken down, as Yahoo Music apparently jumped the gun and released it earlier than intended.
"Yup. Yahoo effed up. Wait to see the Blank Space video. Let Taylor introduce it herself. It'll be worth it :)" tweeted Joseph Kahn, who directed the video.
But it was already heavily watched (and screencapped) before coming down, and by Monday afternoon Swift tweeted a link to the video on her YouTube page. In the video, she woos a man in a lavish mansion with horses and fancy outfits and carves his name into a tree. But when she sees him texting during one of their dates, it sends her over the edge -- cue the cake stabbing, shirt-cutting and car smashing.
You can watch the whole thing below:
Thanks for reading CBS NEWS.
Create your free account or log in
for more features.