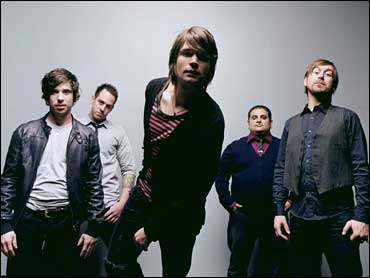 Taking Back Sunday Gets Louder
Taking Back Sunday is out with their third album, "Louder Now," this week, but lead singer Adam Lazzara won't be busy tallying up how many copies are sold.
"I'm terrible at math. That's why I'm in a band," he told CBSNews.com, adding with a laugh that, "We don't focus on (album sales). We just focus on writing songs and playing. And if all that stuff works out good, it's just a bonus."
That "stuff" worked out well for the group's last album, 2004's "Where You Want To Be." The set debuted at No. 3 on the Billboard 200 albums charts, selling 163,000 copies in its first week and more than 700,000 copies to date.
The first two efforts by the band from the New York City suburbs of Long Island have been labeled by critics as "alternative pop/rock" or the angst-ridden "emo." So this time, Lazzara decided to mix things up and go for what he called a more "rock and roll-based" sound. "The more and more you're considered part of a genre, the chances of your band not advancing are greater," said Lazzara. "We wanted to keep doing this as long as we can."
In addition to Lazzara, Taking Back Sunday features guitarist-vocalist Fred Mascherino, guitarist Eddie Reyes, bassist Matt Rubano, and drummer Mark O'Connell. That lineup has been together for three years, which Lazzara said made "Louder Now" a true group effort. "Going into it we knew all the ins and outs of how everybody works," he said, "so it gave all our individual talents a chance to really shine."

---
---

The 24-year-old Lazzara described "Louder Now" as his "post-adolescent pre-midlife crisis. I'm in my early 20s, and I just call it that because it's my way of not feeling like I'm alone in how I feel towards life. There's part of me that wants to think that there are other people my age that don't really know their place in the world and are trying to figure it out, not knowing if it's the right thing. It's the whole 'teetering on the edge of adulthood' and trying to figure out if it's worth it or not. That's a lot of the subject matter that I think we touched on with this record."

---
---

The album's lead single is "MakeDamnSure," a song about obsessive love that borders on being a stalker's anthem. The song's chorus is "I just wanna break you down so badly, in the worst way (worst way)." As the song progresses, Lazzara screams, "And I'm gonna make damn sure that you can't ever leave. No, you won't ever get too far from me."

Lazzara admitted that the emotional downward spiral in the song reflects some of his own romantic experiences. "It starts out with this real honest bright feeling. ... Be it love or whatever ... it brings out the darker side of you and you don't really understand," he said. "I mean that's what happens with me, I don't know if that makes me sound crazy or not."

After a pause, Lazzara laughed and added, "That's something that, yes, I would normally keep to myself but at least I have an outlet to get it out!"

---
Watch Taking Back Sunday's Music Video for "Make Damn Sure"
---

Lazzara considers New York his home, but he remains loyal to High Point, N.C., where he grew up. He makes reference to his hometown by including the number 152 buried in each of the band's album covers.

He and his buddies used to travel to Raleigh-Durham or Chapel Hill, N.C., to hear rock concerts. On the way, they would stop for gas at a service station at Exit 152 off Interstate 40. The back cover of the group's first album, "Tell All Your Friends," has a picture of the exit sign. The artwork for the band's next album "Where You Want To Be" features a "Next Exit, 152 Miles" sign.

"We just wanted to put the '152' in because we tour all the time and I live in New York, so it's my way of 1) reminding myself where I'm from and 2) letting all my friends know that I haven't forgotten about them and they're still a huge part of everything I do," said Lazzara. "That will be in every album, there will be a piece of that in all the artwork for future records and things like that."

The artwork for "Louder Now" shows an old-fashioned movie theater box office, with admission priced at $1.52. A marquee and images of people are reflected in the glass which Lazzara explained is a reference to the album's first song, "What's It Feel Like To Be A Ghost."

"If you look closer at the (album cover), you see all the reflections in the window so it makes everyone like an apparition, you know?" said Lazzara. "We wanted to touch on the feeling that you can be in a room packed full of people and still feel alone."

Despite the content of the band's songs, there is a goofy side to Taking Back Sunday. Lazzara admitted that in the past, they've made some outrageous requests on their tour rider, just to see if their demands would actually be met.

"In the old (tour rider) we requested a Michael Jackson poster — pre 'Dangerous,'" he laughed. "We only got it a couple of times but it really brightened our day when we did. We weren't serious at all. We just wanted to see if somebody would find one for us. We were thinking 'what's one of the most ridiculous things we could ask for?' and then we kinda figured like asking for a bowl of green M&Ms would just be stupid or asking for bread with all the crusts cut off would be ridiculous.

"However a Michael Jackson poster pre-'Dangerous' just takes the cake for most ridiculous thing ever, 'cause you gotta go out and look for it."

After a few more dates in the Northeast, Lazzara and the rest of the band will be heading to Europe for a tour in mid-May in support of "Louder Now." Then it will be back to the U.S. for a tour with Angels and Airwaves, and Head Automatica in June and July.

Lazzara said that right now, it's all about the shows. "Once we've recorded and put the record out, it's out of our hands from there," he said. "The only thing we can do is play the best shows that we can. That's what we're focused on."

For tour details, log on to Taking Back Sunday's official Web site.

Thanks for reading CBS NEWS.
Create your free account or log in
for more features.