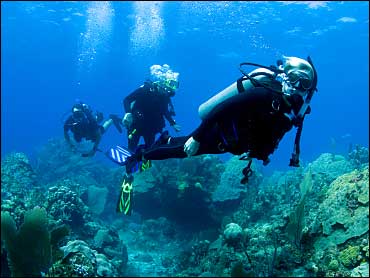 Take A Vacation With Education
What should you do if you're tired of cruises and "relaxing" beach vacations in resorts that are more chaotic than restful? How about combining a trip to a unique location with an opportunity to brush up on old skills or learn something new?
According to Michele Perry, a travel expert from TripAdvisor.com, the site recently surveyed more than 2,500 travelers and determined that 32 percent of travelers are planning to engage in educational activities while on vacation in 2008. This statistic is up 7 percent, from 25 percent last year.
According to TripAdvisor, of those who plan a "learning" vacation, 19 percent plan to attend art classes, 35 percent will take sports-oriented sessions, and 52 percent will learn how to cook. And 34 percent plan to take a wine-making or wine-tasting class.
The trips are favored by women over men (57 percent to 43 percent) and the majority of participants said they want an educational vacation because it's a new experience.
An Early Show producer talked with Perry about the education vacation trend:
The Saturday Early Show: What are educational vacations? Why are they popular among travelers?
Perry: Learning vacations are vacations that involve education. More and more vacationers want to be active, they want to exercise mind and body.
Many people that go into these types of vacations want to perfect their skills in something; for example, going away before the holidays to a cooking trip so you can perfect your dinners, or to perfect their golf game. But many people also like the sense of adventure and want to learn something they have never tried, like scuba diving or surfing.
TripAdvisor did a survey asking people about learning vacations. What did you find out?
We found out that more than 50 percent of people want to go to a educational trip. One-third of travelers have tried an educational trip, which is an increase from last year of 25 percent. We have seen that people are getting more active during their vacations, they want to exercise. What we found out that really surprised me was most people relax very quickly - they unwind during the first day of their vacation and want to be active after that. Which is not something I can do!
An artistic adventure to South of France, what is this trip about?
Perry: It's really an exotic vacation destination. You are going to travel to the south of France and paint. Everything is included - lodging, art supplies and food. You can paint in the footsteps of Van Gogh or Cezanne. It's beautiful scenery, very colorful. If you like to paint this is a vacation for you. However, this is not for novices. This is really for people that know how to paint already. You can be a beginner, or an advanced, that is not the problem but this is not an art class where they are going to tell you how to hold a paintbrush. This is more advanced. (Trip details below.)
What time of the year is better to go?
Perry: When weather is nice, May through July and September through October. This is a beautiful season.
This is not a cheap vacation, right?
Perry: It's a package for one person that runs about $3,700 (does not include air fare). If you can share with a friend, that can drop the price to $2,900, which is quite a difference. And this is fun to go on with a friend.
Let's look at your second pick, learning about wine, and how to harvest grapes. Where can you go to do this?
Perry: The Goosecross Cellars in Napa Valley is different than others because they are a wine university; they offer courses from May to October. You can go for a basic course for $10, and a wine-making tour for $20. Obviously August is a better month because it's the harvest season and you can get involved with the harvest, this is interesting and fun.
If you have a little more time and money you can go for the epicurian exploration, which is a three-hour class. You will be taught how to pair the right food with the right wine. And that is $95 to $100. People love it - what's not to love when you combine food and wine?
What about the scuba diving in St. Lucia trip; it looks like fun. What does this involve?
Perry: Again, it's an activity that you can do while on vacation in St. Lucia. You have many options: You can start with a 15-minute free trial, and if you like it you can go for a full week for full certification. It costs about $800 for the full week, without accommodations or food. But this is a very active, fun learning experience.
What should you know before booking this trip?
Perry: No matter what, St. Lucia is a great destination. You can try the 15 minutes trial and if you are not comfortable with it, you walk out. You need to be in a decent shape and know how to swim, but really, anyone can go and do this. It can be a fun activity for an entire family.
Your final pick is learning how to golf in Orlando.
Perry: The Marriott and the Faldo Golf institute have a great learning vacation. This is for either beginner or advanced golfer; as golfers often say, you are never done learning. Nick Faldo, a famous golfer, is the mastermind behind this, and he certified and trained all the instructors himself. Prices vary if you go off-peak or in peak season
Who is this for?
Perry: Anyone, from someone who's just learning to someone who wants to perfect his or her game.
TRIP INFORMATION
Art: Painting Provence in France; Saignon, France (www.personalprovence.com)
Paint Provence with an American artist living it in the area. The outdoor painting workshops include morning and afternoon instruction, art history talks, and excursions to art sites. Guests will have the choice of selecting sites according to the light and the scene that draws them.
Preferred Dates: May to July and September to October
Cost: $1,462 to $3,655 (all inclusive including art materials, lodging, 3 meals daily, excursions, ground transportation) does not include airfare
A non-painting companion can enjoy wine tasting and cooking lessons as part of the vacation, as cooking and art are related. They paint the landscape and eat and drink what's on it.
Wine: Goosecross Cellers in Napa Valley, CA (www.goosecross.com)
Goosecross Cellers Winery offers Goosecross University, providing travelers with the opportunity to learn about wine and expand their knowledge of the world of winemaking and appreciation. It offers wine classes, wine growing tours, epicurean explorations and a membership in a wine education community with podcasts, blogs, forums, educational articles, and recipes.
Winegrowing Tour: $20 per person; May through October; best time: August through October due to harvest with focus on grape crushing
The tour invites guests to the 10-acre estate vineyard for an up-close and personal look at the growing conditions and management techniques essential for producing world class wine.
It also includes a visit to the winery to explore the way winemaking techniques further influence quality and character.
Wine Basics Class: $10 per person; May through October
The wine basics class allows students to become acquainted, or reacquainted with the fundamental joys of wine tasting and wine making
Diving: Scuba Steve's Diving, St. Lucia (www.scubastevesdiving.com)
Scuba Steve's Diving is for beginners, children from age 8, and certified divers. The insured Instructors teach a large range of diver certification courses. With its flexible scheduling, vacationers have the perfect opportunity to try scuba diving or snorkelling for the first time or to get certified while having plenty of time to enjoy their holiday.
Preferred Dates: Open all year round, but March to April is best water for diving
Cost: Free to $795 (airfare and accomodations not included)

Golf: Marriott Faldo Golf Institute in Orlando, FL. (golf-instruction.marriott-vacations.com/faldo-golf-destinations/orlando.jsp)
Faldo Golf Institute by Marriott provides guests with the opportunity to learn Nick Faldo's methods on how to improve the critical aspects of their golf game through the comprehensive curriculum.
Preferred Dates: Peak Season: January 1 to May 4; Off Peak: May 5 to October 5; Shoulder Season (between): October 6 to December 28; Best time for the greens: April to May.
Cost for Hotel/Golf Packages: $895 to $1845 (including lodging, breakfast and lunch) does not include air fare or ground transportation.
Thanks for reading CBS NEWS.
Create your free account or log in
for more features.