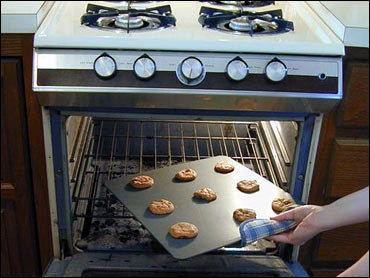 "Tainted" Cop Cookies Deemed Safe
A teenager jailed on accusations that he delivered drug-laced cookies to a dozen police stations was released Thursday after tests showed no drugs in goodies taken to two departments.
Blue Mound and Lake Worth police said tests by the Tarrant County medical examiner showed there were no controlled substances in cookies delivered this week by Christian V. Phillips, 18, who had been jailed in Lake Worth on $75,000 bond on a charge of tampering with a consumer product.
Phillips walked quickly out of the jail without commenting while accompanied by his father, who then drove away with his son.
The teen was arrested Tuesday after Lake Worth officers said they smelled marijuana in the basket he delivered and their preliminary tests instead detected LSD.
Phillips' attorney said his client was performing community-service work when he delivered goodies for Mothers Against Drunk Driving to about a dozen stations in the past couple of weeks. Only two stations had any treats left over to be tested for drugs.
"I'm really upset that this thing has gotten to this point, that this kid has gotten convicted in the media before any evidence was collected," said the attorney, L. Patrick Davis.
Some officers in Fort Worth and Watauga ate the cookies but did not become ill, and they recently had blood tests to determine whether drugs were in their systems.
Lake Worth Police Chief Brett McGuire said Thursday that he could not explain why the department's test falsely showed traces of LSD in the goodies but added that drug dogs had indicated the presence of drugs in the cookies and in Phillips' car.
"I probably wouldn't do anything differently next time," McGuire said Thursday. "None of my folks did anything that wasn't by the book."
McGuire said authorities now believe that marijuana had been stored near the cookies before Phillips delivered them. Although officers found some drug paraphernalia in his car, Phillips faces no other charges in Lake Worth, McGuire said.
Phillips had told detectives a friend of his might have been smoking pot while he was baking, and he denied contaminating the goodies or trying to harm anyone, McGuire has said.
Davis said Phillips was delivering the cookies as part of community service work after he was arrested last year at a party in Watauga.
Last year Phillips was charged with assault of a public servant, a felony, but it was reduced to assault with bodily injury, a misdemeanor. He did not plead guilty but was sentenced to an anger management class and about 80 hours of community service, Davis said. He was not put on probation.
If Phillips had completed the terms of his pretrial memorandum agreement, something for first-time offenders, the case would have been removed from his record - which would have been Wednesday, Davis said.
He graduated from high school in May and plans to attend college this fall.
"His life's been derailed, and I hope he can pick up the pieces," Davis said.
Thanks for reading CBS NEWS.
Create your free account or log in
for more features.