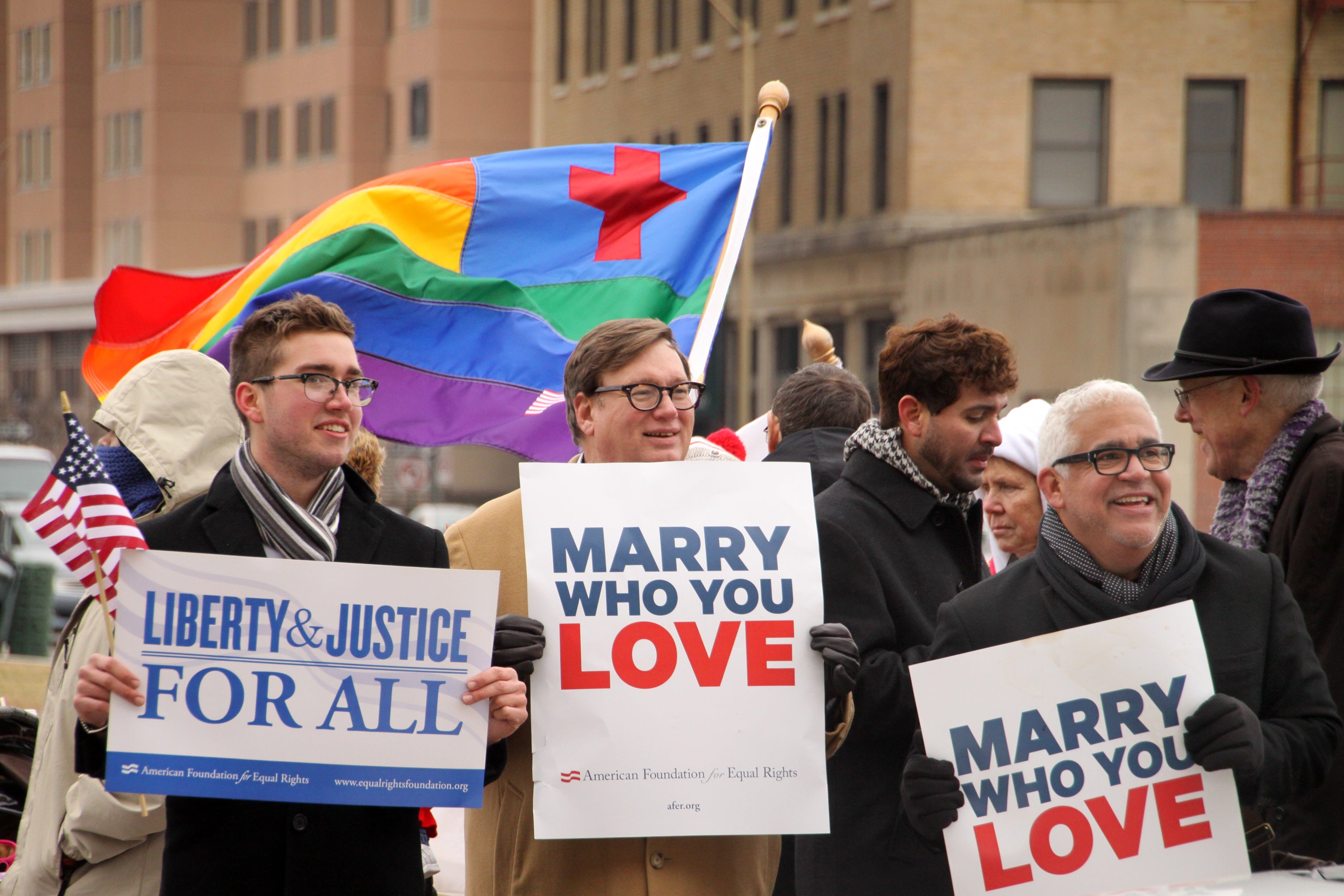 Supreme Court turns away same-sex marriage cases
The Supreme Court on Monday turned away seven same-sex marriage cases in five states, refusing for now to take up the basic question of whether same-sex couples have a right to marriage.
While the decision is a setback for the gay rights movement's goal of achieving marriage equality nationwide, it does allow the lower court rulings in those five states to stand -- all in favor of marriage equality. That means same-sex couples in Indiana, Wisconsin, Utah, Oklahoma, and Virginia will be able to get married.
The decision also leaves in place rulings from the Fourth, Seventh and Tenth Circuits, meaning same-sex marriage will soon be allowed in West Virginia, North Carolina, South Carolina, Kansas, Colorado and Wyoming.
Once same-sex marriage is allowed in those states, it will be legal in 30 states and the District of Columbia.
The White House says a growing majority of Americans recognize that same-sex couples in loving relationships deserve fair treatment under the law.
While spokesman Josh Earnest said there was no specific White House reaction to the court's move, he also said that ultimately there may be a role for the court to play in determining whether gay marriages should be extended to all states. He said President Barack Obama believes gay marriage should be the law of the land.
Monday afternoon in Virginia, thirty-year-old Lindsey Oliver and 42-year-old Nicole Pries received the first same-sex marriage license issued from the Richmond Circuit Court Clerk's office. Upon leaving the courthouse, they were married by gay-rights advocate The Rev. Robin Gorsline.
The Tulsa County Court Clerk's Office issued a marriage license to the couple who successfully challenged Oklahoma's ban on gay marriage. Mary Bishop and Sharon Baldwin planned to be married later Monday.
Colorado Attorney General John Suthers said in a statement his office will file motions to expedite the lifting of federal and state court stays and will advise county clerks when to issue licenses.
In Utah, a federal appeals court lifted its stay in its gay marriage case that the Supreme Court declined to hear. After the appeals order was lifted Monday, Salt Lake County Clerk Sherrie Swensen says the district attorney's office gave her approval to issue licenses to gay couples.
A Wyoming district judge has scheduled a Dec. 15 hearing on a request by three same-sex couples and Wyoming Equality to grant the right to marry. The Wyoming case is similar but not identical to those in federal court, and those fighting for gay marriage in Wyoming were hesitant to declare unconditional victory. But same-sex marriage could be legal in Wyoming by year's end.
Similar action was being taken in the other states affected by the Supreme Court decision.
The justices may have been hesitant to take up a same-sex marriage case since a federal appeals court has yet to rule against marriage equality. The court typically takes up an issue after there is a split in appellate court rulings. As Supreme Court Justice Ruth Bader Ginsburg recently said at the University of Minnesota Law School, "When all the courts of appeals are in agreement there is no need for us to rush to step in."
Ginsburg did say the question of same-sex marriage will come before the court "sooner or later." She suggested that time could come after a ruling is handed down by the Sixth Circuit Court of Appeals, which could give the gay rights movement its first major setback on the issue of marriage.
In August, a three-judge panel from the Sixth Circuit heard arguments over the same-sex marriage bans in Michigan, Kentucky, Ohio and Tennessee. Two of the three judges seemed inclined to uphold the bans.
"Now if that court should disagree with the others," Ginsburg said, "then there will be some urgency in the Court taking the case."
Gay rights advocates, for the most part, say the urgency is already there.
"Every day that we cannot have the freedom to marry and full respect across the country is a day that millions of people are really enduring a direct injury, indignity and injustice," Evan Wolfson, president of the group Freedom to Marry, told CBS News. "There's no reason to prolong that discrimination. The country is ready for the freedom to marry, and the case is there in front of the court. It's time to bring the country to national resolution."
Human Rights Campaign President Chad Griffin said in a statement Monday that "today is a joyous day for thousands of couples across America." However, he added, "the complex and discriminatory patchwork of marriage laws that was prolonged today by the Supreme Court is unsustainable. The only acceptable solution is nationwide marriage equality and we recommit to ourselves to securing that ultimate victory as soon as possible."
Thanks for reading CBS NEWS.
Create your free account or log in
for more features.