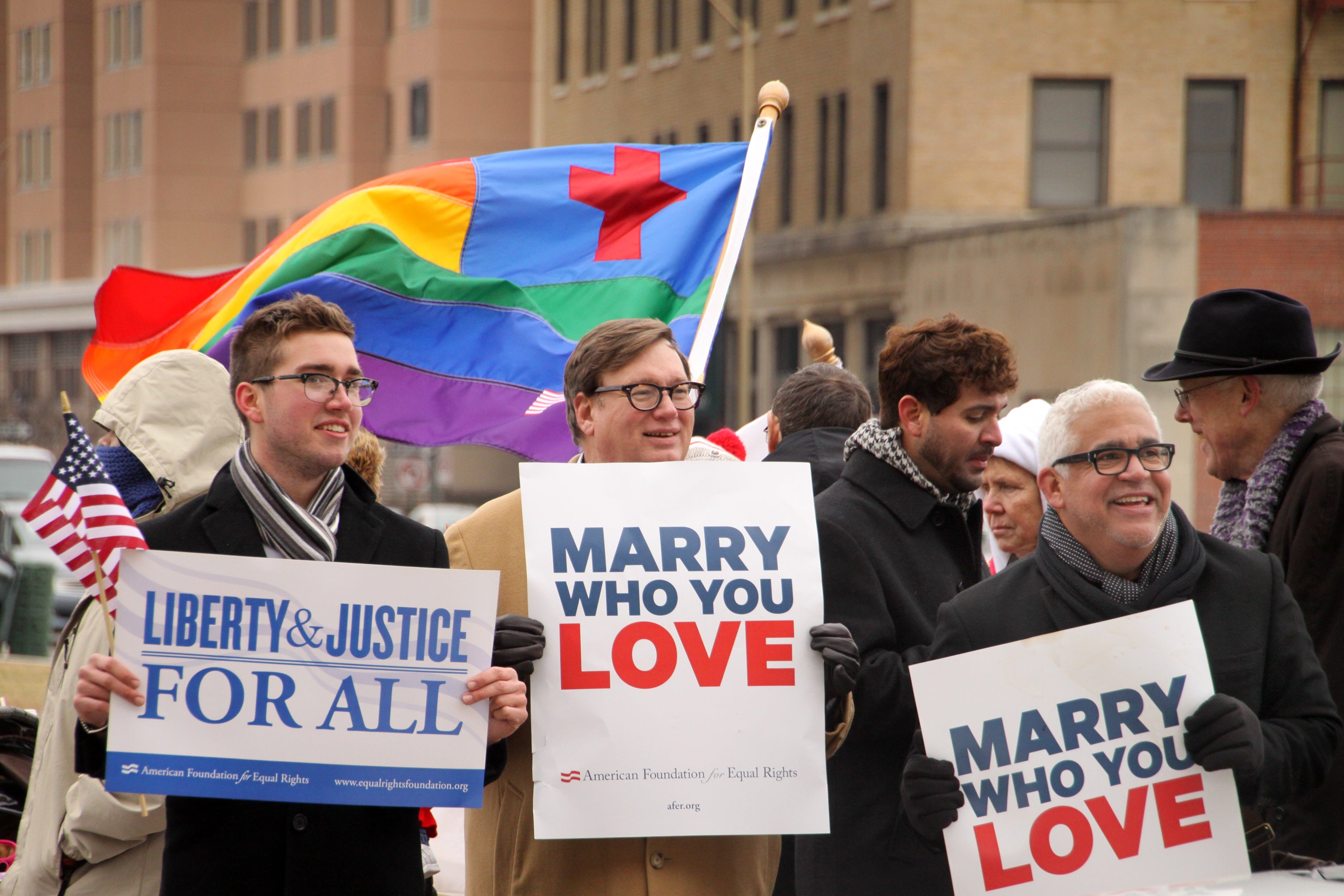 Supreme Court puts hold on same-sex marriage in Virginia
RICHMOND, Virginia -- Same-sex couples will have to wait longer to begin marrying in Virginia after the U.S. Supreme Court agreed Wednesday to delay an appeals court ruling striking down the state's gay marriage ban.
The nation's highest court granted a request from a county clerk in Virginia to delay a decision by the 4th U.S. Circuit Court of Appeals that would have allowed for same-sex couples to marry beginning Thursday morning. The state would have also had to start recognizing gay marriages from out of state.
The Supreme Court provided no explanation for its order.
The federal appeals court last week refused to delay its decision striking down the ban, issued in late July, while it is appealed to the high court. The appeals court's order did not explain why it denied that request.
The Supreme Court's decision was not unexpected, as it previously issued an order in January putting same-sex unions on hold in Utah while the federal appeals court for that region was hearing the case. That court upheld the decision striking down Utah's gay marriage ban, but delayed its decision from taking effect pending appeal to the Supreme Court. Most other federal court decisions in favor of same-sex marriage also have been put on hold.
Virginia voters approved a constitutional amendment in 2006 that banned gay marriage and prohibited the recognition of such marriages performed in other states.
The appeals court ruling overturning that ban was the third such ruling by a federal appeals court and the first in the South, a region where the rising tide of rulings favoring marriage equality is testing concepts of states' rights and conservative moral values that have long held sway.
Virginia Attorney General Mark Herring has said he will not defend the state's ban and believes the courts ruled correctly in striking it down.
The Virginia lawsuit was filed by Timothy Bostic and Tony London, who were denied a marriage license, and Carol Schall and Mary Townley. The women were married in California and wanted their marriage recognized in the state, where they are raising a 16-year-old daughter.
A panel of the 6th U.S. Circuit Court of Appeals in Cincinnati recently considered arguments regarding six cases from Michigan, Ohio, Kentucky and Tennessee. Some observers have said the 6th Circuit may be the first to uphold statewide gay marriage bans after more than 20 consecutive rulings in the past eight months striking them down.
Earlier this year, the Williams Institute at the UCLA School of Law estimated that between 5,487 and 7,122 same-sex Virginia couples would get married within three years of a change in law. That's based on 2010 Census figures showing Virginia had 14,243 same-sex couples and past experiences with Massachusetts after gay marriage was legalized there.
To help as many same-sex couples get married as quickly as possible, a network of religious clergy plans on fanning out to courthouses across the state to begin performing wedding ceremonies on the spot.
"I know many couples who have been together, in some cases decades, who are just waiting for this day," said the Rev. Jim Whalen, of New Life Metropolitan Community Church in Norfolk.
"We expect that there's going to be large numbers initially, and I think it'll be very advantageous to have enough people there to do this in a timely fashion instead of people having to wait hours. ... They've waited long enough."
Whalen is the organizer in the Hampton Roads region for People of Faith for Equality, which has commitments from 49 clergy members from various faiths to be stationed at different courthouses around the state. Another 17 clergy members have offered to be on call if they're needed, including the Rev. Linda Olson Peebles of the Unitarian Universalist Church of Arlington.
Peebles said most same-sex couples in her congregation have already gotten married in Maryland or Washington, D.C., where she has also performed wedding ceremonies. She said her 900-member congregation plans to have a celebration Wednesday night if a stay is not issued.
"It's been a long journey," she said. "We're letting everybody know we're going to be ready to join in Virginia moving forward, letting go of its sad history and moving forward."
Thanks for reading CBS NEWS.
Create your free account or log in
for more features.