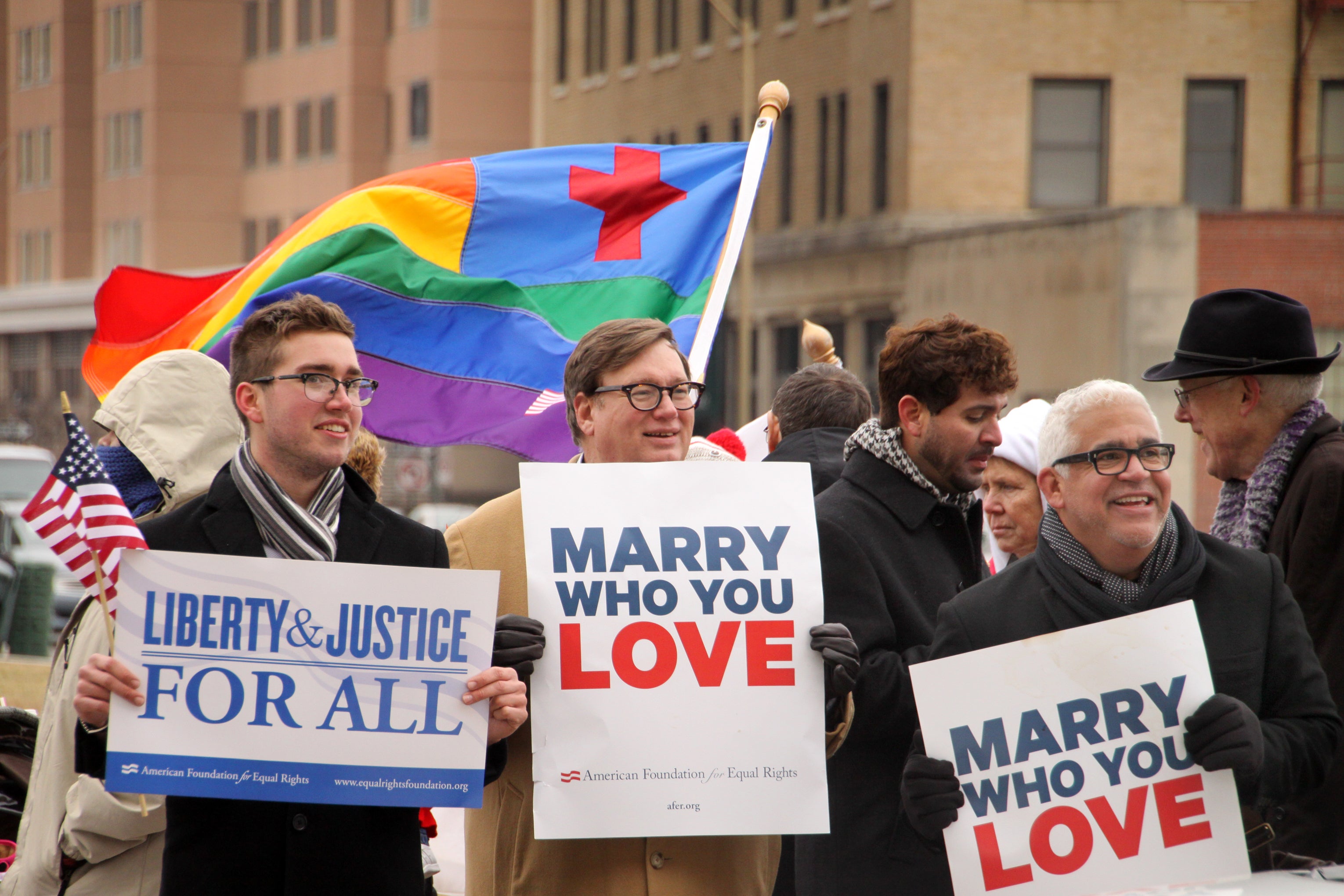 Virginia same-sex marriage ban ruled unconstitutional by U.S. court
RICHMOND, Va. -- A federal appeals court ruled Monday that Virginia's same-sex marriage ban is unconstitutional, the latest in a string of decisions overturning bans across the country and the knell of a seismic political shift in a battleground state.
A three-judge panel of the 4th U.S. Circuit Court of Appeals in Richmond ruled that state constitutional and statutory provisions barring gay marriage and denying recognition of such unions performed in other states violate the U.S. Constitution. The Virginia gay marriage case is one of several that could go to the U.S. Supreme Court.
It was not immediately clear if or when the state would need to begin issuing marriage licenses to same-sex couples.
Virginia's same-sex marriage bans "impermissibly infringe on its citizens' fundamental right to marry," Judge Henry F. Floyd wrote in the court's opinion.
"We recognize that same-sex marriage makes some people deeply uncomfortable," Floyd wrote. "However, inertia and apprehension are not legitimate bases for denying same-sex couples due process and equal protection of the laws.
"...The choice of whether and whom to marry is an intensely personal decision that alters the course of an individual's life," he continued. "Denying same-sex couples this choice prohibits them from participating fully in our society."
In February, U.S. District Judge Arenda Wright Allen ruled that Virginia's same-sex marriage ban violates the U.S. Constitution's equal protection and due process guarantees. Lawyers for two circuit court clerks whose duties include issuing marriage licenses appealed. Attorney General Mark Herring, representing a state official also named as a defendant, sided with the plaintiffs.
At the time, Herring spokesman Michael Kelly wrote in an email to CBS News: "While Virginia has a storied place in the founding of our nation and has contributed to the development of our democracy, it has also been on the wrong side of court cases involving school desegregation, interracial marriage, and state-supported single-sex education. (Herring) will say today 'It's time for Virginia to be on the right side of the law, and the right side of history.'"
Gay marriage proponents have won more than 20 legal decisions around the country since the U.S. Supreme Court last year struck down a key part of the federal Defense of Marriage Act. Those rulings remain in various stages of appeal.
More than 70 cases have been filed in all 31 states that prohibit same-sex marriage. Nineteen states and the District of Columbia allow such marriages.
The Virginia lawsuit was filed by Timothy Bostic and Tony London of Norfolk, who were denied a marriage license, and Carol Schall and Mary Townley of Chesterfield County. The women were married in California and wanted their marriage recognized in Virginia, where they are raising a 16-year-old daughter.
Two other same-sex couples, Joanne Harris and Jessica Duff of Staunton and Christy Berghoff and Victoria Kidd of Winchester, filed a similar lawsuit in Harrisonburg and were allowed to intervene in the case before the appeals court.
In 2006, Virginians voted 57 percent to 43 percent to approve the constitutional amendment banning gay marriage. Virginia laws also prohibit recognition of same-sex marriages performed in other states.
Thanks for reading CBS NEWS.
Create your free account or log in
for more features.