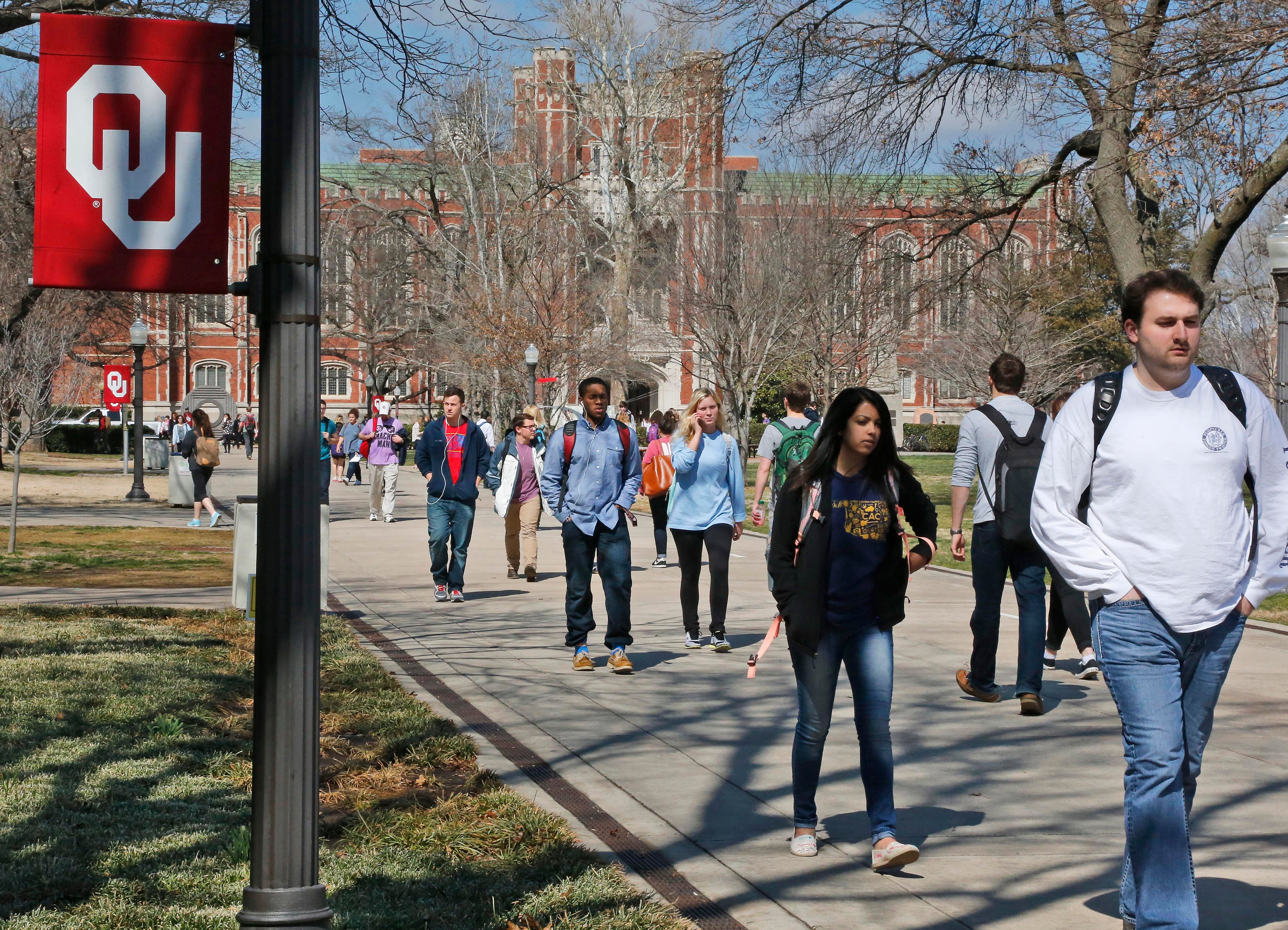 Apologies issued for racist University of Oklahoma fraternity video
DALLAS -- One of the University of Oklahoma students seen on video chanting racial slurs before a fraternity event issued an apology Tuesday evening, expressing regret and denying he is a racist.
The video shows several people on a bus participating in a chant that included a racial slur, referenced lynching and indicated black students would never be admitted to OU's chapter of Sigma Alpha Epsilon. It first surfaced on Sunday and quickly went viral, casting a shadow over the Norman, Oklahoma campus.
In a statement emailed by his father, Parker Rice said the incident that was caught on video was "likely was fueled by alcohol," but "that's not an excuse."
"I am deeply sorry for what I did Saturday night," Rice said in a statement emailed to The Associated Press and other media outlets by his father. "It was wrong and reckless."
Rice said he withdrew from OU on Monday and that threatening calls to his family have prompted them to leave their North Dallas home. He called the incident "a horrible mistake" and "a devastating lesson" for which he is "seeking guidance on how I can learn from this and make sure it never happens again."
"Yes, the song was taught to us, but that too doesn't work as an explanation. It's more important to acknowledge what I did and what I didn't do. I didn't say 'no.'"
The parents of another student seen on the video, Levi Pettit, released a statement that said he "made a horrible mistake, and will live with the consequences forever."
Pettit's parents, Brody and Susan Pettit, said in a statement posted online that their son "is a good boy, but what we saw in those videos is disgusting."
"We are sad for our son -- but more importantly, we apologize to the community he has hurt," the Pettits said. "We would also like to apologize to the entire African American community, University of Oklahoma student body and administration."
The Pettits, who also live in the Dallas area, said they had "the responsibility to apologize, and also to seek forgiveness and reconciliation."
University President David Boren said Tuesday two students had been expelled after being identified "as playing a leadership role" in the incident, which he said created a "hostile learning environment for others." He said the university is working to identify other students who were involved and who may also face discipline.
Boren didn't release the names of the students who were expelled. Rice said in his statement that he withdrew from the university Monday. The university's student newspaper, the Oklahoma Daily, identified Rice as one of the expelled students. The statement from Pettit's parents did not address his status with the school.
The video was taken on a bus going to a Founder's Day event at a country club. The person who recorded it has cooperated with the investigation, Boren said Tuesday ahead of a Board of Regents meeting.
Also Tuesday, Beauton Gilbow, the fraternity's house mother, issued a statement that addressed a video from 2013 showing her repeating a racial slur as music plays in the background. Gilbow said she was singing along to a song.
She said she was "heartbroken" by the portrayal that she was racist but understood how the video must appear in the context of the week's events.
The university gave all SAE members until midnight Tuesday to remove their belongings from the fraternity house. The Greek letters have been removed from the building, which has been sprayed by graffiti reading "Tear it down."
National leaders of Sigma Alpha Epsilon said an investigation confirmed members took part in the chant and announced they would close the local chapter. The national group said it was "embarrassed" by the "unacceptable and racist" behavior.
The fraternity said in a statement late Monday that the chant was not a part of fraternity tradition.
Thanks for reading CBS NEWS.
Create your free account or log in
for more features.