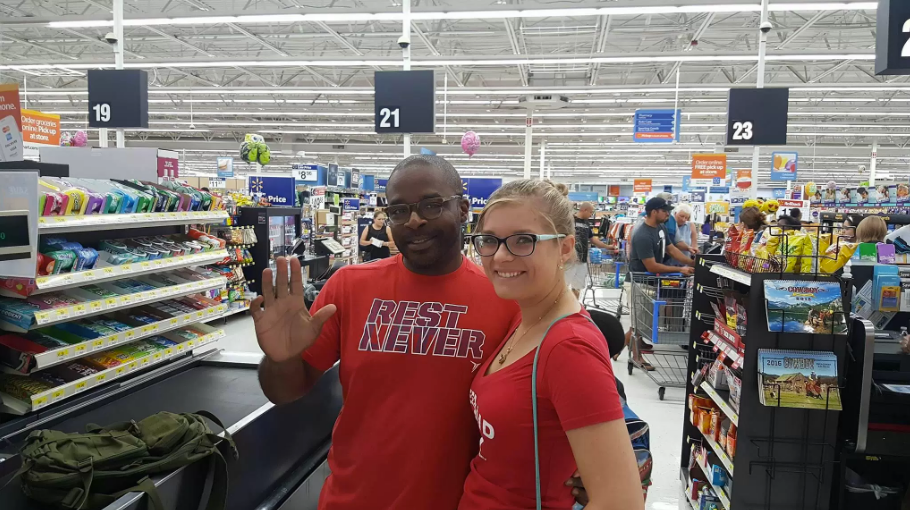 Stranger waiting in line behind Texas teacher pays for her school supplies
SAN ANTONIO -- Sabrina Drude was doing what many teachers do before the start of the school year -- shopping for supplies for her students -- when she noticed a man standing in line at Wal-Mart examining her items.
With a cart full of hundreds of notebooks, pencils and markers, the seventh grade teacher was anticipating an eye roll or two as she checked out.
Instead, she got a question, several actually. The man behind her, noticing she didn't have any children with her, asked her why she needed the supplies.
The teacher at Francis Scobee Middle School in San Antonio, Texas, explained that she teaches in a very low socioeconomic area where kids can't always afford what their peers can.
Touched by the woman's kind gesture, the man offered to pay for everything in the woman's cart. She thanked him, but said she couldn't accept his money.
But when $97 flashed on the cash register, the man, later identified as Lester Brown, jumped between Drude and the cashier with a bill in his hand.
"He said, 'Put your wallet away,' and I just started crying," Drude told CBS News. "That's the sweetest thing I've ever heard."
Drude didn't understand why someone would do something so sweet for a stranger.
"Because teachers don't get the recognition that they deserve," Drude recalled Brown telling her.
Throughout the year, Drude often spends money out of her own pocket to benefit kids in her class. The $250 tax deduction that teachers receive doesn't even put a dent into what we put into our classrooms, Drude said.
"I teach in a very low socioeconomic area," Drude explained. "Some of my kids can't afford what their peers can. I don't want them to have to deal with that embarrassment or them not even wanting to tell me."
Thanks to Brown, Drude's students have the supplies that they desperately needed.
And Drude said she plans to tell her students about the man's good deed.
"This is exactly the type of person I want to influence my kids to be," said Drude, adding that she plans to ask Brown to join her class for a pizza party. "I want him to inspire my kids just like he inspired me; if any of my kids grew up to be half the man he is I'd be very proud."
Thanks for reading CBS NEWS.
Create your free account or log in
for more features.