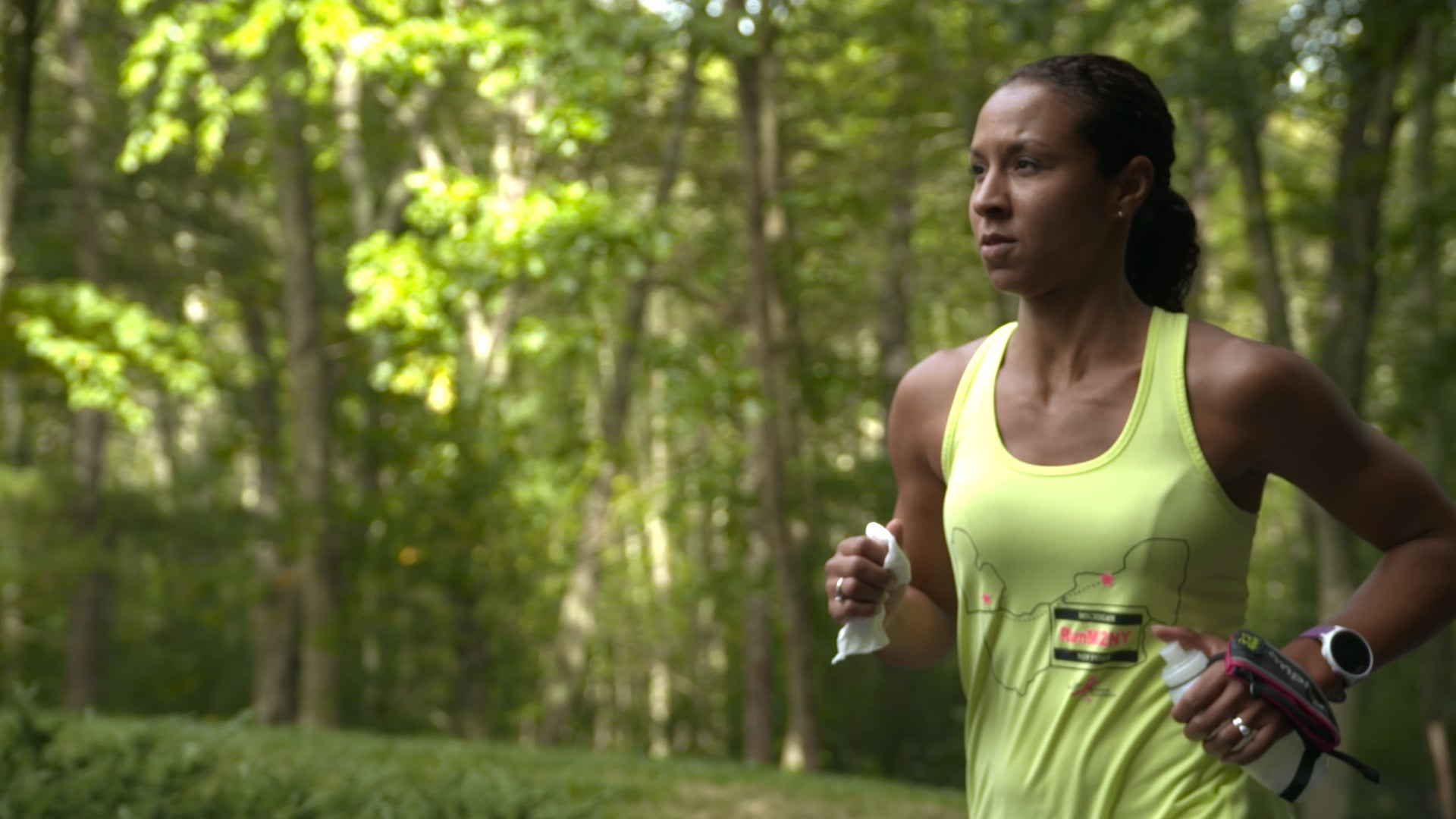 After breast cancer, "I won't ever be the same. And that's OK."
She thought about potato chips. During the hardest parts of her 15-day, 467-mile run -- Davina McNaney thought about potato chips. She also daydreamed about taking epsom salt baths and hugging her two young daughters at the finish line. And she thought about the day more than three years before, when she found out she had breast cancer.
McNaney was at home with her younger daughter when the phone rang in October 2012. She had gotten her first mammogram just a few weeks earlier. The doctors asked her to come back for a second mammogram and biopsy. McNaney didn't think much of it. Although some members of her extended family had breast cancer, her mother and grandmother did not. Plus, she was feeling fine and in great shape -- she'd just completed a 40-mile race on her 40th birthday. But the nurse on the other end of the line explained McNaney's biopsy showed DCIS, or ductal carcinoma in situ -- the presence of abnormal cells inside the milk duct in the breast.
"I said, 'Are you telling me I have breast cancer?'" McNaney recalls. "And she kind of paused and she said, 'Yes I'm telling you have have breast cancer, I'm very sorry.'"
Just four months after that phone call, McNaney had a double mastectomy. Because her breast cancer was detected so early, she had options.
Doctors told her she could have 35 rounds of radiation, a lumpectomy or double mastectomy. Her cancer was very close to the chest wall, so she decided against radiation. She felt a lumpectomy wasn't the right decision, either. For her, the choice was clear. "I felt like my breasts had betrayed me," she explained. "I used these things to nurse two children, I was done with them and they betrayed me I wanted them gone -- so that's why I chose to go the route that I did."
McNaney says it took about three months to recover before she was able to run again. Running had been a passion since she completed her first marathon at 30 years old. Before her cancer treatment, she ran nearly every day either outside or on a treadmill during the harsh Michigan winters. She even ran a 100-mile trail race with friends while dressed in costume as an Egyptian princess.
After her surgery and physical therapy, McNaney began thinking about ways to celebrate life and raise money for cancer research. She was thankful for her treatment and feeling strong again. In May 2014 -- more than a year after her double mastectomy -- it came to her: "I woke up and I just said in my head, 'I'm going to run home, I'm going to run to New York,'" she says.
It was her own little secret; at first she didn't even share it with her husband of 15 years. But she had done the math -- she would cover the 467 miles from her home in Pinckney, Michigan, to her hometown of Sodus Point, New York, in 15 days.
The thought stayed in her mind until a chat with friends at a neighborhood bonfire -- and a few drinks -- persuaded her to share it out loud. "I get passionate when I'm talking about running, so I said I'm going to run to New York," McNaney says. "And I just went, 'Whoops!' Because once I say it out loud I was doing this and nothing was going to stop me."
The concept of "RunMI2NY" was officially launched and McNaney began organizing the run. Her husband would join her throughout the entire journey, biking alongside her or driving a van full of supplies to each stop along the route. She found sponsors and eventually raised more than $20,000 dollars for the Breast Cancer Research Foundation.
On June 26, her journey began in bittersweet fashion. McNaney and her family had sold their home in Michigan and were in the process of relocating to Massachusetts. She said good-bye to her empty home, locked the door and ran 36 miles that day. She ran 36 miles a day for six days in a row. For the next two days she ran 13 miles each -- giving her some extra time to celebrate her oldest daughter's eighth birthday. She then ran five consecutive 34-mile days and finished with a 20-mile run. "There was no option to not make it," says McNaney. "People had donated at that point over $20,000. I can't stop."
Hundreds of people lined the streets as McNaney reached her destination in Sodus Point, a town of about 1,000 people on an inlet off Lake Ontario. McNaney's family went back four generations there. Cousins, friends and neighbors all came out to cheer her on. The local fire department closed the streets and escorted her the final three miles. "I replay it in my head like a movie because it was just such a happy day," she says.
Today McNaney says she is "100 percent cancer free" and thinking about her next big adventure.
She gets both proud and embarrassed when her daughters tell strangers of her multi-state run. And she's not sure if she would ever do it again. But she is sure the run and her cancer experience have changed her. "I won't ever be the same. And that's OK. It's a good thing."
Thanks for reading CBS NEWS.
Create your free account or log in
for more features.