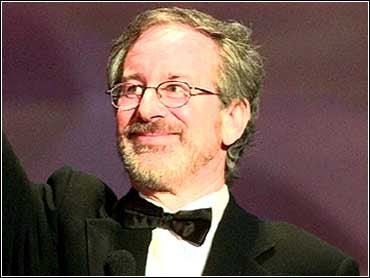 Steven Spielberg To Be Knighted
Film director Steven Spielberg will become a Knight of the British Empire in the new year, one of the highest honors bestowed by Queen Elizabeth II — and a special tribute for an American.
Spielberg's award of an honorary knighthood was announced to coincide with the queen's annual New Year's honors list, published Saturday, which rewards celebrities, sports heroes and ordinary Britons who have made a significant contribution to national life.
Those topping this year's list include Patrick Stewart, the Shakespearean actor who played Captain Jean Luc Picard in Star Trek: The Next Generation, the controversial author Fay Weldon, British comic Spike Milligan and Tiggy Legge-Bourke, the nanny who cared for the late Princess Diana's two sons.
Sharing the limelight are teachers, a Scottish couple who raised money to restore a cathedral organ and a 60-year-old grandmother who has worked as a school crossing guard since 1970.
When Spielberg is honored during a special ceremony Jan. 29 at the British Embassy in Washington D.C., the director of E.T. The Extraterrestrial, Jaws, Saving Private Ryan and Schindler's List will join an elite list of Americans. Other honorary knights include former Presidents George Bush and Ronald Reagan, Secretary of State designate Colin Powell, General Norman Schwarzkopf, comedian Bob Hope and conductor Andre Previn.
But unlike British knights, Spielberg won't become Sir Steven, nor will he kneel and be tapped on each shoulder with a sword as British citizens are. He will, however, be able to put the letters "KBE" after his name.
"The award of an honorary knighthood recognizes Steven Spielberg's extraordinary contribution to the entertainment industry and the British film industry over the last 25 years," the British Embassy in Washington said on its Web site.
Spielberg has been a strong supporter of the British film industry. Last summer, he filmed a 10-part television series, Band of Brothers in England, and Prime Minister Tony Blair's eldest son, Euan, spent a week working on the set, according to The Daily Telegraph.
Marvin Levy, spokesman for Spielberg's Dreamworks SKG, said the director had been informed ahead of time of the honor.
"He was enormously pleased and really humbled by this. He has always had such wonderful feelings for the U.K. and the British film industry," he said.
The honors list is selected by the Labor Party government to honor people in all walks of life for their contributions to their professions and to charity. Spielberg's award is part of a special diplomatic list and is not officially connected with the New Year's list.
As part of the year 2001 awards, Stewart receives an OBE or Order of the British Empire. Milligan, an 82-year-old veteran of the Goon Show comedy troupe, becomes a knight, but like Spielberg he doesn't get to be called "Sir." An Irish citizen, illigan also receives an honorary knighthood.
Shakespearean actor Paul Scofield, 78, is recognized with a Companion of Honor. Actor Tom Courtenay, who starred in films such as Dr. Zhivago and The Loneliness of the Long Distance Runner receives a knighthood.
Astronomer Patrick Moore, 77, also becomes a knight. Moore, who has presented an astronomy show on the British Broadcasting Corp. for more than 40 years, becomes a "Sir" in recognition of his "services to the popularization of science and to broadcasting."
Playwright Peter Shaffer, the Oscar-winning author of Amadeus, becomes Sir Peter, while actress Charlotte Rampling gets an Order of the British Empire, or OBE, "for services to acting and U.K.-French cultural relations." British-born Rampling moved to France about 25 years ago.
American actress Zoe Wanamaker, who has performed in numerous West End productions, gets an honorary CBE, or Commander of the Order of the British Empire. Jazzman Acker Bilk, 71, is rewarded with an MBE, or Member of the Order of the British Empire.
Weldon, one of the world's most prolific novelists, screenwriters and journalists, also gets a CBE.
"One feels very flattered and honored and it is nice to be acknowledged," said Weldon, who added that the reward was more an honor for her charitable work than for her writing. "A lot of writers do this, because as soon as you get any public profile people ask you and you would have to be a very hardhearted person to say no."
Legge-Bourke, who as nanny to Prince William and Prince Harry consoled them on the death of their mother, Princess Diana, becomes a Member of the Royal Victorian Order.
Among the non-famous names to share in the awards include Sharon Hollows, a school principal who becomes a Dame — the female equivalent of a knight — for helping raise the standards in an East End London school, and Pam McComiskey who receives an MBE for her work in Manchester as a school crossing guard.
Roger Greenaway, a songwriter who penned the Coca Cola jingle, "I'd like to Teach the World To Sing," receives an OBE.
The status of these honors descends from knighthood to CBE, MBE and OBE. Knights use the title Sir, and those awarded the British Empire titles may use the letters after their names.
Thanks for reading CBS NEWS.
Create your free account or log in
for more features.