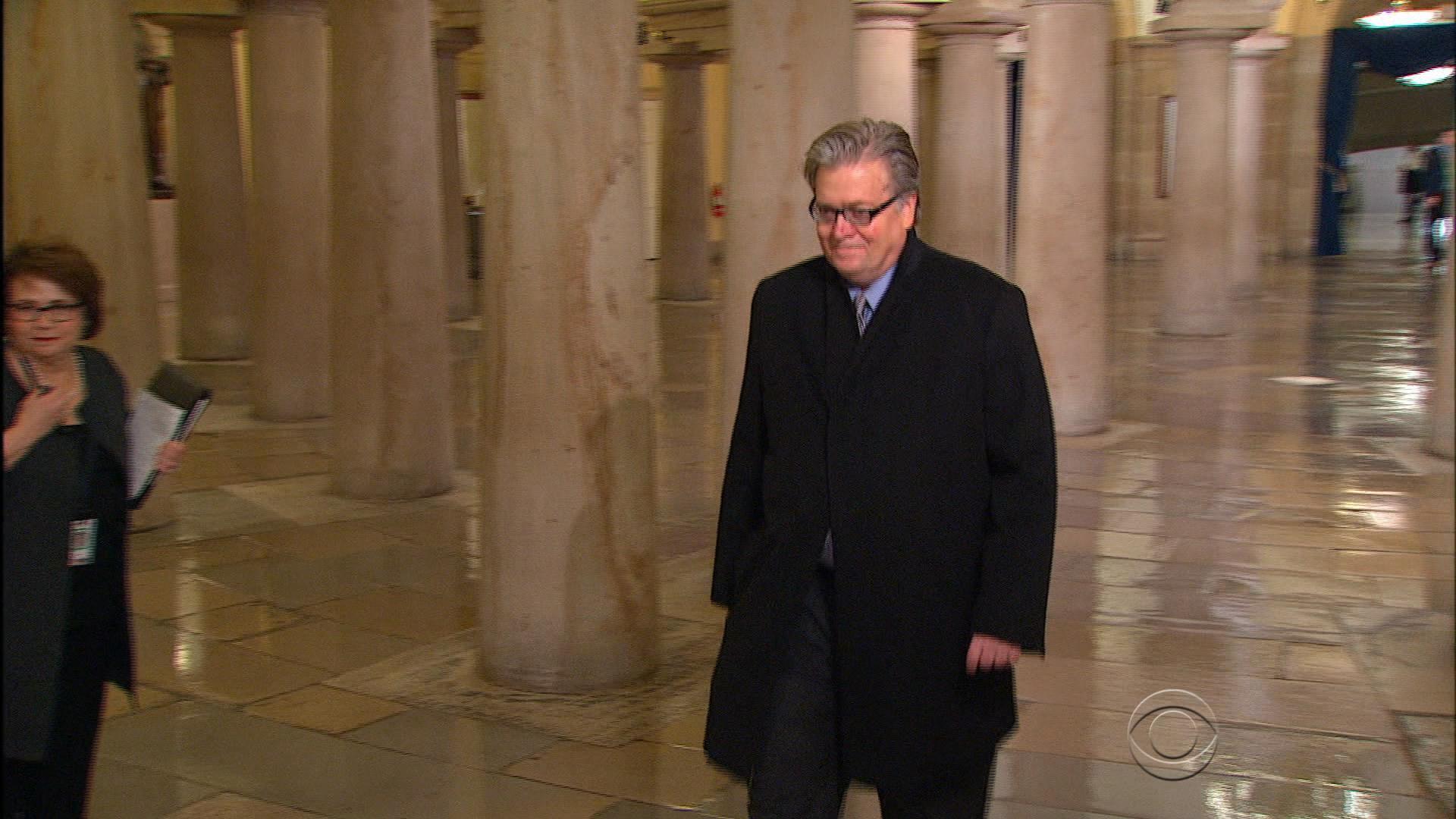 Behind Steve Bannon's rise to the National Security Council
President Trump said Monday that "the media" is the opposition party. He was repeating the words of Steve Bannon, his chief strategist. Bannon was CEO of the Trump campaign.
The White House now says Bannon will sit on the National Security Council -- a place usually insulated from politics.
Even before gaining a seat on the NSC, Bannon was already one of the most powerful people in the White House. It's a breathtaking rise for someone whose job before joining the Trump campaign was CEO of Breitbart News, an ultra-conservative and highly controversial website.
"He positioned the website as 'the platform for the alt-right,' as a host for misogynist, racist, Islamaphobic propaganda," said Jonathan Greenblatt, CEO of the Anti-Defamation League.
During the campaign Mr. Trump appeared with Bannon on Breitbart radio.
"And I do like Breitbart. And Breitbart is legit, I mean, a hundred percent legit," Mr. Trump said.
Breitbart became popular with white nationalists. But the White House denies Bannon is promoting that ideology now.
Bannon served in the Navy, attended Harvard Business School and worked in investment banking, but became a harsh critic of what he described as the Wall Street crisis in 2010.
"Unlike the manufactured crises of global warming and health care, this is a true crisis," he said.
He has little experience in foreign policy. Ari Fleischer, press secretary to President George W. Bush, says Bush's political director was banned from NSC meetings. Even so, Fleischer supports Trump's promotion of Bannon.
"President Bush was much more of a traditionalist, much more government establishment, this is the way it's always been done," said Fleischer. "Donald Trump is different. And I think he's earned the right to be different."
The White House on Monday noted that President Obama's top political advisor, David Axelrod, sometimes attended NSC meetings. But Axelrod says he only listened, and said that unlike Bannon, he did not have a role in making national security policy.
Thanks for reading CBS NEWS.
Create your free account or log in
for more features.