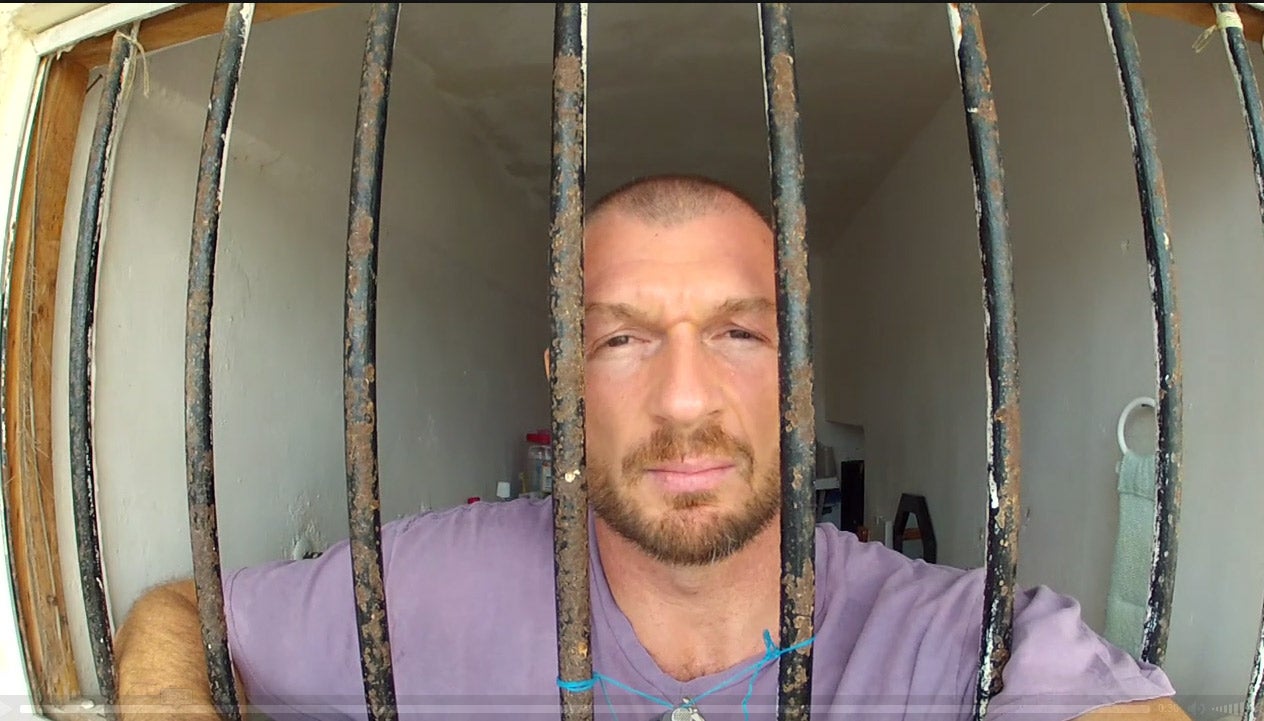 Stark differences between Mexican, U.S. legal systems
CANCUN, Mexico -- To see how starkly different the Mexican judicial system is from that of the United States, all one needs to do is attend a single day in the trial of former "Survivor" producer Bruce Beresford-Redman, accused of killing his wife Monica during a family vacation back in April, 2010.
The courtroom where Beresford-Redman is standing trial -- a trial now in its third year, although apparently close to ending -- does not look anything like what Americans are used to seeing, not only in this country but anywhere. In recent years, Americans have witnessed the highly-publicized murder trials of Amanda Knox in Italy and Oscar Pistorius in South Africa. Those trials were held in rooms that looked very much like American courtrooms.
Not so in Mexico. Beresford-Redman's trial is taking place in what looks like a Department of Motor Vehicles office. The room is filled with desks where a lot seems to be going on, but if you're looking for a presiding judge or a witness stand, keep looking.
Lacking the classic physical layout Americans are used to, it is difficult in a Mexican courtroom to distinguish one person from another. Who's the prosecutor? Who are the defense team? Who's a witness? It's just a big, crowded room.
Complicating matters, there are times when more than one case is being heard, there is no jury, and it's not unheard-of for the judge to skip a day here or there. The evidence is not presented in a linear fashion over one or two weeks but spread out sporadically over months or years. Furthermore, much of the evidence is presented via written statements.
Of course, this is causing a lot of frustration for Beresford-Redman who has always maintained that he is innocent of his wife Monica's murder. He's been on trial on and off since he was extradited back here in February, 2012. "If you're gonna convict me, convict me so I can appeal. Otherwise just give me a ruling so I can go home," he told 48 Hours Correspondent Troy Roberts in a recent interview conducted in Cancun's Benito Juarez jail.
Roberts: "Do you think you're being unfairly singled out?
Beresford-Redman: I don't know. It feels at times to me like they don't wanna do anything with me. I'm stuck and I feel like I'm without a country."
But Sonya Tsiros, a U.S. Consul for the Cancun area, says that the slow style of Mexican justice that Beresford-Redman is experiencing is something that Beresford-Redman just has to live with. "U.S. citizens who are arrested in a foreign country are subject to the laws of that foreign country," she told 48 Hours.
There is, however, a sea change coming in the Mexican judicial system as it moves to a completely different style that will look more like our own by 2016, according to Maureen Meyer, senior associate for Mexico and Migrant Rights for the Washington Office on Latin America, an American organization that seeks to promote human rights.
"Mexico is moving in the right direction but it will take a long time for just and fair trials," Meyer said in a phone interview with CBS News. "Things are moving very slowly. There was a constitutional reform in 2008 and states had eight years to institute a new system. It's going to be a long time to see full reforms because everyone is learning a new system."
The states in Mexico are instituting reforms at their own pace and things are moving very slowly in Quintana Roo where Beresford-Redman is standing trial. His trial is going on under the old system which at least partially explains, says Meyer, why it is taking so long and why there are fits and starts between witnesses.
"The old system is very problematic," she said. "It is subject to abuse and it is non-transparent."
The length of Beresford-Redman's trial surprises almost no one familiar with Mexico, not the U.S. Consul for the Cancun area and not Meyer. "A lot of criminal cases go on for years in Mexico," she said. "People detained in 2010 are still in jail and 40% of the prison population is in pre-detention (note: meaning their cases have yet to be adjudicated)."
Of course, the United States legal system has its own problematic, overcrowded legal system. There are roughly 11,000 people in New York City jails and the vast majority of them have yet to go to trial. It is not unusual for inmates to spend months, sometimes years, in jail because they are unable to make bail. The New Yorker Magazine recently profiled one case of a 16-year-old boy who spent three years in Rikers Island because his family could not afford his $3,000 bail. He was held on grand larceny charges because of a single witness. The boy maintained his innocence and, after three years, he was released without a trial.
Paul LaRosa is a "48 Hours" producer. "48 Hours" will air its all-new investigation into the Beresford-Redman case, "Prison Diaries," Saturday at 8 p.m. ET/PT on CBS.
Thanks for reading CBS NEWS.
Create your free account or log in
for more features.