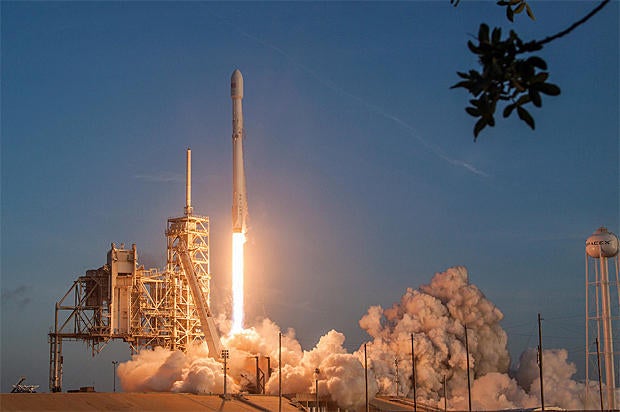 SpaceX Falcon 9 rocket launches spy satellite
A SpaceX Falcon 9 rocket carrying a classified National Reconnaissance Office spy satellite roared to life and streaked into space Monday, the first launch of a clandestine NRO payload by the California rocket builder and the company's fifth flight so far this year.
Mounted atop historic pad 39A at the Kennedy Space Center, the Falcon 9's first-stage engines ignited at 7:15 a.m. EDT (GMT-4), throttled up to full thrust and pushed the rocket away from Florida's Space Coast atop a jet of flame and billowing clouds of steam.
Running a day late because of a sensor problem that blocked a launch try Sunday, the slender rocket climbed straight up and then arced over to the northeast on a trajectory paralleling the East Coast of the United States, putting on a dramatic early morning show for area residents and tourists.
About two minutes and 20 seconds later, after climbing out of the thick lower atmosphere, the nine first-stage engines shut down, the stage fell away and the single Merlin engine powering the Falcon 9's second stage fired up to continue the boost to space.
At that point, the flight was proceeding smoothly and the second stage presumably put the satellite into its intended orbit. But in keeping with the clandestine nature of the mission, no payload-related details were released and SpaceX provided no details about the trajectory beyond confirming second stage engine ignition.
But the news blackout did not apply to the first stage, which flipped around and restarted three engines to kill off its forward velocity. It fired the engines again as it plunged back into the discernible atmosphere and fired up a single engine a few minutes later to guide itself tail first toward Landing Zone 1 at the Cape Canaveral Air Force Station.
Live video from tracking cameras on the ground and one on the side of the returning booster provided spectacular views as the rocket descended through low clouds, four steering "grid fins" keeping it properly oriented before a final single-engine rocket firing and deployment of four landing legs.
SpaceX engineers watching the landing on large displays at the company's mission control center in Hawthorne, Calif., burst into cheers and applause as the engine shut down, leaving the booster upright and in apparently good shape near the center of the Landing Zone 1 pad.
"Launch and landing of the NRO spy satellite was good," SpaceX founder Elon Musk said via Twitter. He said the decision to launch was a "tough call, as high altitude wind shear was at 98.6% of the theoretical load limit."
It was tenth successful first stage landing in 15 attempts and the fourth at the Cape Canaveral Air Force Station. The others landed on off-shore droneships.
The landings are a key element in Musk's drive to lower launch costs by recovering, refurbishing and re-launching rocket stages. On March 30, SpaceX successfully launched an SES communications using a first stage that flew on an earlier flight, a first for orbit-class boosters.
Impressive as it was, the landing was a secondary objective. The primary goal of the mission, as always, was to boost the NROL-76 satellite into the proper initial orbit.
While no details were provided by the NRO or SpaceX, satellite tracking hobbyists and analysts gleaned clues about the nature of the satellite from the Falcon 9's trajectory and the return of the first stage to Cape Canaveral.
Communications and eavesdropping satellites are typically launched due east from Cape Canaveral, allowing them to reach geosynchronous orbits 22,300 miles above the equator. At that altitude above the equator, spacecraft take 24 hours to complete one orbit and thus appear to hang stationary in the sky.
But the Coast Guard informed mariners earlier that the Falcon 9 launched Monday would be heading away on a northeasterly trajectory. Spacecraft in circular, highly inclined orbits operate well below 22,300-mile-high geosynchronous altitudes.
In addition, SpaceX is normally unable to fly a first stage back to a land touchdown if the payload is bound for a high orbit because too much fuel is consumed during the ascent. Those stages are normally recovered on off-shore drone ships.
It is not known with any certainty whether the payload was to be placed in a circular low-Earth orbit or a highly elliptical orbit that would allow the spacecraft to linger over a specific target area. But the Federal Aviation Administration's launch license cited a low-Earth orbit.
Finally, an NRO spokesperson said Sunday that Ball Aerospace was responsible for the spacecraft atop the Falcon 9. Ted Molczan, a respected satellite analyst, said all of the evidence to date led him to believe the satellite may be an imaging spacecraft of some sort based on Ball's BCP-5000 family of spacecraft.
"The BCP line is flown in a variety of orbits with a wide assortment of payloads, including electro-optical payloads (imagers and limb scanners) with high accuracy pointing requirements," Ball says in a generic webpage description.
A world-wide network of amateur satellite sleuths hope to catch sight of the NROL-76 satellite in the coming days to help confirm what sort of orbit it is actually in and, as a result, what sort of mission it might be undertaking.
This was the fifth launch of a Falcon 9 since a spectacular explosion Sept. 1 at the Cape Canaveral Air Force Station that destroyed another booster and its $200 million satellite payload, heavily damaging launch complex 40.
The mishap was blamed on a ruptured high-pressure helium tank inside the rocket's second stage liquid oxygen tank. Corrective actions were implemented and SpaceX returned to flight Jan. 14, successfully launching 10 Iridium NEXT satellite telephone relay stations from Vandenberg Air Force Base, Calif.
The company then launched a space station cargo ship from pad 39A at the Kennedy Space Center on Feb. 19, an EchoStar communications satellite March 16 and an SES communications station on March 30.
With the NROL-76 launch behind them, SpaceX engineers will turn their attention to readying another Falcon 9 for launch May 15 to boost an Inmarsat communications satellite into orbit. If all goes well, the company will launch a Dragon cargo ship to the International Space Station on May 31.
Thanks for reading CBS NEWS.
Create your free account or log in
for more features.