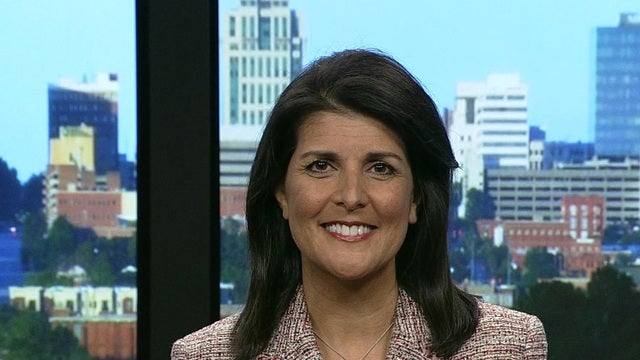 Nikki Haley replies to criticism of her State of the Union response
In her rebuttal to President Obama's final State of the Union address Tuesday evening, South Carolina Gov. Nikki Haley used the platform to call out her own party, urging them to resist the temptation to follow the "siren call of the angriest voices."
While the governor admitted Trump was "not exempt," she clarified that the comment was in reference to "a lot of things," intended for Republicans and Democrats alike to move towards "solutions" for issues, rather than "division."
"I wasn't trying to please everyone. I was given an opportunity to say what I think about the status of the country and I was honored to do so," Gov. Haley told "CBS This Morning" Wednesday.
But the speech drew immediate fire from conservatives. In a series of tweets, radio host Laura Ingraham slammed the governor for taking swipes at GOP frontrunner Donald Trump, calling the move "not smart."
The country is lit up w/ a populist fever & the GOP responds by digging in, criticizing the GOP candidates dominating polls?! NOT SMART.

— Laura Ingraham (@IngrahamAngle) January 13, 2016
Conservative commentator Ann Coulter also went on a Twitter tirade in response to a chunk of Haley's speech that seemed to challenge the anti-immigrant proposals of Donald Trump, saying that he should "deport her."
Responding to the attacks, Gov. Haley brushed them aside, saying that her comments were "not personal."
"I was also critical about our own Republicans and that's because we can't assume that we have no blame here," Haley said. "Its healthy when you can point out certain things that you feel like weren't in the best interest of your state or country... "
The governor also drew from the experiences within her state this past year -- including the removal of the Confederate flag from the statehouse and the passing of the nation's first body camera bill after the police shooting death of Walter Scott -- to urge both parties to "turn the volume down" and work together.
"I think it's very important to get ego out of the room. I think it's important to realize it takes two hands to clap -- stop the pointing, stop the blame game. I think we've seen enough of that, I think the country is tired of it," Haley said. "I think they want to see Washington function, they want to see action..."
Haley was the seventh GOP woman to give the State of the Union rebuttal. She is also a favorite to be the vice presidential pick in her party.
When asked if she wanted to see a woman on the Republican ticket to the White House, Haley said she didn't think that mattered, but rather, wanted to see a "good, strong ticket" that addresses solutions to issue such as health care, education, tax reform and national security.
"So if that' a woman, if it's a minority, if it's a man -- I take it. We just want to get some good leadership," Haley said.
Thanks for reading CBS NEWS.
Create your free account or log in
for more features.