Last Updated Jan 28, 2014 7:30 PM EST
ATLANTA - Atlanta highways instantly became clogged with commuters who left work at the first sign of snow, bronze statues of civil rights heroes were encrusted, and snowplows that hardly ever leave the garage were sent rolling through the city.
At one point, traffic in the business capital of the South was so bad that security guards and office doormen took to the streets to direct cars amid a cacophony of blaring horns.
A winter storm Tuesday that would probably be no big deal in the North all but paralyzed the Deep South, where folks have little experience driving on snow and ice.
"My family is from up north and we're use to driving in the snow and stuff, and seeing everyone freak out, sliding and stuff, it's pretty funny," said Alex Tracy, a Georgia State University student who was watching the gridlock in downtown Atlanta.
Many cities across the region don't have big fleets of salt trucks or snowplows, and it showed. Dozens of wrecks happened from Georgia to Texas. Two people died in an accident in Alabama.
"As I drove, I prayed the whole way," said Jane Young, an 80-year-old pastor's wife who was traveling in Austin, Texas, on her way to volunteer at a polling station when sleet began falling. "I said, 'Lord, put your hands on mine and guide me. This is your car now.'"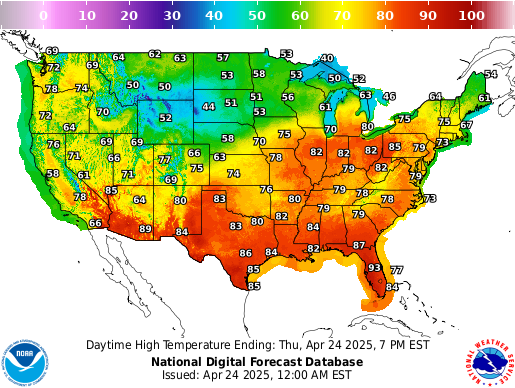 As many as 50 million people across the region could be affected by the time the snow stops on Wednesday. Up to 4 inches of snow fell in central Louisiana, about 3 inches was forecast for parts of Georgia. Up to 10 inches was expected in the Greenville, N.C., area, and along the state's Outer Banks.
On the Gulf Shores beaches in Alabama, icicles hung from palm trees. Hundreds of students in the northeastern part of the state faced spending the night in gyms or classrooms because the roads were too icy. Four people were killed in a Mississippi mobile home fire blamed on a space heater. New Orleans' merry Bourbon Street was oddly quiet as brass bands and other street performers stayed inside.
Lee and Virginia Holt of Wayne, Pa., walked into Cafe du Monde - a New Orleans landmark known for its beignets and cafe au lait - after finding the National World War II Museum closed because of the weather.
"We understand they don't have the equipment to prepare the roads," she said. Her husband added: "Nor the experience."
At a hardware store in the Georgia town of Cumming, snow shovels were in short supply, but manager Tom Maron said feed scoops - often used in barns - could be substituted.
Popular warm-weather tourist destinations - Charleston, S.C.; Savannah, Ga.; Pensacola, Fla.; Virginia Beach, Va.; and New Orleans - where visitors can usually golf and play tennis in shirt sleeves or light jackets this time of year were expecting ice and snow on Tuesday and Wednesday.

In Fayetteville, N.C., freezing rain fell and the city could get up to six inches of snow, its worst storm in three years. Drivers unaccustomed to slick roads were going nowhere fast.
Schools in Fayetteville will be closed tomorrow. Fort Bragg, the Army's largest base, is also closed for non-essential personnel. Temperatures in this part of North Carolina are not expected to get above freezing until Thursday.
Crews in North Carolina sprayed roads with de-icing fluid, but traffic was still a mess in places as drivers tried to beat the ice and snow.
Six southern states have declared an emergency. Towns are rolling out rarely used snow plows, and widespread power outages are expected.
"It may be tough depending on the how much snow accumulation we get," said Bill Hammond, a maintenance engineer for Cumberland County, N.C.
If the storm tracks a little further east and the area escapes the snow, "it won't hurt my feelings at all," he said.
Meanwhile, in the Midwest, dangerous cold continued to grip the region even as the storm moved south. Many schools closed for the second straight day. In Minnesota, forecasters said wind chills could reach 35 to 50 degrees below zero.
One driver who slid off a road west of Minneapolis froze to death.
"The driver had made a decision to walk home," said McLeod County Sheriff Scott Rehman. "He never made it."
Icy highways and blowing snow contributed to more than 350 crashes around Minnesota. Any moisture on the roads immediately freezes, creating black ice.
"We see black ice form actually when the exhaust from vehicles driving over the roadway freezes, and it doesn't typically happen until those temperatures get well below zero," Minnesota State Trooper Tom Erickson said.
Erickson said the black ice had raised the risk for police helping drivers.
"It makes it very dangerous for us as first responders on the scene," he said. "We've had a number of squads that have been hit."
None of the troopers' injuries were serious.
Even in places that are used to snow and ice, this winter is busting water mains – and budgets.
In New York City, the cold is blamed for two water main breaks on Tuesday. One was in Greenwich Village, where Ellen Peterson-Lewis has lived for some 50 years. The pipes probably date back to the late 1800s, she said.
Des Moines, Iowa, has had a record 100 water-main breaks since Jan. 1. Damaged pipes also created a sinkhole in Detroit.
Some cities, including Indianapolis, have nearly used up snow-removal budgets. Michigan has spent almost $6 million, twice as much as last winter.
In the New York area, the Long Island community of Brookhaven has almost run through its entire $3 million snow-removal budget. The town will likely have to borrow money to pay for additional snow costs this winter.
Back in the South, in Savannah, Ga., residents braced for a winter whiplash, barely 24 hours after the coastal city hit a T-shirt-friendly 73 degrees. Less than a quarter-inch of ice and up to an inch of snow were possible in a city that has seen very little snow on its manicured squares in the past 25 years.
Savannah had 3.6 inches of snow in December 1989, a dusting of 0.2 inches in February 1996 and 0.9 inches in February 2010.
Phil Sellers leads walking tours rain or shine of Savannah's oak-shaded squares, bronze Civil War monuments and Victorian neighborhoods. But come ice and snow - both rare visitors here - he will stay inside.
"Usually what happens in Savannah is everything stops immediately when you first see a snowflake," he said. "Everyone's jaw drops."
At grocery store across the region, shoppers mostly cleaned out shelves of bottled water, bread, milk and boxed fire logs.
Nationwide, nearly 3,000 airline flights were canceled.
In Georgia's Okefenokee Swamp, the alligators burrowed into the mud to keep warm.
"Their metabolism slows down so they're able to not breathe as often, so they don't have to come to the surface as often," said Susan Heisey, a supervisory ranger at the national wildlife refuge. "These alligators have been on this earth a long time and they've made it through."