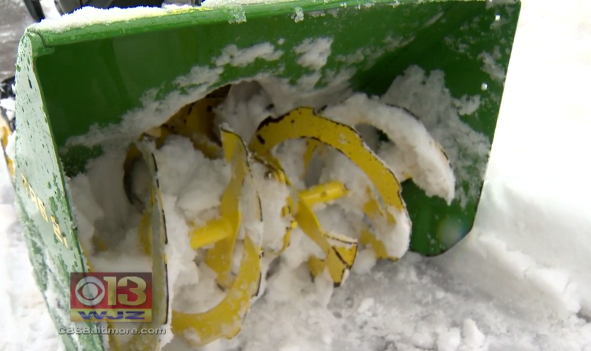 Gruesome snow blower injuries are snowstorm "epidemic," doctors say
BALTIMORE, Md. -- Baltimore doctors call it a snowstorm epidemic, CBS Baltimore reports. Every year, thousands of people in the United States are injured by powered-down snow blowers.
MedStar Union Memorial has been incredibly busy over the past few days, treating patients with hand injuries related to snow blowers.
During the storm Tuesday, a Harford County resident told CBS Baltimore that he loves using his snow blower.
"I don't get to use this very often," he said. "So when the chance comes, I use it!"
It's an opportunity that unfortunately leads to a number of injuries.
"It's enough that every time we hear it's going to snow, we put ourselves on alert," said Dr. Ryan Katz, a surgeon at the Curtis National Hand Center at Medtar Union Memorial Hospital, in Baltimore.
"Typically what happens is the snowblower will get stuck mid-rotation and gets clogged," Katz said. "And people will try and put their hands in it to unclog it, and once they do, it will finish its rotation and it will mangle the extremity as a result."
Every winter, Baltimore-area emergency rooms are filled with blower-related injuries that Katz says include "mangled hands, open fractures, neurovascular injuries, fingers that are no longer alive, fingers that have been taken off."
If you do happen to sever a finger, surgeons say to take the finger, wrap it in a moist paper towel and put it in a Ziploc bag. Then put that bag in another bag with water and ice, and head to the hospital.
The good news: these accidents can be prevented.
"The devices are sold with a stick that you are supposed to use to unclog the device," Katz said. "Always take protective measures, always wear gloves, never put your hand in the device. Never put your hand in the device."
Many of these injuries can be treated with surgery. About 10 percent of injuries, however, involve amputation of the hand or fingers.
Thanks for reading CBS NEWS.
Create your free account or log in
for more features.