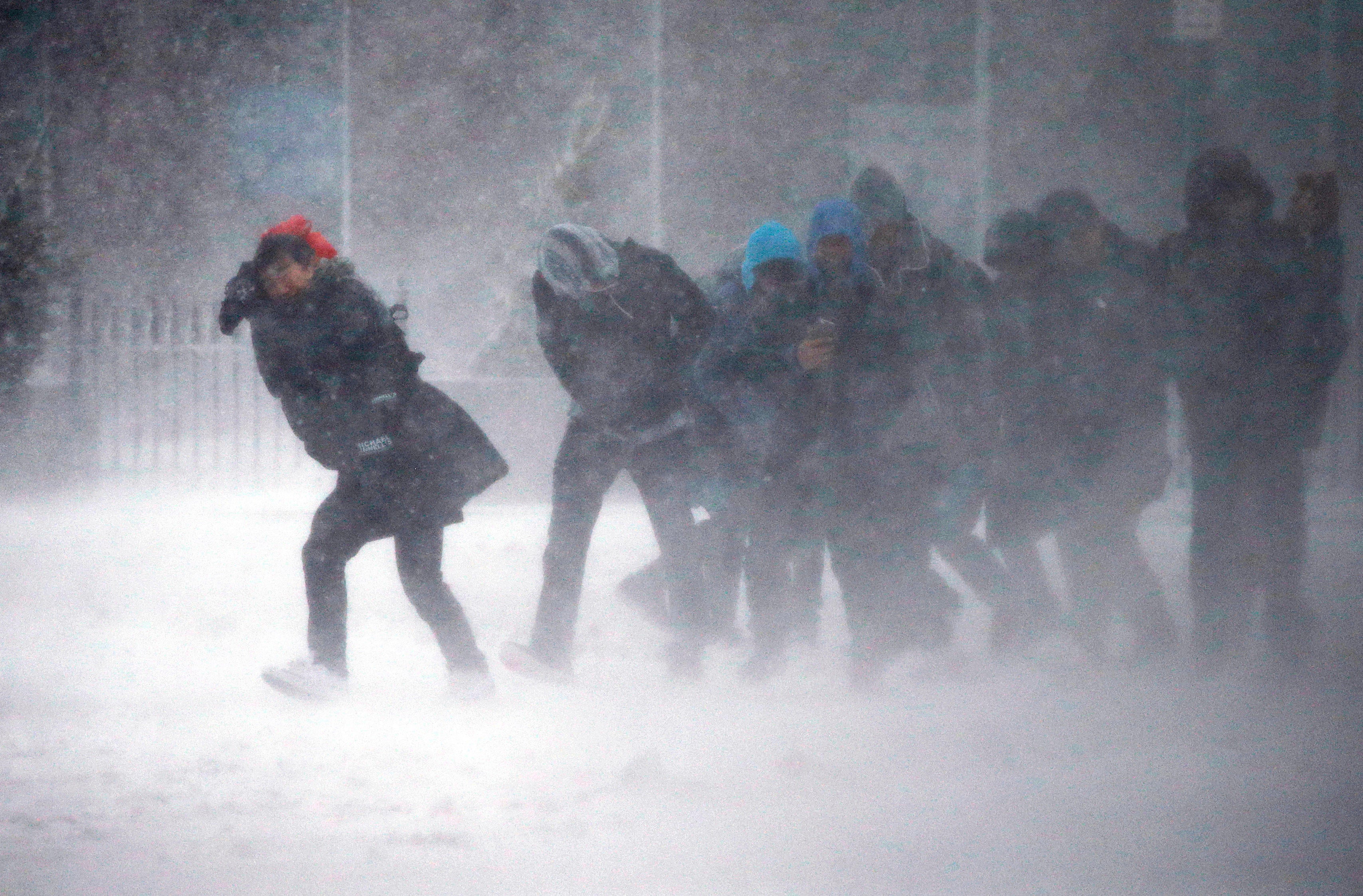 Winter storm update: Snow, sleet blast mid-Atlantic, Northeast
NEW YORK -- A blustery late-season storm clobbered the Northeast with sleet and heavy snow Tuesday, crippling much of the Washington-to-Boston corridor after a stretch of unusually mild winter weather that had people thinking spring was already here.
The National Weather Service downgraded its blizzard warning Tuesday morning for the New York City area, where schools and businesses had been closed.
The powerful nor'easter unloaded 1 to 2 feet of snow in places, grounded more than 6,000 flights, knocked out power to nearly a quarter-million customers from Virginia northward and, by the time it reached Massachusetts, had turned into a blizzard, with the wind gusting at nearly hurricane force over 70 mph along the coast and waves crashing over the seawalls.
Amtrak canceled or modified service up and down the Northeast Corridor, with train service suspended between New York City and Boston on Tuesday morning. Modified service will resume on Wednesday. Above-ground portions of the New York subway system were shut down, but underground trains continued operating.
In the nation's capital, the federal government announced a three-hour delayed arrival for non-emergency employees, with an option to take the day off or telecommute.
While people mostly heeded dire warnings to stay home and off the roads, police said a 16-year-old girl was killed when she lost control of her car on a snowy road and hit a tree in Gilford, New Hampshire.
What may turn out to be the biggest snowstorm of the season struck just six days before the official arrival of spring, which for many can't come soon enough.
For the latest developments on the storm, refresh this page throughout the day.
7:31 p.m.
CBS News transportation correspondent Kris Van Cleave reports that airlines cancelled a total of 6,178 flights today, bringing the week's total to 8,745 flight cancellations, impacting about 500,000 travelers. Airlines expect to resume operations Wednesday morning and will likely be fully operational by Thursday.
Up to 85% of flights to and from New York and Boston were canceled Tuesday, as well as half the flights to and from Washington, D.C., and Philadelphia.
Airlines have cancelled 906 flights on Wednesday, mostly in the morning. That number is expected to rise slightly as airlines finalize their recovery efforts.
6:42 p.m.
On the CBS "Evening News," correspondents reported on the storm's impact across the Northeast.
David Begnaud reported that state troopers and the National Guard braved two feet of snow in Pennsylvania to escort a 23-month old child in need of a heart transplant a hospital.
In Albany, New York, last week it was nearly 60 degrees. Raymond O'Keefe with the National Weather Service measured more than 12 inches of snow on Tuesday.
"Our record is 46 inches in one storm. We're going to get 15 to 20," O'Keefe said. "It's been a crazy winter: warm, 70 degrees last month. Now we're looking at 1.5 to 2 feet of snow here in mid-March."
In Boston, CBS News correspondent Don Dahler reported the snow piled up over a foot deep in some areas before shifting to sleet and rain, raising concerns for an icy Wednesday commute after the roads freeze over.
Winds of up to 70 mph blew the snow sideways at times, making travel challenging for those on foot and on the road. Massachusetts Gov. Charlie Baker said some areas were seeing snowfall of 2 and 4 inches per hour, and waves up to 10 feet high crashed ashore in some parts of the state.
Most people heeded the warnings to stay off the roads as more than 800 plows worked to clear the streets. One worker was gearing up for a 36-hour shift.
"You just plowed it, and you see it all covered again," Jim Manley said. "You get five feet up the street, and it's all covered."
The sticky, wet snow weighed heavily on trees and power lines, causing over 62,000 households to lose electricity.
In Sea Bright, New Jersey, CBS News correspondent Anna Werner reported the snow quickly turned to freezing rain, with wind gusts of up to 60 mph kicking up the surf. Storm surge from the Shrewsbury River was the region's biggest concern, and flooding brought water up to residents' doorsteps.
Several rescues were reported in Atlantic City, New Jersey, but the coastline that was battered four and a half years ago by Hurricane Sandy fared far better than expected in this storm.
6:26 p.m.
Officials have confirmed at least two fatalities resulting from Tuesday's storm, CBS News' Michelle Barón reports.
A man in Longmeadow, Massachusetts, died in a collision involving a train and a snow plow, according to the Longmeadow Fire Department.
In Gilfrod, New Hampshire, a 16-year-old girl died after losing control of her vehicle, state police said.
6:24 p.m.
Connecticut Gov. Dannel P. Malloy has lifted a statewide travel ban in Connecticut, CBS New York reports.
Malloy said state agencies will be open for business Wednesday, crediting the travel ban with helping crews remove snow on state roads.
The Democrat says Tuesday's ban, which ran from 5 a.m. to 5 p.m., also helped keep accidents to a minimum. He says there were only 38 accidents, which he called "a big success." Malloy thanked most Connecticut residents for adhering to the ban, noting only a few tickets were issued.
While the ban has been lifted, Malloy is urging residents to stay off the roads.
Malloy says Metro-North Railroad will resume service from 6 p.m. to 1 p.m. Tuesday night. He says there will be a "somewhat limited schedule" on Wednesday.
5:15 p.m.
New York Governor Andrew Cuomo says aboveground subway service and some Metro-North commuter rail service shut down by the snowstorm will be restored soon. Cuomo says Metro-North will resume limited hourly service at 6 p.m. Tuesday until 11 p.m. Full service will resume Wednesday.
The National Park Service says the snow didn't appear to do damage to Washington's cherry blossoms but upcoming cold temperatures are concerning. The National Weather Service says Washington's low temperature is forecast to be around 22 degrees Tuesday, Wednesday and Thursday.
5 p.m.
The snowstorm could reduce the nation's gross domestic product this quarter by as much as 0.2 percent, according to Oxford Economics. Read more from CBS News MoneyWatch.
4:45 p.m.
Workers at a Maryland zoo say they stayed there all night and through a power outage to keep the animals safe in the storm hitting the East Coast.
Nick Lacovara owns the small Plumpton Park Zoo in Rising Sun, Maryland. He said by phone Tuesday zookeepers and maintenance workers shoveled snow and ice to keep paths clear for animals to reach water and food.
When the power went out about 6 a.m. staff members set up portable generators to keep water flowing. Power was back shortly after noon.
Lacovara says tigers and some other animals aren't bothered by the cold. The Bactrian camels have two humps and are from the Gobi Desert, a cold desert.
4:15 p.m.
A 23-month-old in need of a heart transplant has been escorted by snowplows and state police troopers through a heavy snowstorm from one hospital to another in northeastern Pennsylvania.
Gov. Tom Wolf says the Tuesday afternoon trip was made between hospitals in East Stroudsburg and Danville, some 80 miles apart.
The governor says the child made the trip safely.
The storm dropped more than 20 inches of snow and sleet in parts of eastern Pennsylvania, and snow was continuing to fall Tuesday afternoon.
4 p.m.
Twitter user Ryan Gothling filmed an overturned plow/salt spreader truck in New York.
3:40 p.m.
Boston officials say the city's public schools will be closed again Wednesday.
3 p.m.
The Boston Herald's Jeff Walsh uploaded video of a tractor trailer slide and spin on the Zakim Bridge during the winter storm.
Another video angle of the accident was posted to Twitter:
CBS Boston reports that officials declared a blizzard in the city of Worcester on Tuesday afternoon.
A blizzard is defined as:
Sustained winds or frequent gusts of 35+ mph

"Considerable" falling and/or blowing snow

Visibility reduced to less than ¼ mile for 3+ hours



2:10 p.m.

Tens of thousands of homes and businesses in Massachusetts lost power by midday as snow and high winds pummeled the state, CBS Boston reports.
The Massachusetts Emergency Management Agency says at least 62,000 customers were without electricity at its peak. The agency noted a huge jump in the number of outages around noon, mostly in Worcester, where there was a substation breaker problem, and Plymouth, where a transmission line issue was to blame. There are also some outages in Medford and Everett.
2 p.m.

Police say a 16-year-old girl has been killed in a traffic accident in New Hampshire after losing control of her car on a snowy road and hitting a tree.
A late-winter storm featuring snow, ice and high winds has caused dangerous driving conditions from the mid-Atlantic to the Northeast.
New Hampshire State police say the accident happened about 7 a.m. Tuesday in Gilford. The girl was transported to a hospital, where she was pronounced dead. Her identity was being withheld until her family could be notified.
Around the region, officials have urged people to stay off the roads. Connecticut Gov. Dannel P. Malloy imposed a travel ban on state roads but says he expects to end it later Tuesday as the storm winds down.
1:45 p.m.
Strong winds have toppled a wind turbine at a Rhode Island beach.
Rhode Island Gov. Gina Raimondo says the wind knocked over the turbine at Salty Brine Beach in Narragansett on Tuesday. It's owned by the state Department of Environmental Management.
A photo of the turbine posted by the town's emergency management agency showed the turbine's metal base twisted and bent over the snow-covered beach.
Raimondo says no one was hurt and the state will fix it once the storm is over.
Winds in the area are gusting up to 55 mph.
Approximately 215,000 customers were without power Tuesday from Virginia to New England.
12:05 p.m.

New York Mayor Bill de Blasio held a briefing on the city's storm response and says that a state of emergency will stay in effect until midnight, describing the storm as "very dangerous as we get into the late afternoon and early evening hours."
De Blasio warned that temperatures will be frigid Tuesday evening and that there's a risk of refreezing, making streets and sidewalks even more hazardous.
The mayor said at least 96 percent of city streets have been plowed at least once. He thanked residents for using mass transit as that allowed sanitation officials to do their job.
Schools will be open on Wednesday.
"The situation now is under control and we are certain that we will be in a position to open schools effectively tomorrow," de Blasio said.
12:00 p.m.
The storm that's pounding parts of the Northeast has dropped almost 2 feet of snow in Pennsylvania's Pocono Mountains and the northern reaches of New Jersey, yet it didn't perform to forecast expectations in New York City, the rest of New Jersey and Philadelphia.
That's because the line between a rainy wintry mix and snow ended up farther west than anticipated.
The rain-snow line on Tuesday was a 50-mile wide swath where cold Arctic air from the north and west clashed with warm moist air from the Atlantic Ocean.
Private meteorologist Ryan Maue of Weather Bell Analytics says it's tough to forecast the location of the line, because it undulates and computers models only have a few data points over a width of 50 miles. He also says much of the storm is over the Atlantic Ocean, where fewer observations can be made.
Maue and other experts say missing where the rain-snow line winds up doesn't make the blizzard forecast a bust.
11:20 a.m.

The winter storm pelting the northeast with snow, sleet and high winds is disrupting some local elections in New Hampshire.
Tuesday is New Hampshire's traditional Town Meeting Day, when voters in more than 100 communities elect boards of selectman, library trustees and other local positions.
A number of towns rescheduled their elections, but others have stayed open, on schedule.
Republican Gov. Chris Sununu had said those who rescheduled their elections risked lawsuits alleging voter suppression, but also said that given differing opinions, the state isn't in a position to mandate that the towns stay open.
Sununu's town, Newfields, postponed its elections until Tuesday, March 21, saying the safety of voters and election workers is "paramount."
11 a.m.
Broadway producers in New York City have decided to keep theaters open Tuesday night for the hardy folks willing to brave snow and sleet from a late-season storm hitting the Northeast.
More than two dozen shows will play as scheduled, including "Hamilton," ''Dear Evan Hansen" and "Waitress."
Charlotte St. Martin, president of The Broadway League , says that for visitors who can't get home, it's a great time to see a show.
Tuesday's storm was bringing less snow than forecast to New York City, but had caused more than 5,000 flight cancellations, and was hitting areas of upstate New York and elsewhere hard.
The last time Broadway was shuttered was in January 2016, when New York was hit with a one-day record of 26.6 inches of snow.
10:30 a.m.
Parts of Atlantic City and other towns in southern New Jersey are dealing with tidal flooding from the nor'easter.
A homeowner posted video on Twitter of water streaming down the block, and one major roadway was closed because of the flooding.
The tide reached 7.8 feet in Atlantic City on Tuesday morning, just short of the 8-foot threshold that can lead to major flooding.
More than 35,000 customers are without power in New Jersey because of the storm. More than 100,000 customers in other states stretching down to Virginia also are without electricity.
Southern New Jersey did not get much snow, but a blizzard warning is in effect in the northwest part of the state.
10:05 a.m.
Connecticut Gov. Dannel P. Malloy called it a "good day to make brownies ... or read a book," and stay off the roads.
The winter storm hitting the Northeast is forecast to dump as much as 2 feet of snow on parts of Connecticut on Tuesday, with possibly more in higher elevations.
Malloy says most people seem to be following a travel ban he imposed in the state. All flights to and from Bradley International Airport north of Hartford have been canceled, and transit bus service has been suspended statewide.
State police and the National Guard were ready to help stranded motorists, and utility companies were prepared to respond to power outages.
More than 120,000 customers had lost power from Virginia to New Jersey. Virginia and Maryland had the largest numbers of outages reported.
9:45 a.m.
Parts of Atlantic City and other towns in southern New Jersey are dealing with tidal flooding from the winter nor'easter. CBS News correspondent Anna Werner reports storm surge is a major concern in coastal communities that were battered by Hurricane Sandy in 2012.
One homeowner posted video on Twitter of water streaming down their block and one major roadway was closed due to the flooding.
The tide reached 7.8 feet in Atlantic City Tuesday morning, just short of the 8-foot threshold that can lead to major flooding.
Residents were keeping an eye on high tide between 9:15 a.m. and 10:15 a.m.
Route 322 in West Atlantic City was shut down, as were some smaller streets around the area.
The flooding comes as more than 10,000 customers are without power in New Jersey. Wind gusts of more than 30 mph were reported, whipping rain, sleet and snow.
Southern New Jersey did not get much snow from the storm, but a blizzard warning is in effect in the northwest part of the state.
9 a.m.
More than 10,000 customers are without power in New Jersey as a winter nor'easter blasts parts of the state with wind gusts of more than 30 mph and whipping rain, sleet and snow.
Both Atlantic City Electric and PSE&G were reporting more than 5,000 without power Tuesday morning.
The National Weather Service says warm air on Tuesday has brought about a rapid change of the precipitation to sleet and rain south of Interstate 195.
A blizzard warning is in effect in the northwest part of the state, where forecasters say there is still the potential for a foot or more snow.
Driving conditions are slippery, but traffic is lighter than usual.
8:45 a.m.
Nearly 100,000 customers are without power in the mid-Atlantic and Northeast, as a late-winter storm brings a mix of snow and sleet with strong winds.
Dominion Power reports more than 50,000 customers in the dark in Virginia on Tuesday morning, with more than 40,000 of those outages in the Richmond area.
Maryland officials report about 30,000 outages. Thousands more were reported in Delaware, New Jersey and around Philadelphia.
Blizzard warnings have been issued for parts of Pennsylvania, New Jersey, New York, Connecticut, Rhode Island, Massachusetts, New Hampshire, Maine and Vermont. The blizzard warning was lifted a short time ago for New York City as the forecast shifted there to a mix of snow and sleet with up to 8 inches of accumulation.
The storm is expected to dump 12 to 18 inches of snow along a large swath of the region. Parts of New England could see snow totals of 18 inches to 2 ½ feet.
8:15 a.m.
U.S. airlines have scrapped about 5,400 flights Tuesday as some of the nation's busiest airports were snowed in. Tracking service FlightAware.com says Tuesday's cancellations bring the total for the week to around 7,740 flights.
Southwest Airlines, which carries more domestic passengers than any other airline, doesn't expect to operate any flights Tuesday at 14 airports stretching from Washington to Portland, Maine. Southwest cancelled about 900 flights, while American Airlines, JetBlue Airways and United Airlines each cancelled more than 500.
An additional 650 flights have been cancelled for Wednesday, a number that FlightAware expects to rise as the airlines scramble to resume operations.
7:15 a.m.
Attorney generals in New York and Pennsylvania have issued a warning about price-gouging during the snowstorm.
Eric Schneiderman in New York says consumers should contact his office about "excessive increases" in the price of goods and services. Examples include food, water, gas, generators, hotels and transportation.
The price-gouging law also could apply to snow removal and equipment, salt and contractor services for storm-related damage.
Pennsylvania Attorney General Josh Shapiro also alerted consumers and businesses about potential scams, urging people to report any "suspicious activity" about home repairs, snow plowing, government assistance programs and fraudulent disaster-related fundraising to his office's Bureau of Consumer Protection.
7 a.m.
Hundreds of school districts from Buffalo to New York City have cancelled classes and authorities are advising people to stay off the roads as a nor'easter starts to pummel the Northeast.
New York Gov. Andrew Cuomo has declared a state of emergency Tuesday for all of New York's 62 counties, including New York City's five boroughs. The Democrat also directed non-essential state employees to stay home from work.
The National Weather Service says the storm will drop more than a foot of snow across much of the upstate region, with some areas getting up to 18 inches and higher elevations in the lower Hudson Valley expected to get 2 feet or more.
Blizzard warnings have been issued for much of the region south of Albany, where high winds could produce whiteout conditions
6:30 a.m.
The National Weather Service says the dividing line between snow and a wintry mix from a nor'easter pushing through the southern New Jersey-Pennsylvania region has moved farther inland, cutting down the anticipated snow accumulation, but increasing the chance of icing.
NWS Meteorologist Sarah Johnson, in Mount Holly, New Jersey, says the dividing line between snow and a mix of snow, sleet and rain has pushed west, from the Jersey coast into Philadelphia. She says that lowers anticipated snow totals, but increases the threat of icing from sleet and freezing rain along the Interstate 95 corridor.
While the snow totals might be lower, Johnson warns that New Jersey shore areas can still expect strong winds, with gusts between 50 and 55 mph. The I-95 corridor could get wind gusts of up to 40 mph.
6 a.m.
Rain, sleet and snow are sweeping across New Jersey as a late-winter storm slows the morning commute.
State government offices are closed Tuesday and non-essential employees were told to stay home after Republican Gov. Chris Christie declared a state of emergency. Many schools are closed.
Plows are on the highways and the speed limit is restricted to 45 mph on the Garden State Parkway between Cape May and Brick Township.
NJ Transit has suspended bus service and all trains, except for the Atlantic City Rail Line, are operating on a weekend schedule.
A blizzard warning is in effect, basically north of Interstate 195. Forecasters say 18 to 24 inches of snow are possible. A winter storm warning covers other portions of the state, save for coastal south Jersey.
4 a.m.
A late-season snowstorm has prompted the U.S. Office of Personnel Management to allow a 3-hour delayed arrival for non-emergency employees at federal offices in and around the nation's capital.
OPM also announced early Tuesday that non-emergency federal employees also have the option to take unscheduled leave or to conduct unscheduled telework.
For those non-emergency workers headed to offices, the agency told them on its website that they "should plan to arrive for work no more than three hours later than they would be expected to arrive."
The agency added that emergency federal employees in the Washington, D.C., area are expected to report on time unless otherwise directed by their agencies. Emergency and telework-ready employees should follow their agency's policies, the office added.
2:35 a.m.
A winter storm expected to dump several inches of snow on Delaware made an impact even before it arrived: Delaware lawmakers decided to scrap plans to reconvene a key budget committee hearing Tuesday after a weekslong break.
In Newark, Delaware, authorities declared a snow emergency effective early Tuesday, ordering residents and businesses on snow emergency routes to remove all vehicles from the street to avoid being towed. The city also announced a two-hour delayed opening for city offices.
Forecasters expect between 8 and 12 inches of snow in some areas of Delaware, while areas near the Atlantic seaboard faced a threat of coastal flooding.
2 a.m.
The snow threat in the Northeast is causing college basketball teams to alter their travel plans.
Teams chasing a college basketball title are contending with an unexpected wrinkle that's making last-minute travel plans difficult -- a fierce storm bearing down on the Northeast that could dump up to two feet of snow in some places.
"We are closely tracking the weather and working with our travel partners and teams in the tournament to ensure the safety of our student-athletes, coaches, administrators, officials and fans," the NCAA said in a statement.
Villanova, top overall seed in the men's NCAA Tournament, left Philadelphia on Monday afternoon for Buffalo, New York, to get ahead of the storm.
There is less of a chance that the women's tournament would be affected. UConn is the only Northeast team hosting and they play Saturday, giving teams more time to arrive in Connecticut.
U.S. airlines canceled thousands of flights ahead of the storm. Teams in the men's and women's NCAA Tournaments have chartered flights so any backlog on commercial planes shouldn't be a problem.
Thanks for reading CBS NEWS.
Create your free account or log in
for more features.