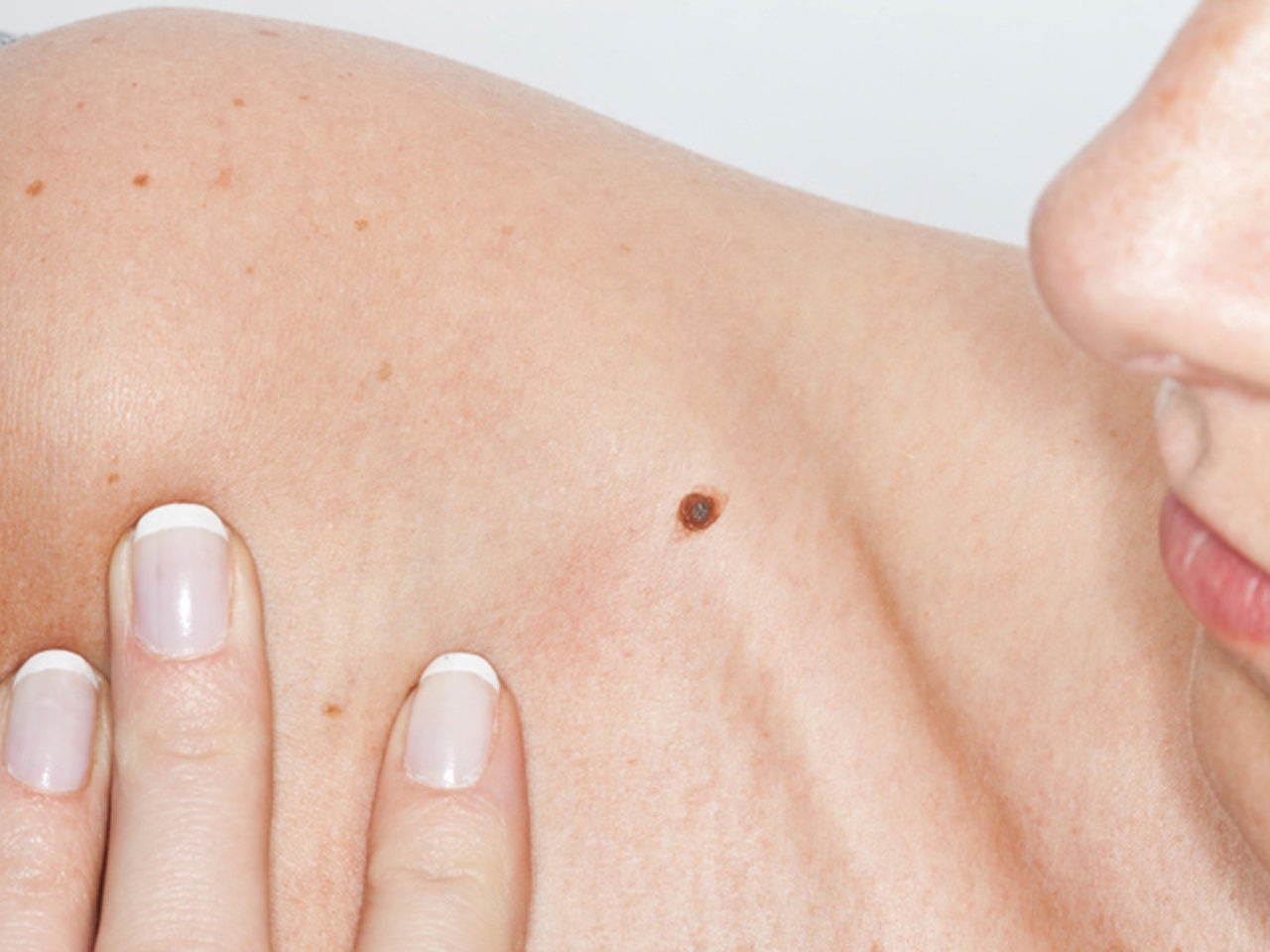 SRT treatment for skin cancer gains popularity, but it's not for everyone
A skin cancer treatment that's come in and out of favor over the years, called superficial radiation therapy, is gaining popularity again, say skin experts. But some doctors are wary, especially of its use in younger people, since the long-term effects aren't fully understood.
CBS News reached out to some top skin specialists to sort through the pros and cons.
SRT, as it's called, is used to treat non-melanoma forms of skin cancer – basal cell and squamous cell cancers. Both types can develop after years of sun exposure and also from tanning bed use. SRT is not used to treat people with melanoma, the deadliest form of skin cancer.
The treatment uses very focused, low-dose radiation that only goes skin-deep to stop cancer cells from spreading. Patients receive a series of short (30 second) treatments, usually once or twice a week over a series of weeks. It's performed in a doctor's office by a dermatologist trained and certified in using SRT. It does not involve anesthesia or an incision and the side effects tend to be mild, including some redness and irritation at the treated site.
Cosmetic dermatologist Dr. David Goldberg, director of Skin Laser & Surgery Specialists of New York and New Jersey, treats patients regularly with SRT.
"In our practice, which is a four-office practice with seven dermatologists, about 10 percent of our patients with skin cancer are now treated with SRT," Goldberg, who is also a clinical professor of dermatology at Mount Sinai, in New York, told CBS News.
"Every day I see SRT patients," he said, adding that the practice treats about 700 cases a year. Goldberg serves on the medical advisory board of Sensus Healthcare, a company that designs and manufactures SRT equipment.
SRT is not the first-line treatment for basal and squamous cell skin cancers, though, and some skin cancer specialists don't use it at all.
"Mohs surgery is the gold standard surgery for basal cell and squamous cell carcinomas," said Dr. Valencia Thomas, an associate professor in dermatology at The University of Texas MD Anderson Cancer Center, in Houston, Texas.
Mohs (pronounced "moes") is a specialized procedure in which the surgeon removes the cancerous tissue layer by layer, explained Thomas, who is also the director of the Mohs unit at MD Anderson. During the surgery, the surgeon uses a microscope to look at the tissue that was removed to check for cancer cells. The surgeon will continue to remove a very small amount of skin at a time and look at it under the microscope until there are no more cancer cells. Mohs surgery causes less scarring and has a shorter healing period than removing the entire area at once.
"It's called bread-loafing a tumor," said Thomas, noting that the cure rate after Mohs is high. There's less than a one percent recurrence rate.
"We actually don't use SRT as a first line here. We use it rarely because we do have access to surgical modalities that give a very high cure rate and have low morbidity. And we're not causing more damage," she said.
Younger patients run the risk that the radiation treatment could increase the odds of later skin cancer in the same spot, she explained.
But even the chance of minimal scarring that can come with some Mohs surgery puts some patients on edge, and SRT can be an appealing option, especially if their cancer is in plain sight on the face – the nose, the eyelid, lips or ear.
In 2014, Gail Hefferen opted for SRT for just that reason.
"I have a lot of basal cell and precancerous stuff I get removed every three months. This one in particular was beneath my nose, a little white dot I thought was a pimple that wasn't going away. When my dermatologist biopsied it, it was basal cell," Hefferen told CBS News.
Hefferen, who has very fair skin, tanned without using sunscreen when she was younger and admits to using tanning beds at times, too. Her dermatologist recommended Mohs surgery after the biopsy came back positive, so she went to see a surgeon near where she lives in New York City about the procedure.
"He told me there would be scarring and my lip would be pursed up because there wasn't enough skin to close it. With that I got a little scared," said Hefferen.
She held off for about eight months, reconsidering her options, until her doctor urged her to make a decision because leaving non-melanoma skin cancer untreated for too long can cause the cancer to spread and become more serious.
Hefferen came across Dr. Goldberg's name online and went to see him at his office in New Jersey to discuss SRT, an option her dermatologist wasn't aware of, she said.
"I decided it was a route I wanted to go. I didn't want scarring or disfigurement," she said.
She traveled from New York to New Jersey by bus twice a week for eight weeks for treatments. Most visits, she was in and out in 45 minutes, with the preparation for the treatment taking longer than the actual treatment time.
"The hardest part was getting set up with it. Since it was close to my face, they had to do lead glasses over my eyes and tape lead plates around my nose so it would just show that one spot. They literally taped my face," she said.
There was a little redness over the weeks, but nothing make-up couldn't cover up, she said. Now, three years later, Hefferen says she's happy with her choice.
"It was more of a vain decision," she laughs. "I'm personally happy that option was out there at the time and glad I found it."
She'll continue to go for regular skin cancer checkups for new spots and to be sure the SRT-treated spot does not develop any problems, she said.
Risks as well as benefits
SRT has been around a long time, dropped out of favor, and now is more popular again, said Dr. Mark S. Nestor, voluntary associate professor in the department of dermatology and cutaneous surgery at the University of Miami Miller School of Medicine.
"SRT was really the first-ever treatment for skin cancer dating back for more than 100 years. It was utilized for tens of thousands of skin cancers through the 1970's, then it waned due to the lack of equipment being produced," Nestor told CBS News.
Over the last five years, though, it's making a resurgence as new SRT equipment has been developed and sold to doctor's offices like Goldberg's and Nestor's.
The machines aren't everywhere, but Nestor said, "Thousands of individuals have been able to receive treatment around the country."
There's been "a tremendous uptick" in the use of SRT, said Nestor, who is a consultant and advisory board member for Sensus Healthcare, the SRT equipment maker, and has received research grants from the company.
Thomas said in her work at The University of Texas MD Anderson Cancer Center, they don't use SRT treatment. And she's concerned that marketing by SRT machine companies may be influencing the increase in use.
"Essentially, we've seen nationally that there's been an increase in marketing of this product to non-dermatologists. We've seen the outcomes or prior therapies up to 30 years after undergoing radiation therapy and you can see an increase in non-melanoma skin cancers. It comes with a risk of future skin cancer. That's very important to us," said Thomas.
But there may be certain patients for whom it's a safer option than surgery, she said, including people who aren't healthy enough to undergo an operation or can't tolerate anesthesia, people who don't heal well, patients on blood thinners, and those who have compromised immune systems.
Nestor said his practice generally recommends SRT for older individuals only, though he said there are some exceptions.
Recent American Academy of Dermatology guidelines spell out similar advice, saying superficial radiation therapy is a viable "secondary option" for basal and squamous cell skin cancers in "special circumstances," including patients who can't tolerate surgery.
The 2016 statement paper on SRT said before doctor's prescribe it, they need to spell out the risks and benefits to patients.
"Based on current evidence, surgical management remains the most effective treatment for BCC and SCC, providing the highest cure rates," the statement concluded.
Despite that recommendation, Thomas said she's hearing about SRT's increasing use in young people.
"My colleague in New York says young women are being offered this modality more and more, usually in a non-dermatology office setting," she said. She said it's important patients talk with a dermatologist who specializes in skin cancer before they are treated with SRT.
"There is the benefit that there's no scar, but long term radiation to the skin can lead to secondary malignancies, photo aging, which is what everybody hates, either dark spots or light spots, red blood vessels, skin becoming delicate, wrinkling and a loss of skin elasticity. All these things are directly related to UV or ionizing radiation," Thomas said.
More than 3 million people in the U.S. are diagnosed with non-melanoma skin cancer each year, and about 2,000 people die from basal cell and squamous cell skin cancer.
Mohs surgery is not the only other option for treatment, Thomas added. Patients can also discuss with their doctors injecting the tumor with chemotherapy to shrink the growth, laser treatment, scraping the lesion, alternative surgical options to Mohs, and the use of topical creams.
Before SRT becomes more widely used, she said, larger studies need to take place comparing Mohs and SRT, and looking at the long-term effects of SRT.
One 2015 study that analyzed previous studies on SRT and Mohs found that the skin cancer recurrence rate from SRT is higher than recurrence after Mohs surgery, but the rates varied depending on the size of a tumor and its location as well as a patient's age. The researchers concluded that it's a viable treatment alternative in a select group of patients.
Gail Hefferen's SRT doctor, Goldberg, said, "I can't tell you what's going to happen in 30 or 40 years. We do tell patients there's a chance of recurrence. We don't have 10 years out. We are beginning to have five years out and it looks like the results are comparable to Mohs surgery after five years."
Continued research is needed, the experts agree.
Thomas said, "We need more long-term outcome studies. It's very important for us to be able to counsel patients accurately. We're not at a time as dermatologists or radiation therapists to say that SRT is the gold standard or replaces surgery."
Thanks for reading CBS NEWS.
Create your free account or log in
for more features.