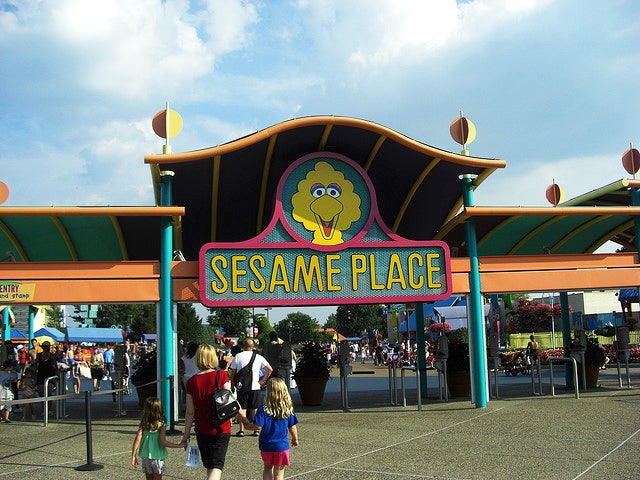 Sesame Place is world's first theme park to become certified autism center
Sesame Place -- Pennsylvania's "Sesame Street"-themed amusement park -- has just become the world's first amusement park designated as a certified autism center. The park announced the news on Facebook this Monday, in honor of Autism Awareness Day, writing: "It's our goal to provide every family with an enjoyable and memorable visit, and we are proud to offer specialized services to guests with autism and other special needs."
The theme park partnered with The International Board of Credentialing and Continuing Education Standards (IBCCES) to ensure that all its staff members received autism sensitivity and awareness training in areas like sensory awareness, motor skills, program development, social skills, communication, environment and emotional awareness. All of its rides are now ranked on a special sensory guide from one to 10.
Sesame Place offers a Ride Accessibility Program to help visitors determine which rides are an appropriate match. The goal is to maximize both enjoyment and safety for visitors with special needs. To enroll a child in the RAP program, parents simply have to fill out the Ride Accessibility Questionnaire on the amusement park's website. Once the form is validated, a personalized list of rides and attractions, tailored to the individual child's physical and mental attributes, will be provided.
The park has also unveiled a number of new features for guests who may be suffering from sensory overstimulation throughout the day. There are two newly-renovated quiet rooms with adjustable lighting, where autistic children can take a break from all the sensory stimulation of the park. There are also two areas of the park now designated as "low sensory areas" for guests in need of some quiet time, who want to remain within the park while migrating to areas that may be a bit less populated. Noise-canceling headphones are also now available on a first come, first served basis for guests with auditory sensitivity.
Guests who want to take in one of the park's signature parades, but wish to do so without direct character interaction such as "hugs" or "high fives," are encouraged to sit close to where the parade begins or several rows back from the parade viewing line. There are also now special instructions on the park's website for guests who would prefer to dine in quieter environments or who would like to book special "character dines" with limited character interaction or seating furthest away from the performances.
Last but not least, parents can take their autistic children to meet Julia, the adorable "Sesame Street" character that debuted in 2017. Julia is the first muppet to be on the autism spectrum.
Thanks for reading CBS NEWS.
Create your free account or log in
for more features.