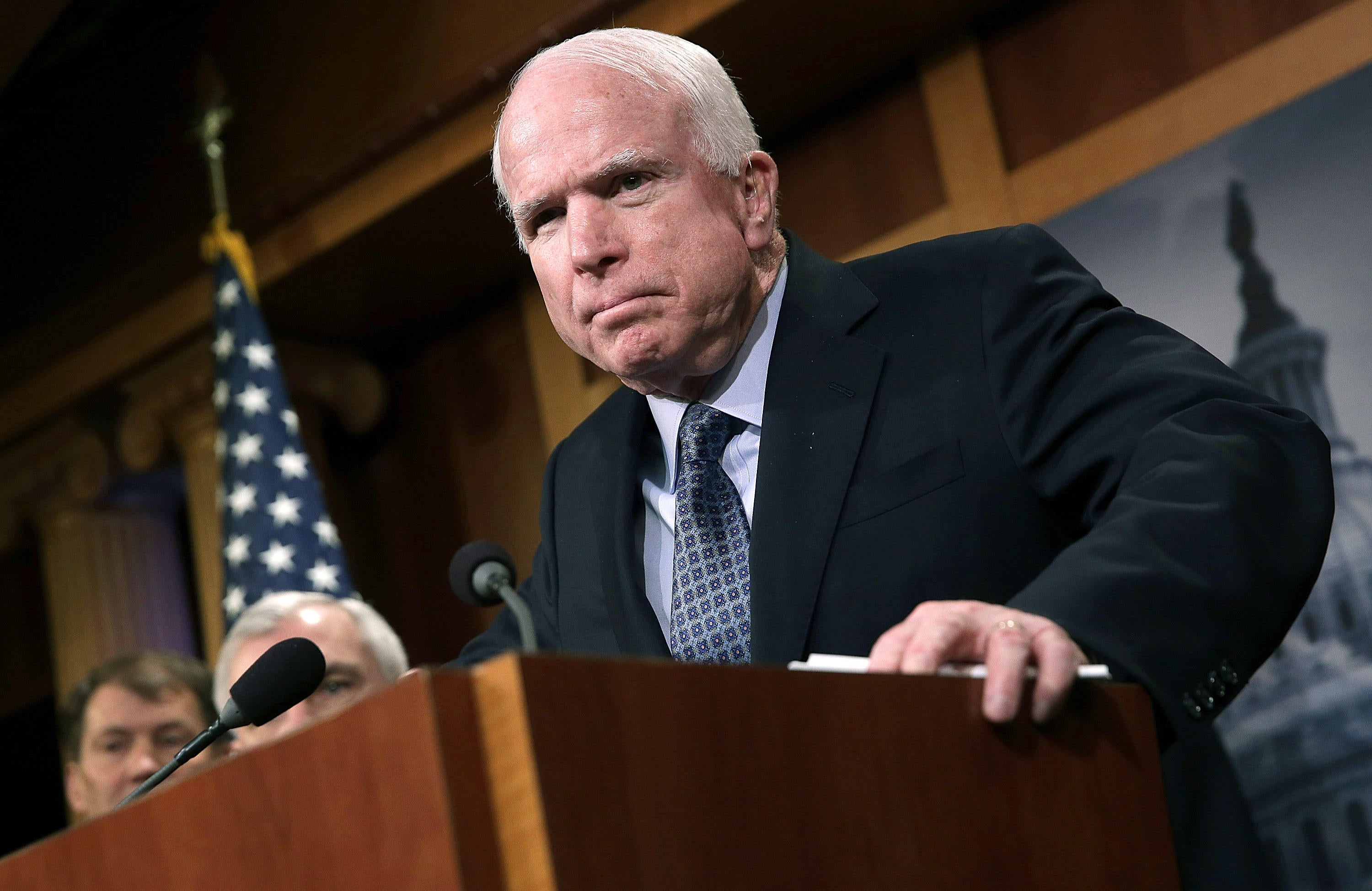 Senators introduce sweeping Russia sanctions in response to hacks
A bipartisan group of senators unveiled new sanctions legislation targeting Russia over its alleged meddling in the 2016 presidential election on Tuesday.
"We are filling a comprehensive bill that provides additional sanctions against the Russian Federation for its activities against U.S. interests," said Senator Ben Cardin (D-MD) at a Capitol Hill press conference. "We have been attacked by Russia. That is no longer subject to any debate."
In response to the hacking of the DNC and the Clinton campaign, the legislation entitled the "Countering Russian Hostilities Act of 2017" would impose "mandatory visa bans and asset freezes" on Russians involved in hacking. It also mandates sanctions on transactions with the Russian defense and intelligence sectors. The Obama administration's recent executive orders targeting Russia would also be codified.
"We have to respond to Vladimir Putin's behavior," Senator John McCain declared at the press conference, which included five other Senators. "If we don't he will continue unchecked."
The scope of the proposed legislation goes further than a response to Russian meddling in the US election. It calls for harsh punitive measures which target Russia's energy and natural gas sectors in response to Russian aggression in Ukraine and Syria. Those measures mandate sanctions against "investments of $20 million or more in Russia's ability to develop its petroleum and natural gas resources," according to a fact sheet provided by Senate staff.
It also would impose sanctions on investments on Russian state owned assets and sales of its sovereign debt.
"President Obama responded to the cyber attack and that was what he should have done. We believe we can go further," said Cardin.
A total of 10 Senators -- five Republicans and five Democrats -- are cosponsoring the bill. The Republicans are John McCain (R-AZ), Lindsey Graham (R-SC), Marco Rubio (R-FL), Rob Portman (R-OH), and Ben Sasse (R-NE). The Democrats are Ben Cardin (D-MD), Bob Menendez ( D-NJ), Jeanne Shaheen (D-NH), Amy Klobuchar (D-MN), and Dick Durbin (D-IL)
Unclear is what President-elect Donald Trump, who has expressed a desire for better relations with Putin's Russia, would do if the sanctions legislation became law. "None of us know the position of the president elect," McCain admitted, "but we should know and will know the position of the Congress of the United States."
Although the sanctions are "mandatory," the President has discretion in implementing them. "They are mandatory, they can be waived, but there has to be a certification by the President that Russia is on the right path," said Senator Lindsey Graham (R-SC). "The administration has the discretion as to which of the sanctions they want to apply, there is a waiver provision in it," noted Cardin, who went on to add, "we want to be very clear that its not business as usual."
"If we feel that there is too much of waivers then we will be back making them mandatory," McCain promised.
The unveiling of the sanctions bill came a day before the confirmation hearing for Rex Tillerson, Mr. Trump's nominee for Secretary of State. Cardin told reporters that the sanctions measures had been brought up with Tillerson in just about all of his one on one meetings.
"I think you are going to see tomorrow's hearing, members questioning him in some cases on the specific provisions that are included in this legislation," Cardin predicted, identifying Marco Rubio in particular.
"I think you are going to find there is a great deal of interest as to whether whether Mr. Tillerson understands that he's no longer going to be CEO of Exxon Mobile, but he's going to be secretary of state," Cardin said.
Thanks for reading CBS NEWS.
Create your free account or log in
for more features.