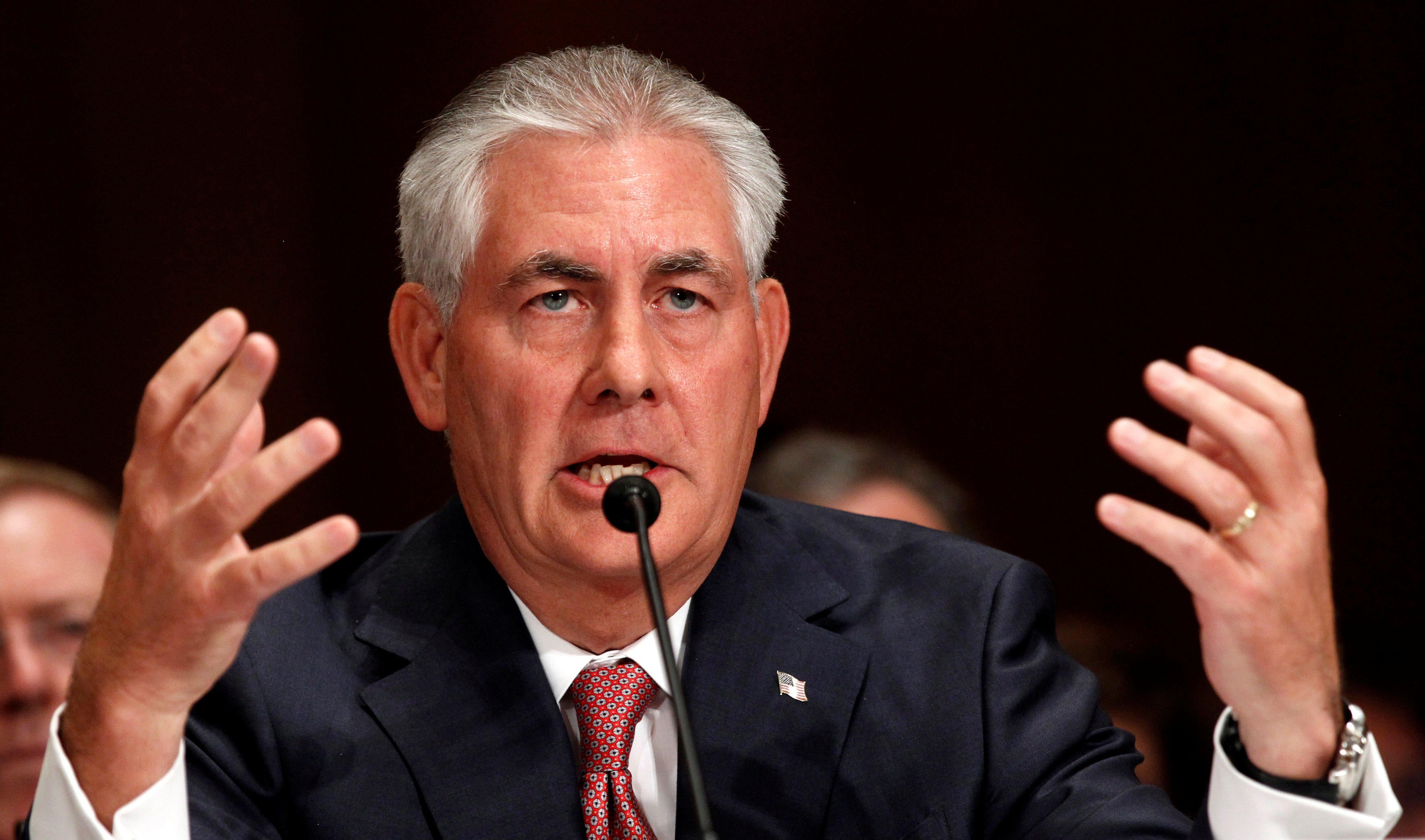 Trump picks ExxonMobil CEO Rex Tillerson as secretary of state
President-elect Donald Trump has chosen ExxonMobil CEO Rex Tillerson to be secretary of state.
Mr. Trump's decision was announced by his transition team Tuesday morning.
"As Secretary of State, he will be a forceful and clear-eyed advocate for America's vital national interests, and help reverse years of misguided foreign policies and actions that have weakened America's security and standing in the world," the announcement said. "The American people will once again have a world-class leader working on their behalf, enhancing the prospects for peace and prosperity among nations."
Mr. Trump weighed in on Twitter on the heels of the announcement:
The transition team's announcement quotes Mr. Trump as saying "Rex Tillerson's career is the embodiment of the American dream."
And Tillerson is quoted as saying, ""I am honored by President-elect Trump's nomination and share his vision for restoring the credibility of the United States' foreign relations and advancing our country's national security. We must focus on strengthening our alliances, pursuing shared national interests and enhancing the strength, security and sovereignty of the United States."
The confirmation process could prove highly contentious, with some leading lawmakers already voicing concern about Tillerson's relationship with Russian President Vladimir Putin and in light of reports that U.S. intelligence agencies believe Moscow was working not only to interfere in the U.S. election, but to actively promote Mr. Trump. He has, however, rejected such conclusions, calling them "ridiculous."
The president-elect's search for the country's top diplomat played out in a highly public fashion for weeks.
One leading contender, 2012 GOP presidential standard-bearer and former Massachusetts Gov. Mitt Romney, said on Facebook Monday night he was out of the running. "It was an honor to have been considered for Secretary of State of our great country," the post says. "My discussions with President-elect Trump have been both enjoyable and enlightening. I have very high hopes that the new administration will lead the nation to greater strength, prosperity and peace."
Romney harshly criticized Mr. Trump during the 2016 campaign.
On Friday, the Trump transition team announced that another man seen as a leading contender for the top diplomatic post, former New York City Mayor Rudy Giuliani, took himself out of the running on Nov. 29.
Sen. Bob Corker of Tennessee, who chairs the Foreign Relations Committee, was among others mentioned as a possibility.
In an interview with "Fox News Sunday," Mr. Trump called Tillerson a "world-class player" and pointed to Tillerson's deep relations with Moscow as a selling point.
The 64-year-old executive has no government experience, but heads the largest oil company in the world. It operates in dozens of countries -- including Russia, which has sparked controversy recently for the Kremlin's alleged involvement in the U.S. elections -- and has oil and natural gas interests on six continents.
Tillerson began his career at Exxon in 1975 as an engineer after graduating with a civil engineering degree from the University of Texas in Austin. Eventually, he worked his way up through the ranks to become president and joined the board of directors in 2004. He was made CEO two years later.
Tillerson faces some obstacles ahead. He has one deal in particular that could prove problematic during Senate confirmation hearings: ExxonMobil's deal with Russia to drill in the Arctic Ocean.
Tillerson and Putin met in the 1990s, when Tillerson was Exxon's man in Russia during Boris Yeltsin's presidency, and Putin was Yeltsin's up-and-coming KGB operative with an eye toward an economic revitalization in Russia.
In 2011, Tillerson negotiated Exxon access to drilling rights in the Arctic. As part of the deal, Russia's state-owned oil company, Rosneft, became an investor in ExxonMobil global operations, specifically concessions. At Putin's behest, Tillerson was given Russia's Order of Friendship in 2013.
Tillerson spoke in general terms against economic sanctions imposed on Russia by the U.S. and European Union after the incursion and subsequent seizure of Crimea in Ukraine.
John Hamre, president of the Center for Strategic and International Studies, where Tillerson is a board member, told the Wall Street Journal recently that the ExxonMobil chief has had significant contact with the Russian president.
"He has had more interactive time with Vladimir Putin than probably any other American with the exception of Henry Kissinger," Hamre, who was also a former deputy defense secretary under President Clinton.
Questions about Tillerson's attitude on these sanctions during confirmation hearings would be complex by themselves. But they may grow even more heated in light of Tillerson's 2.5 million shares of ExxonMobil stock (1.8 million of which are not vested and cannot be sold now) and what Tillerson would do to eliminate potential conflicts of interest.
There is also the issue of Exxon and climate change.
Tillerson himself is not a skeptic and has called the threat "real" and "serious." But Exxon's role in submerging scientific evidence about fossil fuel burning's role in climate change -- evidence Exxon itself invested in learning about and confirming before a scientific consensus emerged -- could prove politically damaging.
ExxonMobil has bitterly denied the charges and faulted the Rockefeller Family Fund for divesting from ExxonMobil stock (A 2015 series of articles in InsideClimate News alleged Exxon knew of the link as far back as 1977). The revelation has prompted an online petition, #Exxonknew, for a federal investigation.
CBS News' Major Garrett and Arden Farhi contributed to this report
Thanks for reading CBS NEWS.
Create your free account or log in
for more features.