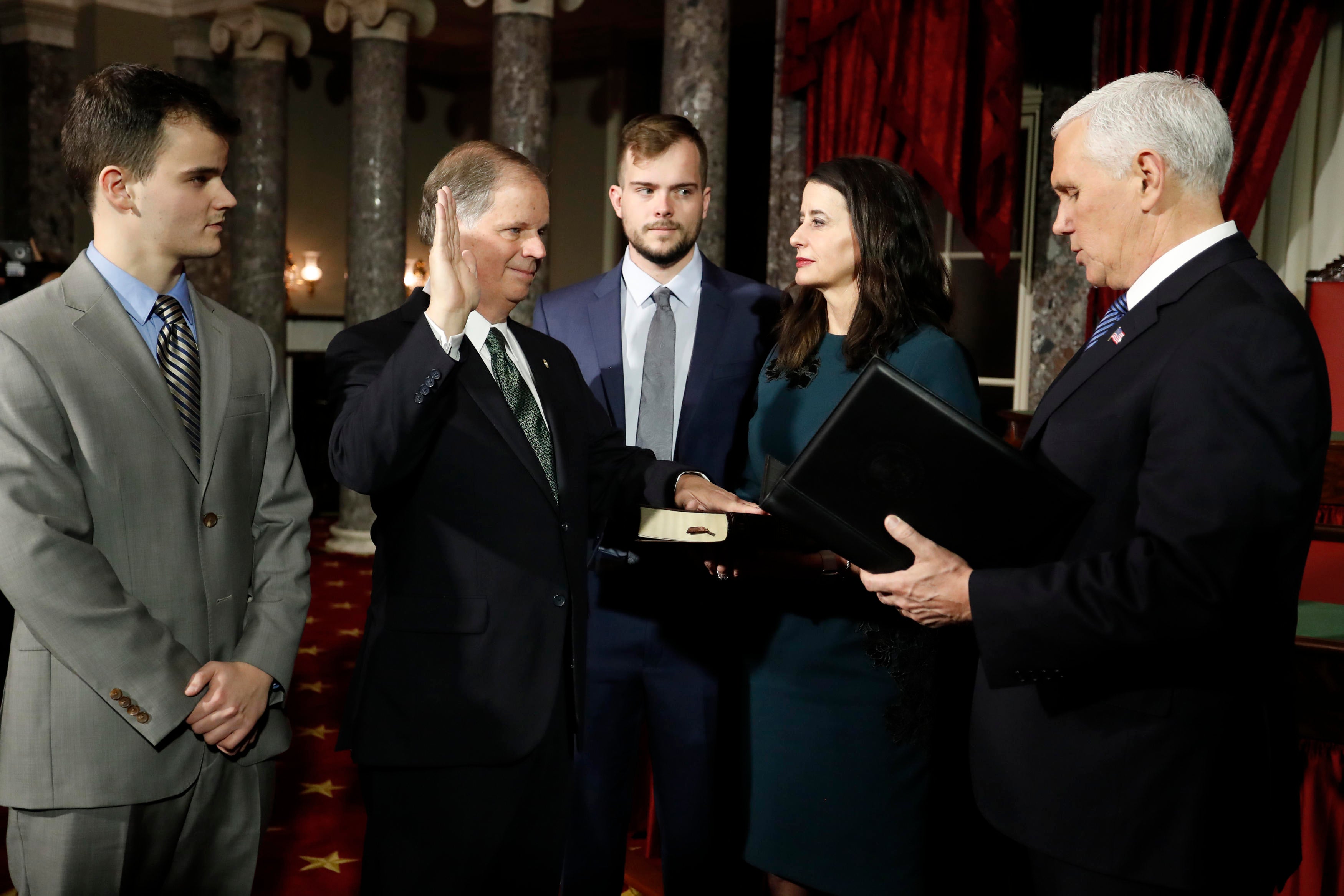 Doug Jones, Tina Smith sworn in as new senators
Democrats Doug Jones and Tina Smith have officially been sworn in as U.S. senators on Wednesday. Smith is replacing former Minnesota Sen. Al Franken, and Jones fills the seat held by Republican Jeff Sessions, now the attorney general. Jones' election reduces the Republican majority to 51-49.
Jones, who won a narrow race against embattled Republican Judge Roy Moore in Alabama's special election, was certified the winner of the race last week after Moore refused to concede to Jones.
Moore had filed a last-minute lawsuit contesting the results of the election by claiming election fraud in an effort to stop the state from making his defeat official. A judge later rejected Moore's attempts, to which Moore released a final statement saying he had "no regrets."
The senator-elect released a statement shortly after the certification saying he was "looking forward to going to work for the people of Alabama in the new year."
Jones now replaces Alabama Sen. Luther Strange, who was appointed to hold the seat after Sessions became attorney general.
Ahead of the swearing-in, Jones told reporters on Capitol Hill that he's hoping to be a "good senator" something he considers to be a "bipartisan issue."
Franken announced his resignation in December amid mounting pressure to step down in light of growing allegations of sexual misconduct against women before and after he joined the Senate. Smith was selected by Governor Mark Dayton to fill the vacant spot.
The former Minnesota lieutenant governor has said she will also run in the November 2018 special election to finish Franken's term, which was due to expire in 2020. Vice President Mike Pence, who is the president of the Senate, swore in Jones and Smith. Former Vice President Walter Mondale, a Minnesotan, escorted Smith, and former Vice President Joe Biden, a longtime friend of Jones, escorted him.
Jones told reporters on Wednesday that he "loves" that Biden was joining him for the ceremony.
"The fact that he's been here for a long time. He's been here many years himself so it's going to be a special day," said Jones.
Jones later said that it "feels great" to be a Senator and that he was "very honored, humbled to be here."
Smith echoed Jones' sentiments, issuing her very first tweet as a Senator on Wednesday saying she was "ready to get to work" being a "fierce advocate for Minnesotans."
The Senate floor erupted into applause after Pence finished administering the oath of office during the first official swearing-in ceremony.
During a photo op following the formal ceremony in front of reporters, the senators were joined by their families as Pence administered the oath of office for a second time.
Biden joked with Jones' two sons during the photo op and told reporters that it was "good to be back." He thanked the vice president for allowing him to participate in Wednesday's events.
Smith was joined by her extended family as well as fellow Minnesota Senator Amy Klobuchar for the second informal ceremony. Pence said he looked forward to working with Smith in the senate.
Thanks for reading CBS NEWS.
Create your free account or log in
for more features.