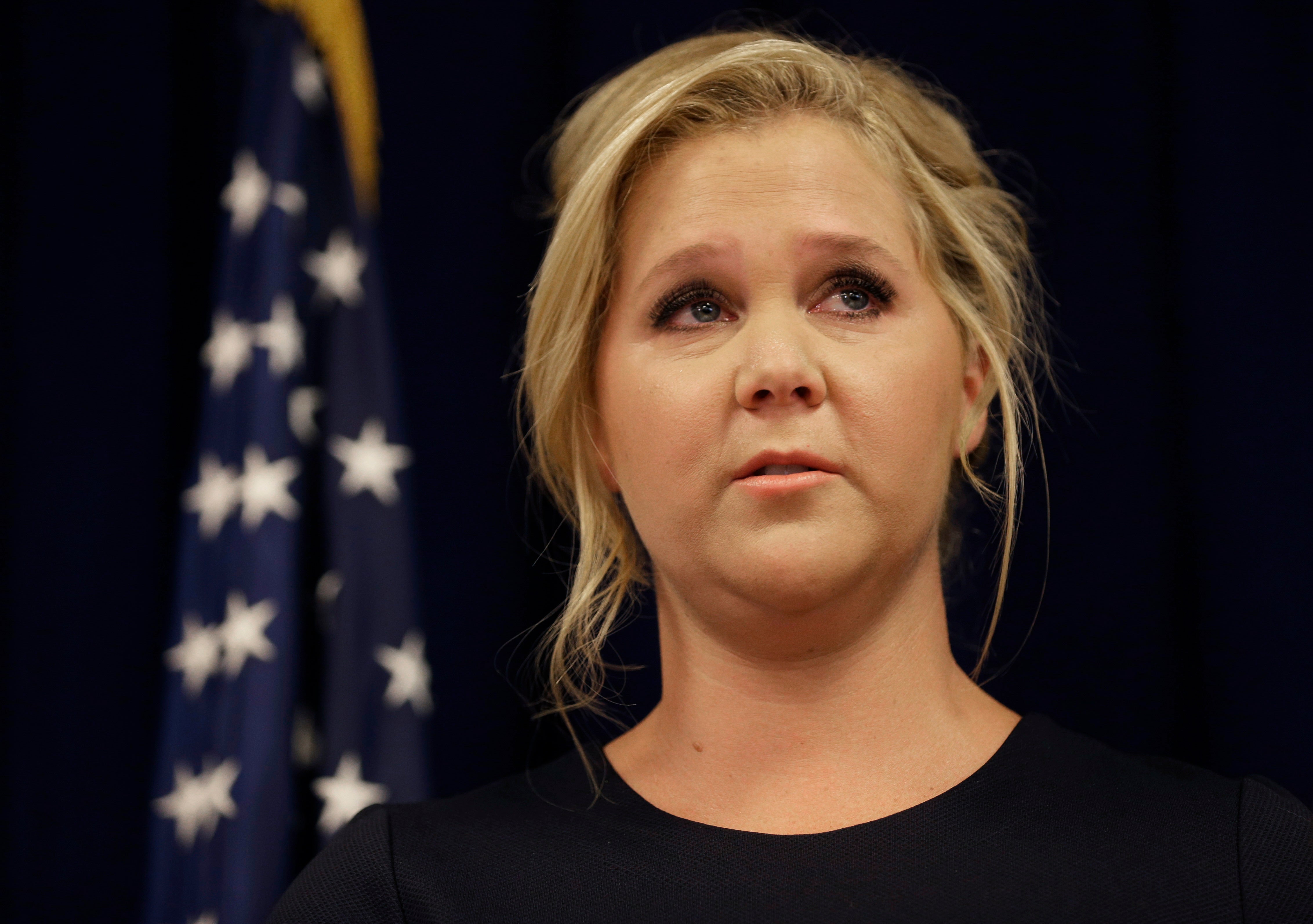 Sen. Chuck Schumer and comedian Amy Schumer team up on gun control
Sen. Chuck Schumer, D-New York, is teaming up comedian and actress Amy Schumer -- his second cousin once removed -- to step up the push for new gun control legislation on Capitol Hill.
"We're here to say enough is enough," the senator said in a press conference with his famous cousin in New York on Monday. "We can't just sit back and allow mass shootings to become commonplace... How many breaking news flashes will it take for Congress to act?"
The issue of gun violence became "extremely personal" for Amy Schumer, the comedian said, on July 23. A gunman that night killed two people and wounded nine others in a movie theater in Lafayette, Louisiana during a showing of Schumer's film "Trainwreck."
"I've thought about these victims each day since the tragedy," she said, adding that the shooter, who had a history of mental illness, "shouldn't have been able to put his hand on a gun in the first place."
"The critics scoff and say, 'Well, there's no way to stop crazy people from doing crazy things,' but they're wrong," Amy Schumer added.
The comedian, who has broached political issues in her comedic routines before, said, "I am expecting a backlash" for advocating for gun control. She noted that she has received death threats and "a lot of hate directed toward me, but... I want to be proud of the way I'm living and what I stand for."
She called the proposals that Sen. Schumer is putting forward in Congress "sensible" measures. "No one wants to live in a country where a felon, the mentally ill or other dangerous people can get their hands on a gun with such ease," she said.
The senator described a three-pronged plan. First, he proposed implementing a "carrot and stick" system to compel states to share information about felons, spousal abusers and the adjudicated mentally ill with the federal government to include in the national background check system. Under Schumer's proposal, states would get funding for sharing the information, and they would be denied funding if they refused to share the information.
Next, the senator wants the Justice Department to survey all 50 states on their standards for involuntary commitment for the mentally ill and put forward national best practices.
Third, Schumer and Schumer called on Congress to fully fund mental health and substance abuse programs. The senator noted that the Senate is currently considering cutting $159 million in federal funding that helps treat the mentally ill. Implementing those cuts in the wake of the multiple mass shootings that have happened this year is "the equivalent of a shoulder shrug to the victims," Sen. Schumer said.
While gun control proposals have gone nowhere in Congress in recent years, the senator said that his proposals should find support in Washington. "There are so many killings, so many needless killings, that every day the movement grows," he said.
Former Rep. Gabrielle Giffords, D-Arizona, a victim of gun violence herself, reacted on Twitter to Amy Schumer's announcement.
Asked whether the Lafayette shooting was an attack on feminism, Amy Schumer said, "I got about a million emails from friends telling me it could've been any movie -- I'm trying to believe that, but I'm not sure."
"Women are always under great threat of violence, just statistically," she continued. "When these sort of things happen we mourn, and then we get angry, and it'll just make us fight harder."
Thanks for reading CBS NEWS.
Create your free account or log in
for more features.