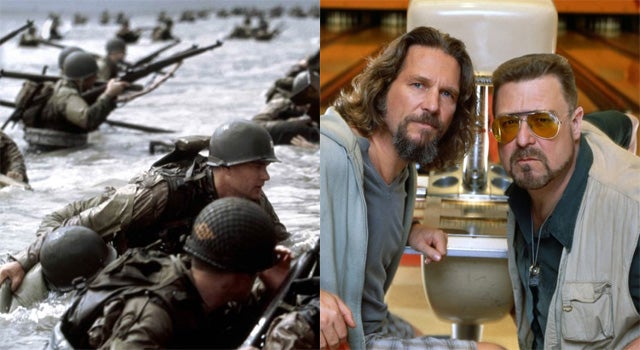 "Saving Private Ryan," "Big Lebowski" join National Film Registry
The Dude will continue to abide, and the emotional journeys of World War II soldiers, truant kids, and a mother-to-be cornered by Satanists will continue to move, delight and horrify audiences for generations to come, thanks to the preservation efforts of the Library of Congress.
This year's additions to the National Film Registry include the Coen Brothers' endlessly quotable comedy "The Big Lebowski," starring Jeff Bridges as a stoner bowler caught up in a kidnapping plot; "Saving Private Ryan," a graphic depiction of the violence of war, starring Tom Hanks and Matt Damon, for which Steven Spielberg won his second Best Director Academy Award; and "Ferris Bueller's Day Off," John Hughes' sparkling comedy featuring Matthew Broderick as a high school student playing hooky with friends in Chicago.

Also among the 25 titles added: the Roman Polanski psychological horror film "Rosemary's Baby," starring Mia Farrow as a young woman who fears the worse for her infant, thanks to her creepy New York neighbors; "House of Wax," a 3-D horror film starring Vincent Price; and "Willy Wonka and the Chocolate Factory," a musical version of the Roald Dahl classic, starring Gene Wilder and hordes of Oompa Loompas.
The National Film Registry is the Library's roster of films it has deemed to be culturally, aesthetically or historically important. Titles selected for the Registry are to be collected and preserved by the Library as examples of America's unique film heritage.
Unlike critics' "best-of" compilations or tabulations of box office hits, the Registry is the most eclectic and democratic of film lists, incorporating not just Hollywood studios warhorses but also documentaries, experimental films and animation, student films, music videos, commercials and newsreels.
Also added to the Registry today: "Luxo Jr," an early example of computer animation from Pixar; silent films by female directors Grace Cunard and Lois Weber; and the Oscar-winning documentary, "Into the Arms of Strangers: Stories of the Kindertransport," about Jewish children rescued from the storm clouds of Europe at the outbreak of World War II.
Among the most historically significant films added: 100-year-old raw footage and out-takes identified to be the very first film featuring African-American actors; "Please Don't Bury Me Alive!" by independent filmmaker Efrain Gutierrez, acknowledged as the first Chicano feature; and documentary film taken by Samuel Fuller when, as a soldier in the 1st U.S. Infantry Division, he witnessed the liberation of a Nazi concentration camp in Czechoslovakia.

"The National Film Registry showcases the extraordinary diversity of America's film heritage and the disparate strands making it so vibrant," said Librarian of Congress James H. Billington, who announced this year's additions today.
This brings the number of titles in the collection to 650.
The Library accepts nominations from the public for movies to add to the Registry (visit www.loc.gov/film/vote.html). Selections are made after conferring with film curators at the Library of Congress and with members of the National Film Preservation Board.
The Library then works with film studios, producers and archives to collect and preserve titles Registry films for future generations.
Films Selected for the 2014 National Film Registry (in alphabetical order):
"Bert Williams Lime Kiln Club Field Day" (1913) - Seven reels of out-takes and raw footage for an unfinished film shot by Biograph in 1913 were recently identified as the oldest surviving film featuring African-American actors.

"The Big Lebowski" (1998) - The Coen Brothers' endlessly quotable comedy stars Jeff Bridges as The Dude, caught up in a Chandleresque plot involving extortion, an amputated toe, and bowling.
"Down Argentine Way" (1940) - Betty Grable and Don Ameche swoon in South America, as the Nicholas Brothers dance and Carmen Miranda sings in this frothy Technicolor musical.
"The Dragon Painter" (1919) - Sessue Hayakawa starred in this romantic fable set in Japan about an artist and his muse.
"Felicia" (1965) - A slice-of-life documentary about a teenage African-American/Hispanic girl living in the Watts section of Los Angeles.
"Ferris Bueller's Day Off" (1986) - Matthew Broderick stars in John Hughes' comedy of a high school student playing hooky in Chicago with his friends (and a borrowed Ferrari).
"The Gang's All Here" (1943) - Alice Faye, Phil Baker and Carmen Miranda, "The Lady in the Tutti Frutti Hat," star in this eye-popping Busby Berkeley musical, featuring music by Benny Goodman.
"House of Wax" (1953) - The displays in this wax museum are curiously life-like. Hmmm. Vincent Price starred in this 3-D horror classic.
"Into the Arms of Strangers: Stories of the Kindertransport (2000) - Mark Jonathan Harris' Oscar-winning documentary tells the painful yet hopeful story of children - many of whom were Jewish - who were shipped from their homes in central Europe in the late 1930s and early '40, to families in England, safe from the ravages of war.
"Little Big Man" (1970) - Dustin Hoffman stars as 121-year-old Jack Crabb, who regales a visiting journalist with tales of his peripatetic life in the Old West, in Arthur Penn's revisionist western, from the Thomas Berger novel.
"Luxo Jr." (1986) - Directed by John Lasseter, this was the first three-dimensional computer-generated animated short nominated for an Academy Award.
"Moon Breath Beat" (1980) - This short by Lisze Bechtold, who was a student at the California Institute of the Arts' Experimental Animation program, features whimsical line-drawn animation, about a woman and her two cats engaging the world and the forces of nature.
"Please Don't Bury Me Alive!" (1976) - Efrain Gutierrez's independently-produced tale of the San Antonio barrio in the waning days of the Vietnam War features working-class Mexican-Americans dealing with such issues as love, racism, poverty and the war. It was booked into theatres across the Southwest, where it found an audience underserved by major Hollywood studios and hungry to see themselves on screen.
"The Power and the Glory" (1933) - Spencer Tracy stars in this tragic tale of a man's rise from poverty to riches to suicide, told in flashback - a style which some critics say influenced Orson Welles' "Citizen Kane."
"Rio Bravo" (1959) - One of director Howard Hawks' best westerns, about a showdown between a small town sheriff (John Wayne) and the well-armed gang of the dastardly rancher whose brother he holds prisoner. With Dean Martin, Ricky Nelson, Walter Brennan, Claude Akins and Angie Dickinson.
"Rosemary's Baby" (1968) - Roman Polanski's classic horror tale stars Mia Farrow, John Cassavetes, Best Supporting Actress Oscar-winner Ruth Gordon, Maurice Evans, Ralph Bellamy, Charles Grodin, Elisha Cook and the voice of Tony Curtis.
"Ruggles of Red Gap" (1935) - An English Earl loses his manservant in a poker game to a nouveau riche American living in the Old West. Charles Laughton is the butler who finds frontier America not so bad after all.
"Saving Private Ryan" (1998) - As a testament to the Greatest Generation, Steven Spielberg's recreation of the D-Day invasion proved to be an especially emotional tribute - too realistic for some veterans, as counselors reported some former soldiers suffering from bouts of PTSD due to the movie's brutal opening scenes.

"Shoes" (1916) - Lois Weber, a former evangelist, was one of the first female film directors, who used the medium with the zeal of a missionary. "Shoes," about the trials facing working-class women, was an example of how Weber typically dealt with social issues.
"State Fair" (1933) - Will Rogers, Janet Gaynor, Lew Ayres and Louise Dresser starred in this down-home tale of a young girl finding love and more at the Iowa State Fair.
"13 Lakes" (2004) - James Benning's feature-length meditation on the views of lakes of the American West, shot on 16mm in static 10-minute takes, offers varying views of climate, topography, and light playing on water.
"Unmasked" (1917) - Grace Cunard (the "Queen of the Serials") co-directed and starred in this adventurous tale of a young jewel thief in a tug-of-war over a priceless necklace with another thief (played by co-director Francis Ford).
"V-E + 1" (1945) - Samuel Fuller's 16mm footage of the liberation of a Nazi concentration camp in Falkenau, Czechoslovakia.
"The Way of Peace" (1947) - A stop-motion animated plea for peace in the atomic age by Frank Tashlin.
"Willy Wonka and the Chocolate Factory" (1971) - Gene Wilder starred in this beloved musical adaptation of the Roald Dahl fantasy about a child's visit to a very weird candy factory.

Previous National Film Registry articles:

For more info:
Thanks for reading CBS NEWS.
Create your free account or log in
for more features.