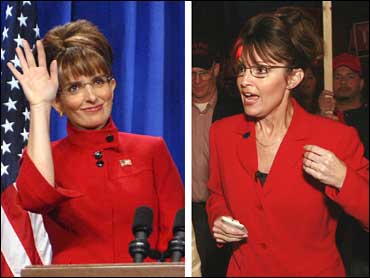 Sarah Palin turns the tables on Tina Fey
Just two days after comedian Tina Fey reprised her role as Sarah Palin on "Saturday Night Live," the former Alaska governor tried her hand at impressions in a new video for the Independent Journal Review.
Palin portrays Lynn Melon, a spoof on the TV character Liz Lemon in a fake trailer for "31 Rock." Fey played Lemon, the head writer of a fictional variety show on the NBC sitcom "30 Rock" for seven years.
"She's a TV writer who left a small town for the big city," a narrator says, as Palin mimics Lemon's cantankerous mannerisms, complaining about no snowflakes on her Starbucks cup and a missing Big Gulp. Watch the video here:
"She's also putting the smackdown on political correctness," the narrator continues, as Kevin Brown, the only member of the "30 Rock" cast to appear in the video, chides "Melon" for missing book club.
"We reviewed Sarah Palin's new book, 'Sweet Freedom: A Devotional.' Which, politics aside, is a great reminder of the pressures of PC culture," he says.
"The only PC I need is right here," Palin responds, gesturing to her laptop.
The skit gets an assist from Sen. Lindsey Graham, R-South Carolina, who plays the role of "30 Rock's" Kenneth Parcell, an NBC page. And Sen. John McCain, R-Arizona, plays the "31 Rock" version of Jack Donaghy, the executive who plays Liz Lemon's close confidant and sometime rescuer.
"Tune in when 31 Rock begins this winter on Independent Journal...maybe," the narrator finishes.
The news outlet was also behind a video of Graham pretending to destroy his cell phone after Republican presidential candidate Donald Trump read his telephone number aloud during a campaign appearance.
Thanks for reading CBS NEWS.
Create your free account or log in
for more features.