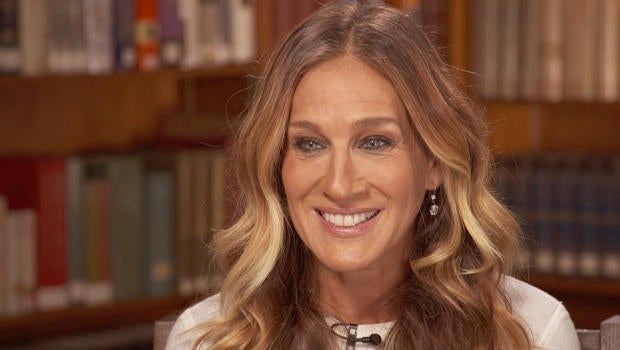 Sarah Jessica Parker with a very different take on love
Sarah Jessica Parker played a romance-seeking Manhattanite in the classic TV series "Sex and the City." So what can we expect from her latest role? Just one of the topics she discussed with Jane Pauley for our Sunday Profile:
Carrie Bradshaw reigned as the sexual anthropologist of the '90s in HBO's "Sex and the City." The show was frothy, fanciful, naughty, and addictive.
Jane Pauley admitted to watching an episode with her daughter, then in her twenties, who then decided, "It's not a show you watch with your mom."
"No!" star Sarah Jessica Parker agreed. "Actually my mom came to the premiere. I don't think I ever invited her back to any other premieres! And she knows I'm really fond of her and everything, but, you know ..."
For six seasons, Carrie and her posse prowled New York City looking for love and other urban adventures. That, Pauley noted, is Parker's legacy.
"It's a privilege," she said. "I feel we are a fairly intimate group, this gang of 10 million that watch the show. Do you know what I mean? So I feel it behooves me to be responsible to [them], and for every single thing I do."
The actress, producer and fashion icon looks back fondly -- but from a distance -- at her alter-ego.
She said the character's drive -- that "it had to be love, love, love, love all the time" -- was "childish in a way."
There's nothing "childish" about Sarah Jessica Parker. She's been working since she was eight, raised in Cincinnati, Ohio, in a family she describes as "aspiring to be middle class."
"When you're one of eight kids there's a lot that you get that's been pre-owned," she laughed. "Now they say 'gently used.' Something new was just, like, so monumental an occasion."
What was a new thing she remembered? "When I was eight I got toe shoes, when I was a dancer, and it was such a big deal."
Ballet was her first love, until she tried out for, and landed a part, in a local television production of "The Little Match Girl."
"I loved being somebody else, I loved it," Parker said. "I loved the money. I couldn't believe they were paying me! I mean, it changed my life."
Well, the whole family's. The Parkers made a big bet on Sarah Jessica's possibilities, and moved to New York. She nailed her first audition.
"That was a big deal -- I got that job right away, first day in town," Parker said.
"God, dreams do come true, only you're too young to have dreamt any of this?" Pauley said.
"No, I was dreaming all of it. I was not casual about this."
She made her Broadway debut, at 11, with director Harold Pinter and actress Claire Bloom.
And at 13, she landed a starring role, as the third of Broadway's Annies.
"The sun'll come out tomorrow,
Bet your bottom dollar that tomorrow, there'll be sun.
Tomorrow, tomorrow, I love ya', tomorrow,
You're always a day away!"
Parker estimates she sang "Tomorrow" more than 400 times.
Pauley asked, "How long does it take that song to get out from heavy rotation?"
"You know what? I listen to the 'Annie' soundtrack a lot. I still think it's perfect. My children, my daughters in particular, love it. I don't want it gone."
Parker's teen years were spent in front of cameras: TV's "Square Pegs" in 1982, and then movies, including "Footloose" in 1984.
School was not a priority. "I was a terrible student," she said. "I tested very, very poorly."
But her mother taught her never to leave home without a book. To this day, she's a voracious reader.
And a publisher noticed. Parker was recently given her own imprint, SJP for Hogarth, a division of Crown. It supports new writers of her choosing. "We can support writers prior to a book's release -- talk about specific books, but also small booksellers and also libraries," she said.
Having a lifelong passion for ballet, five years ago she helped create a fall fashion gala, raising more than $10 million for the New York City Ballet, which is how she and Pauley got privileged access to the wardrobe department. Carrie Bradshaw would have been in heaven. Sarah Jessica Parker could rock a used tutu, and run in strappy four-inch Manolo Blahniks!
"People think, 'Oh, costumes are fun and it's a fantasy and it's sort of frivolous.' But it's an integral part of good storytelling."
After 13 years, Parker is back on HBO with a very different take on love, in a new series called "Divorce," as a suburban, working mom whose marriage is foundering.
Pauley noted, "You said that women in their 40s are having affairs."
"Or 50s," Parker added.
"Or they know someone who is. Is there something going around?"
"I think what I was saying was that there was a lot happening with a group of women that was very interesting to me, and that I was at an age where I was looking at friends' marriages and relationships, and I was recognizing that there is a story to tell about that commitment that we hadn't see in a long time," Parker said. "And if it's not themselves, it's their friends or siblings or parents. Or it's their secret."
At 51, Parker's marriage is going on 20 years. She and actor Matthew Broderick have three kids -- a boy, 13, and seven-year-old twin girls.
Pauley asked Parker, "What does 'happily married' actually mean?"
"The things that annoy me don't matter!" she laughed. "And I think that is because we are grown-up people.
"I feel like sometimes it's as simple as, I still like him so much. Like, he's still the person that I hope I'm making proud. He's still the smartest and the funniest to me."
We couldn't help but wonder about her "Sex and the City" marriage (to the character known only as "Big" until the final episode). Married in the first movie, the Prestons are suffering the "terrible twos" in the second.
Which brings us to a final question: Will there be a third "Sex and the City" movie?
The idea, Parker said, "rests in the butler's pantry. It's not on the table, but somebody is holding it fairly nearby."
"One can't help but picture a 'Golden Girls' kind of version of 'Sex and the City,'" Pauley said, "if you're inclined to be looking back on your lives at all, or are you still looking forward?"
"I would have sort of imagined that those women have only interest in looking ahead, while being informed by the past," Parker said. "And in a way, maybe that would be the best for all of us -- living people, nonfictional as well!"

For more info:
Thanks for reading CBS NEWS.
Create your free account or log in
for more features.