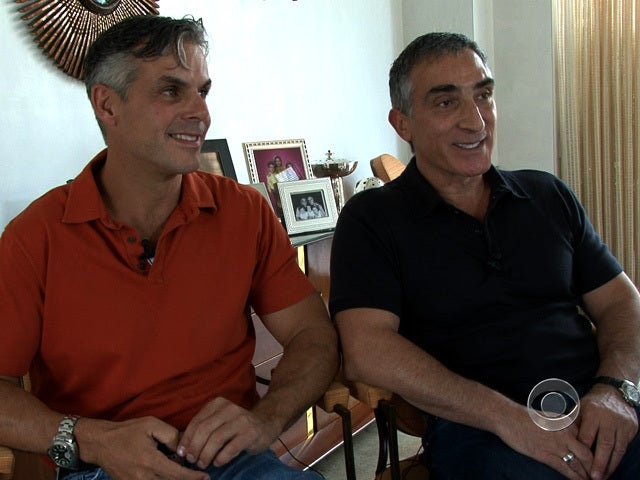 Same-sex couples raising children on the rise
(CBS News) NEW YORK - On this Father's Day Eve, we take notice of a sea change. The Census Bureau estimates that the percentage of same-sex couples raising children has more than doubled in just 10 years, from 8 percent in 2000, to 19 percent in 2010. We visit one of the couples behind the numbers.
As a same-sex couple, Sean McGill and Luigi Caiola say they never contemplated fatherhood.
"We never imagined or never thought that children would be an option for us," said McGill.
But after almost 10 years together, they were drawn to the idea of parenting.
"We were watching my siblings starting to raise children and Sean's siblings had had children," said Caiola. "And we started thinking, well you know, I think we can do this just as well as they can."
Adoption is the primary path for many same-sex couples but it can be legally difficult. One state, Mississippi, bans gay people from adopting. Nineteen others require parents to be married for joint adoptions.
Public opinion is divided. A recent poll showed 54 percent in favor or strongly in favor, 40 percent opposed or strongly opposed; 4 percent undecided.
"Parenting is one of the greatest joys any human being can experience," said Dr. Kim Bergman, who runs Growing Generations. It matches same-sex parents with a surrogate -- a woman who agrees to carry a child on their behalf. About 80 percent of her clients are gay men, many in their 20s.
"They're assuming that they are going to get married and have babies just like everybody else."
"Our daily routines, our lives,what we do with our kids is exactly what any other family would be like," said Caiola.
Caiola and McGill have now gone through surrogacy twice -- for 5-year-old Maria, and 4-year-old twins Adam and William.
"We are living our lives and very rarely do we take notice that we're two dads," said McGill.
"Having them has been the most joyful, fulfilling experience of my life -- of our lives," said Caiola.
These dads say they look forward every milestone. This fall, sons Adam and William will enter pre-kindergarten. Daughter Maria starts first grade.
Thanks for reading CBS NEWS.
Create your free account or log in
for more features.