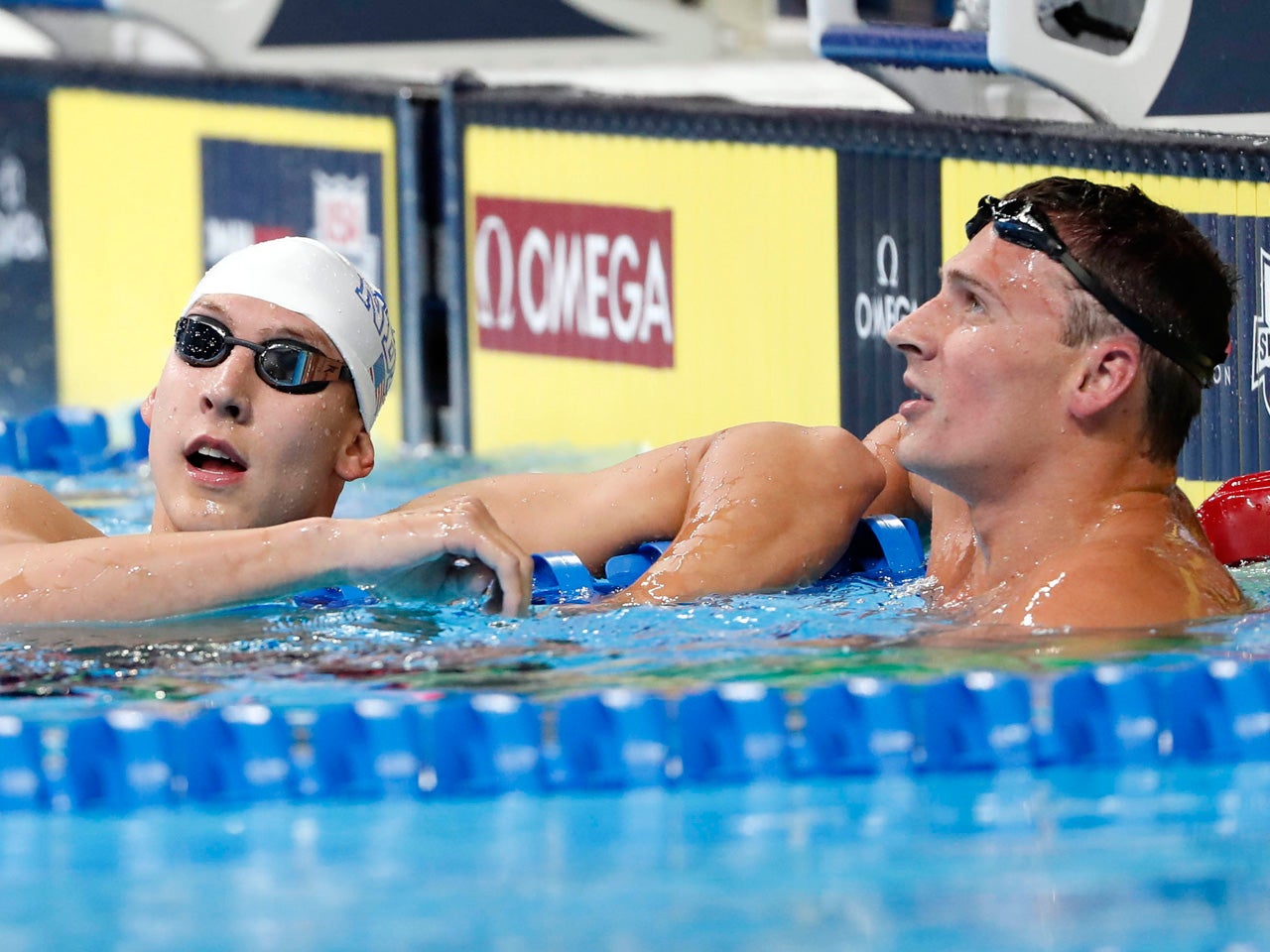 Ryan Lochte falls to Chase Kalisz in Olympic swim trials stunner
OMAHA, Neb. - Ryan Lochte powered out to a big lead in the event he won four years ago at the London Olympics, his powerful arms churning through the water, looking very much like a lock for another trip to the games.
Actually, he was trying to hide the pain.
By the end, it was apparent to everyone.
In a stunner on the very first night of the U.S. swimming trials, an ailing Lochte was denied a chance to defend his Olympic title in Rio in the 400-meter individual medley, finishing third Sunday behind a pair of college teammates who raced right by him on the closing laps.
"I went out there and did my best," Lochte said. "It wasn't enough."
Lochte appeared to be swimming in molasses on the breaststroke and freestyle legs, allowing Chase Kalisz and Jay Litherland to claim the two spots on the U.S. team for Rio.
Actually, the 11-time Olympic medalist was hindered by a groin injury sustained in the morning preliminaries.
"I thought about ... scratching," Lochte said. "But, I mean, it's the Olympic trials. If I had a broken leg, I'd still go out there and swim."
Lochte is entered in five more events in Omaha, giving the 31-year-old plenty of chances to make his fourth Olympic team. But the groin injury raises doubts about how effective he'll be in any of those races.
"I'm going to keep working on it day in and day out, and hopefully it gets better," said Lochte, who might get a cortisone shot to help deal with the pain.
He tried to compensate for his injury by going out faster than usual on the butterfly and backstroke legs, giving him a two body-length lead at the midway point.
That wasn't nearly enough.
With his legs of little use on the breaststroke, Lochte ceded the lead to Kalisz. Then it was Litherland blowing past Lochte on the freestyle to take the second spot for Brazil.
Kalisz and Litherland hugged and whooped it up in the water, the University of Georgia teammates both headed to their first Olympics.
Lochte hung on a lane rope, totally exhausted. He finally made it over to the side of the pool, struggling just to climb out of the water.
"I had to go out faster than usual because I couldn't use my legs in breaststroke," Lochte said. "Just got to forget about that and move forward."
Kalisz won in 4 minutes, 9.541 seconds, and Litherland was next in 4:11.021.
Lochte labored home at 4:12.021.
Michael Phelps, who won the 400 IM at both the 2004 and 2008 Olympics, finished fourth in London - far behind Lochte - and dropped the grueling event from his program. With no races on the first day of the meet, Phelps watched from the stands.
He is pulling for Lochte to make the team in one of his other events.
"He's somebody who's really, really tough," Phelps said. "Hopefully, he can get some recovery and get whatever he needs worked on. He's somebody we need."
But Phelps was thrilled for long-time training partner Kalisz - "he's like a brother to me" - and wasn't surprised by Litherland's performance.
"He's like a shark in the water,'" Phelps said. "He knows how to rise to the occasion."
Litherland is one of three triplets who swim for Georgia. They hold citizenship in three countries - the U.S., Japan and New Zealand - but Jay is the only one competing at the U.S. trials. His brothers had hoped to swim at the Olympics for Japan and New Zealand, but failed to make those teams.
Two other finals were held at the sold-out CenturyLink Center, which is hosting the Olympic trials for the third straight time in a temporary pool.
Maya DiRado qualified for her first OIympic team in the women's 400 IM, knocking off 2012 silver medalist Elizabeth Beisel.
DiRado, who plans to retire after the Rio Games at age 23, is a late bloomer who peaked at just the right time. She touched in 4:33.73, finishing a couple of body lengths ahead of Beisel, who still earned a spot on her third Olympic team by holding off Bethany Galat.
Beisel finished in 4:36.81, while Galat missed out on Rio by less than a second in 4:37.69.
"I don't know what life I'm living, but it's amazing," DiRado said.
In the men's 400 freestyle, Connor Jaeger and Conor Dwyer are heading back to the Olympics for the second time after finishing 1-2. Jaeger won in 3:43.79, while Dwyer took the runner-up spot in 3:44.66 - just 0.38 ahead of third-place finisher Townley Haas.
But those events were overshadowed by Lochte's loss.
Phelps said he could tell his long-time rival had nothing left when he got to the breaststroke. And the two freestyle laps were downright painful to watch, as Lochte closed with a sluggish pace of 1:00.56 - more than 3 seconds slower than the 20-year-old Litherland.
"I know what Ryan felt like in that race," Phelps said, remembering his loss at the 2012 Olympics. "When you overdo it in that first 200, you're not going to have anything left."
Phelps broke down crying when congratulating Kalisz after the race.
"He told me he was proud of me," the 22-year-old Kalisz said. "It was just a very emotional moment."
Thanks for reading CBS NEWS.
Create your free account or log in
for more features.