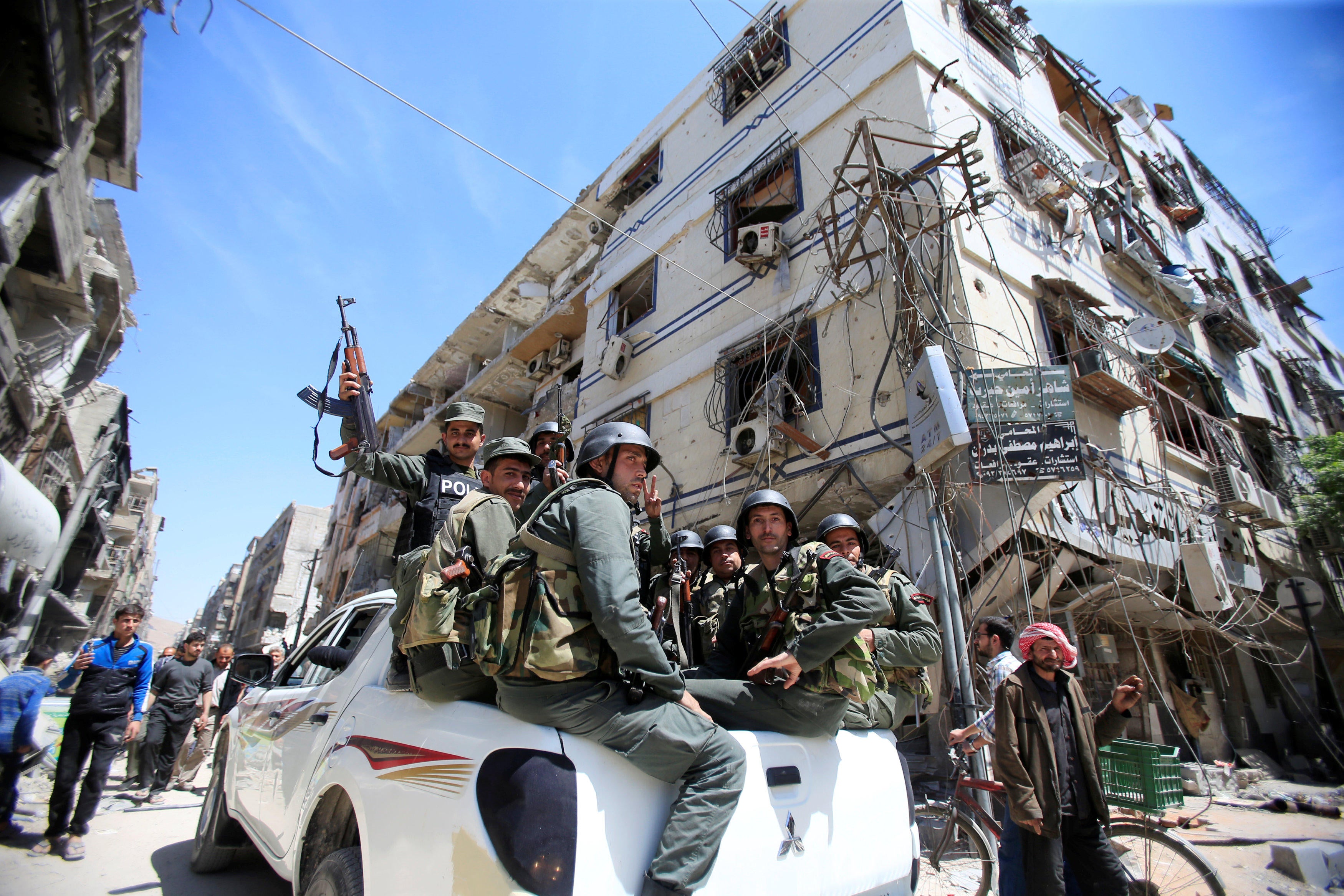 Inspectors reportedly reach alleged Syria chemical attack site
DAMASCUS -- A team of international inspectors entered the town near Damascus that was the scene of an alleged chemical weapons attack in Syria on Tuesday, Syrian state TV reported. They arrived in Douma more than a week after the U.S. government and its allies accused President Bashar al-Assad of killing his own people with poison gas in the April 7 attack.
The head of the International Organization for the Prohibition of Chemical Weapons (OPCW) said Monday that Russian and Syrian authorities had prevented his team from reaching the scene of the attack in the Damascus suburb of Douma, due to what the two countries said were "security issues" caused by U.S. and allied missile strikes over the weekend.
President Donald Trump, joined by France and Britain, launched what he called "precision strikes" against alleged Syrian chemical weapons facilities in response to the purported chlorine and nerve agent attack.
The question now is what OPCW inspectors will find, days after Russian and Syrian forces reclaimed Douma and took control of the scene of the alleged chemical attack.
As CBS News correspondent Seth Doane reports, rebel forces had held Douma almost since the start of the war in Syria, now more than seven years old, and the government's fight to take it back was fierce. Doane got the chance to see what the militants left behind as they fled just a few days ago.
Syrian forces led the CBS News team into what they said was some sort of bomb factory. There were bins filled with mortars, shells laying around all over the floor, and a makeshift artillery or rocket launcher.
While Russian airpower enabled Assad's forces to win the fight, the rebels used whatever they could to fire back.
Civilians lived in Douma for months under bombardment from Russian and Syrian airstrikes. In many cases there was very little access to basics, including food, and as CBS News visited this week, the desperation was apparent. Throngs of desperate civilians clamored to grab bread thrown from government trucks.
Doane and his team met one mother waiting for bread. She said she didn't flee the besieged suburb because she couldn't, as the rebels wouldn't allow her family to leave.
Retaking Douma means the Syrian government controls the building hit in the suspected chemical attack, which sparked the U.S. coalition strikes.
In that building, Doane met Nasr Hanan's, who told us his brother Hamzeh died in the attack. He showed CBS News what he said was the origin of the deadly gas: a missile on the roof of the building.
The scene now has been cleaned up, and when the OPCW inspectors finally make it into Douma, Doane says they'll find that not only time has passed, but plenty of people, too.
Hamish de Bretton-Gordon, former head of the British army's chemical weapons unit who is now a consultant on chemical and biological weapons, said Tuesday that his contacts at clinics in Douma told him doctors from the suburb had been taken in recent days into central Damascus for briefings, and not returned.
De Bretton-Gordon said both chlorine and sarin gas -- the weapons the U.S. says were used in Douma on April 7 -- dissipate quickly in open air, so inspectors will likely focus on obtaining biological medical samples from the victims to try and prove or disprove the presence of those toxins. The OPCW is not tasked with assigning blame, only establishing whether chemical weapons were used, and if so, which ones.
Thanks for reading CBS NEWS.
Create your free account or log in
for more features.