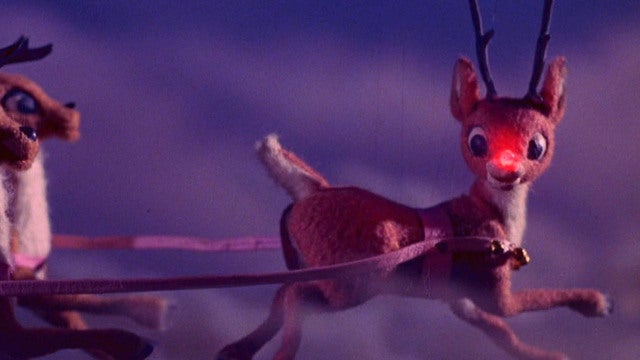 "Rudolph the Red-Nosed Reindeer" celebrates 50th anniversary
"Rudolph the Red-Nosed Reindeer" started out as a song made famous by Gene Autry, but he came to life in an animated special that has charmed generations. On Tuesday, Rudolph will run for the 50th straight year.
For a Christmas special to be a classic, it has to have cross-generational appeal, so CBS News assembled what you might ordinarily call a focus group -- though "focus" is probably the wrong word for the young bunch.
And it appears "Rudolph the Red-Nosed Reindeer" passes that test with flying -- and glowing -- colors.
First airing in 1964, "Rudolph the Red-Nosed Reindeer" was the creation of Arthur Rankin and Jules Bass, using a technique they called "animagic."
"The Rankin-Bass characters are just fun," New York Magazine TV critic Matt Zoller Seitz said. "Their bodies and their heads don't match up. Their movements are very awkward and strange."
"They weren't Disney, they weren't trying to be. But there's an incredible amount of artistry that goes into it," he added.
Filmed in Japan, Rudolph employs the oldest form of film animation, also known as stop motion. Movement is created by adjusting flexible dolls in tiny increments and shooting them frame by frame.
"It feels homemade to the point where generations of children were inspired to try to do their own versions of it with their action figures and bendable figurines and things like that," Zoller Seitz said.
Rudolph has influenced a number of contemporary filmmakers from Tim Burton to Wes Anderson.
"Over my years, my being involved in stop motion, I think that I came to appreciate the purity, the simplicity of Rudolph," Oscar-nominated director Henry Selick said.
Selick was behind the more modern holiday classic, "The Nightmare Before Christmas."
"There is a big part of it that is inspired a lot by Rudolf. We even do an homage with our ghost dog Zero and his glowing jack-o-lantern nose," Selick said. "And while it's darker, there is actually some touches of darkness in Rudolf. There is the island of misfit toys and there is a great sadness there."
And you can bet that even at 62 years old, Selick will watch Rudolph again this year.
"I already set the recorder," Selick said. "I'll be watching it with my family."
Even with modern technology allowing video on demand, the movie remains appointment TV for millions of viewers.
"There were certain television specials when they came on the air you knew it was really Christmas," Zoller Seitz said. "'How the Grinch Stole Christmas,' 'Charlie Brown Christmas Special' and of course, Rudolph first and foremost. It kind of made it feel official."
Thanks for reading CBS NEWS.
Create your free account or log in
for more features.