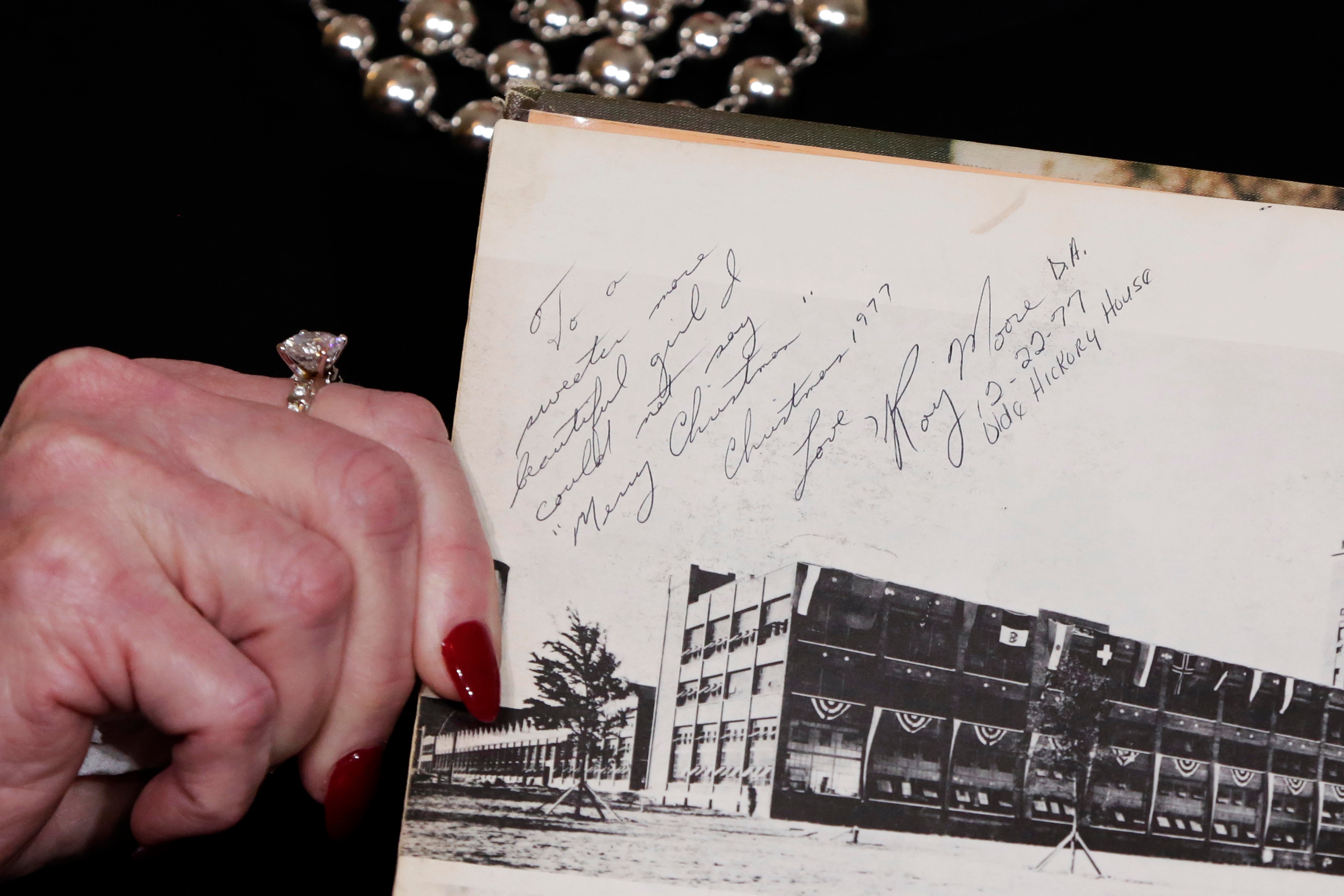 Roy Moore's attorney disputes accuser's yearbook note
An attorney for Republican Alabama Senate candidate Roy Moore went before the cameras Wednesday evening to defend his client on the sexual misconduct allegations against him.
Flanked by campaign chairman Bill Armistead, Moore's attorney Phillip L. Jauregui disputed what he called "serious, serious allegations" made by Beverly Young Nelson against Moore, and said that the claims have been "incredibly painful" for the Senate candidate and his family. At that point, five women had come forward accusing Moore of sexual misconduct years ago when they were teenagers. Local news outlet AL.com published the account of another accuser Wednesday evening.
Nelson told her story during a press conference Monday alongside women's rights attorney Gloria Allred. Through tears, she alleged that Moore sexually assaulted her as a high school student, saying she fought him off as Moore tried to force her head onto his crotch in his car one evening when she was 16 and he was 30.
Nelson cited a note she said Moore wrote in her high school yearbook as a form of evidence of his interest in her.
In defense of his client, Jauregui said Moore does not recall signing the yearbook and raised questions about its authenticity. According to Jauregui, Moore says there is "no way" it's his handwriting. He said the Moore campaign has contracted a handwriting expert to examine the authenticity of the signature appended to the yearbook note.
The message in question reads: "To a sweeter more beautiful girl I could not say Merry Christmas. Christmas 1977. Love, Roy Moore, D.A. 12-22-77 Olde Hickory House."
"Olde Hickory House" refers to the restaurant where Nelson worked in Gadsen, Alabama.
Jauregui attempted to poke holes in Nelson's story, pointing out that although Nelson said she had not seen or had contact with Moore since the alleged encounter, Moore actually served as the judge in her 1999 divorce case. He also clarified that although the yearbook note says "D.A." (standing for "district attorney") beside his signature, Moore actually served as "assistant district attorney" at the time.
"I've got a question for Gloria Allred and Ms. Nelson," Jauregui said in the news conference. "Do you still hold that everything written in that yearbook was written by Judge Moore? Or was it written by somebody else? That's not an allegation, it's a question," he said.
Moore's attorney demanded that the yearbook be released immediately to neutral custodian so experts may review the actual document, not a copy.
"Release the yearbook so that we can determine: is it genuine, or is it a fraud?"
Allred says she'll release the evidence to an independent expert if the Senate Judiciary Committee and the Senate Select Committee on Ethics hold hearings within the next two weeks regarding accusations made against Moore and he responds to the charges under oath.
"The time has come for Roy Moore to announce whether he is willing to be examined under oath concerning his conduct with regard to the five accusers before the Senate Committees," Allred said in a statement.
Over a dozen GOP senators, including Senate Majority Leader Mitch McConnell, have called on Moore to step out of the Alabama special election, scheduled for Dec. 12. Alabama's senior Senator Richard Shelby said Wednesday he plans to write in another candidate on Election Day.
Steve Bannon, the former top White House strategist, has decided he will continue to support Moore, and President Trump has yet to denounce Moore.
Thanks for reading CBS NEWS.
Create your free account or log in
for more features.