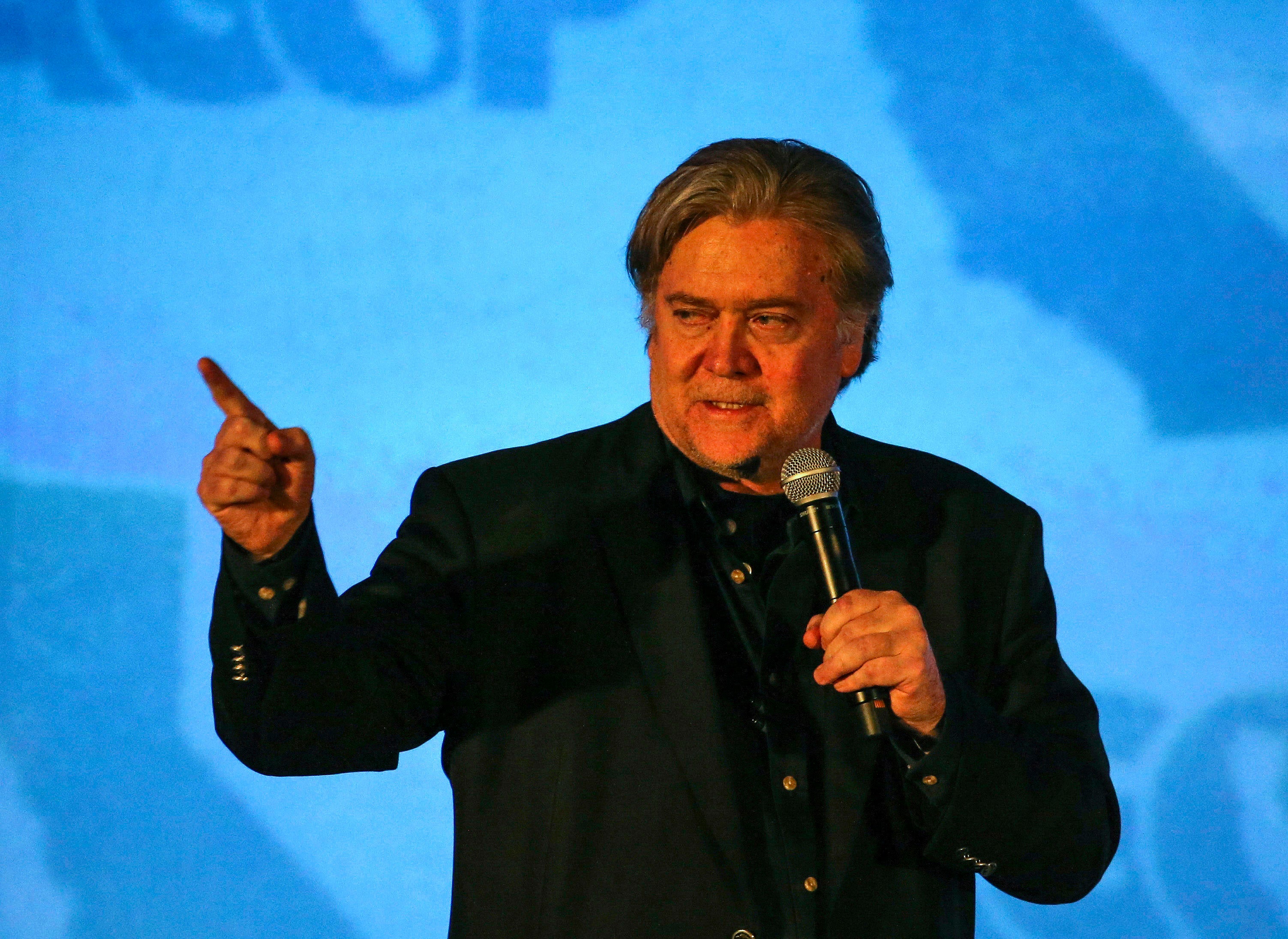 Steve Bannon will continue to support Roy Moore
After consulting with those close to him, Steve Bannon has decided he'll continue supporting embattled Alabama Senate candidate Roy Moore, CBS News' Steve Chaggaris reports, according to a source close to Bannon.
Bannon has confided to friends that he's not comfortable with the sexual misconduct allegations leveled at Moore, although he also suspects the story might be part of a Washington establishment hit job to sink the former Alabama judge's candidacy. And his friends advised him that it's unlikely that all of the accusations are baseless and that he should distance himself from Moore soon.
The former top White House strategist said late last week that "I will put him in a grave myself" if he were to find that Moore lied to him about the accusations leveled against him in a Washington Post article, the Daily Beast reported Tuesday. There has been no public reaction by Bannon to a press conference Monday held by a fifth woman who accused him of sexually assaulting her when she was 16 years old.
On Tuesday night at an event in Jackson, Alabama, Moore scoffed at the Democrats and Republicans who have "spent over $30 million trying to take me out," and he acknowledged "I'm now facing allegations," which he dismissed, saying, "That's all the press want to talk about."
Another staunch supporter of Moore is having misgivings, too. Fox News' Sean Hannity, who endorsed Moore in September, is now questioning Moore's explanations. On "Hannity" Tuesday, Hannity questioned inconsistencies in Moore's answers to his accusers and gave him 24 hours to come up with an explanation.
"Here's where I am tonight, between this interview that I did and the inconsistent answers, between him saying I never knew this girl and then that yearbook comes out," he said, referring to a yearbook belonging to his fifth accuser that does seem to bear Moore's signature. "For me, the judge has 24 hours. You must immediately and fully come up with a satisfactory explanation for your inconsistencies that I just showed. You must remove any doubt. If you can't do this, then Judge Moore needs to get out of this race."
On Wednesday, Hannity said on his radio show that he has asked the campaign to clear up the allegations against Moore, and it told him that it would "give you that explanation publicly today," although Hannity did not have a specific time.
Moore was already a pariah among national Republicans even before the recent allegations of inappropriate contact with minors. A twice-removed state judge, Moore's anti-gay and anti-Muslim rhetoric have long repelled the GOP mainstream.
For Bannon, Moore has been the means to challenge establishment Republicans, throwing his support behind Moore during the primary against President Trump's and Senate Republicans' preferred candidate, incumbent Sen. Luther Strange. Moore beat Strange handily in the recent primary election.
He has been traveling overseas and is expected to be back in the U.S. at the end of the week.
CBS News' Clare Hymes contributed to this report.
Thanks for reading CBS NEWS.
Create your free account or log in
for more features.