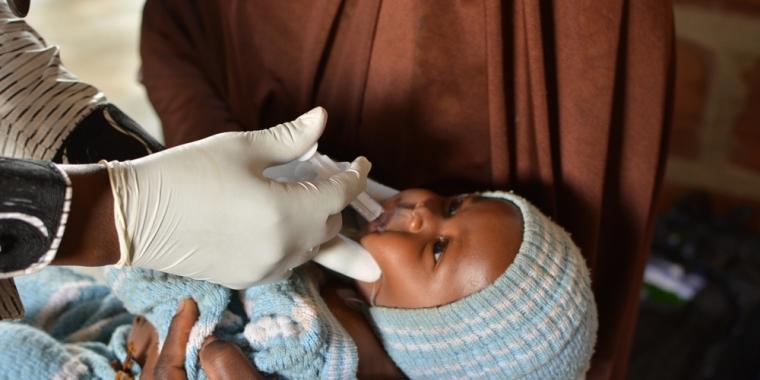 New vaccine could prevent thousands of childhood deaths
A new vaccine is safe and effective in preventing a deadly diarrheal disease that kills hundreds of children per day, according to a new large trial done in Africa.
The viral disease, called rotavirus, is responsible for more than one-third of deaths from diarrhea among children younger than 5 years old — totaling about 450,000 children a year.
The study, published in the New England Journal of Medicine, found that the new, heat-stable vaccine was 66.7 percent effective in preventing severe gastroenteritis caused by the virus. The vaccine — known as BRV-PV — is cheaper than existing vaccines, does not need to be refrigerated, and is specifically adapted to the rotavirus strains found in sub-Saharan Africa, the region of the world most disproportionately affected.
The trial was done in Niger by Doctors Without Borders in conjunction with Harvard T.H. Chan School of Public Health and Epicentre, Paris.
"This is a game-changer," Dr. Micaela Serafini, Doctors Without Borders' medical director, said in a statement. "We believe that the new vaccine can bring protection against rotavirus to the children who need it most."
Unlike other common causes of diarrhea, rotavirus cannot be prevented through improvements in water, sanitation, and hygiene, so vaccines are essential to prevent complications and childhood deaths.
Currently, there are two rotavirus vaccines, but they are expensive and need to be refrigerated, making them difficult to distribute in resource-poor countries where electricity and refrigeration are often unreliable. BRV-PV is the first of its kind that does not require refrigeration. It also costs less than $2.50, according to Doctors Without Borders.
The vaccine has been licensed in India but will need to be approved by the World Health Organization (WHO) before it can be purchased by the United Nations and government agencies.
"After the successful clinical trial of this new vaccine, we hope that it can be made available as soon as possible to children in Niger and across Africa," said study author Sheila Isanaka, assistant professor of nutrition at the Harvard T.H. Chan School of Public Health.
For the study, the researchers conducted a randomized control trial in more than 3,500 healthy infants. Each child received three doses of either the vaccine or placebo at 6, 10, and 14 weeks of age. All of the children included in the research are monitored in local health centers and receive free medical care for two years.
"The success of this trial shows that research and development into vaccines that are specifically adapted for use in low-income countries yield results," Serafini said. "The quicker this vaccine is prequalified by the WHO, the sooner it can be used to prevent the deaths of thousands of children in the countries where it is needed most."
Thanks for reading CBS NEWS.
Create your free account or log in
for more features.