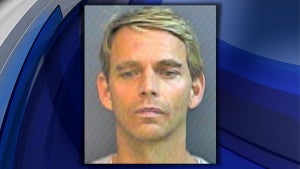 Ross Reisner Update: Brett Knight, man accused in fatal shooting of N.Y. equestrian, pleads not guilty to murder
(CBS) CENTRAL ISLIP, N.Y. - Brett Knight, the man accused in the murder of a prominent Long Island, N.Y. equestrian, pleaded not guilty Friday, CBS New York reports.
The judge considers the 45-year-old Knight a flight risk and ordered him to be held without bail, according to the station.
Knight, who was unshaven and wearing a Madonna t-shirt, said nothing to reporters as he was escorted from the jail to an awaiting vehicle that transported him to First District Court in Central Islip where he was arraigned Friday morning, reports the station.
Knight was captured by U.S. Marshals in Tennessee earlier this week and was extradited to New York on Thursday. He is charged with second-degree murder and aggravated harassment in connection with last month's shooting death of 50-year-old Ross Reisner.
Prosecutors allege Knight fired 11 shots through the window of Reisner's home in East Setauket around 8:45 p.m. on Sept. 24, killing Reisner and wounding the equestrian's longtime partner, Kevin Murray, according to the station.
Knight's attorney said his client denies the allegations.
"My client has been good friends with these people for some 20 years," attorney Michael Brown said. "So there's really no incentive or motive to cause any type of injury to them."
Brown would not say if the victim and the defendant ever had a romantic relationship.
"There's things I think are important and they're going to come out down the road and I think they'll have an important part of the defense, but we're not going to get into that at this point in time," he said.
Prosecutors did not provide a motive for the shooting, but said Knight, who was Reisner's former tenant, had made admissions of guilt, according to the station.
A few months before the shooting, Murray, Reisner's partner, had filed a complaint against Knight after he allegedly harassed Reisner, reports the station.
Reisner was a professional horse trainer as well as a rider. He appeared for decades at the Hampton Classic Horse Show.
Knight is due back in court on Oct. 16. If convicted, he faces 25 years to life in jail.
Thanks for reading CBS NEWS.
Create your free account or log in
for more features.