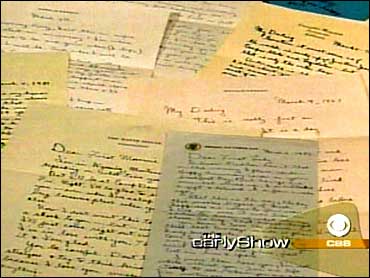 Ronald Reagan's Love Letters
On such an emotional day, as the nation remembers Ronald Reagan as president and as the great communicator, it's only fitting to look back at the private side of the man. That was best seen in tender, thoughtful letters he sent to his wife, Nancy, The Early Show co-anchor Harry Smith reports.
"Girl of my dreams - I love you." Ronald Reagan penned these words to the love of his life, Nancy Reagan - a romance true to the lyrics of their favorite song by Gershwin.
Mr.Reagan married Nancy Davis on March 4, 1952.
Romantic letters written throughout their marriage marked events big and small and revealed a tender, endearing side of the man who would become president.
From an Atlanta hotel room, he wrote: "My Darling, here it is - our day and if we were home, we'd have a fire and "funnies," and we'd hate anyone who called or dropped in. As it is, I'm sitting here on the 6th floor beside a phony fireplace looking out at a grey, wet sky and listening to a radio play music not intended for one person alone."
The Hollywood sheen of a picture-perfect couple is rooted in Mr. Reagan's letters of the heart that were cozy and familiar:
"Darling Mommie Poo,
Feb.14 may be the date they observe and call Valentine's Day, but that is for people of only ordinary luck. I happen to have a Valentine's life, which started on March 4, 1952, and will continue as long as I have you."
No matter how far he traveled as movie star or politician, Mr. Reagan's letters always measured the distance back home.
In a telegram sent from an Albuquerque train stop, he jotted: "Only til tomorrow morning, but if it were only a minute it would be too long. I love you."
Mr. Reagan's letters were often whimsical, as in a Mother's Day letter that shouted out, "M is for the million ways I love you" - signed "An admirer" with a thoughtful "P.S.: "I'm on the next pillow over."
During his taking the oath of office, President Reagan said, "Dear First Lady, As President of the U.S., it is my honor and privilege to cite you for service above and beyond the call of duty in that you have made one man (me) the most happy man in the world for 29 years."
The Reagans danced for the entire world to see, but in his letters, he continued to hold his wife closely for himself alone.
He wrote: "Dear First Mommie, I'm in Wyoming, Montana - or Nevada depending on what time you read this. But I'll be at Camp David at 9:15 p.m. Friday night. I'll be glad to see you. I miss you - even when I'm asleep. This is a very lonesome place when you are some place else."
In a fitting final chapter to their romance, on White House stationary President Reagan wrote, "I love you" nine times over, ending with "And besides that - I love you."

Thanks for reading CBS NEWS.
Create your free account or log in
for more features.