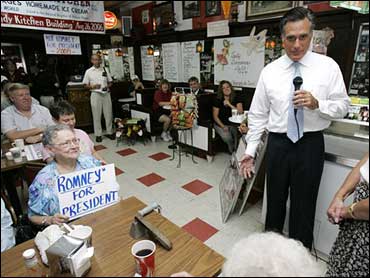 Romney: Sons Serve Country By Campaigning
Republican presidential hopeful Mitt Romney on Wednesday defended his five sons' decision not to enlist in the military, saying they're showing their support for the country by "helping me get elected."
Romney, who did not serve in Vietnam due to his Mormon missionary work and a high draft lottery number, was asked the question by an anti-war activist after a speech in which he called for "a surge of support" for U.S. forces in Iraq.
Romney, the former Massachusetts governor, also saluted a uniformed soldier in the crowd and called for donations to military support organizations. Last week, he donated $25,000 to seven such organizations.
"The good news is that we have a volunteer Army and that's the way we're going to keep it," Romney told some 200 people gathered in an abbey near the Mississippi River that had been converted into a hotel. "My sons are all adults and they've made decisions about their careers and they've chosen not to serve in the military and active duty and I respect their decision in that regard."
He added: "One of the ways my sons are showing support for our nation is helping me get elected because they think I'd be a great president."
Romney's five sons range in age from 37 to 26 and have worked as real estate developers, sports marketers and advertising executives. They are now actively campaigning for their father and have a "Five Brothers" blog on Romney's campaign Web site.
Romney noted that his middle son, 36-year-old Josh, was completing a recreational vehicle tour of all 99 Iowa counties on Wednesday and said, "I respect that and respect all those and the way they serve this great country."
The woman who asked the question, Rachel Griffiths, 41, of Milan, Ill., identified herself as a member of Quad City Progressive Action for the Common Good, as well as the sister of an Army major who had served in Iraq.
"Of course not," Griffiths said when asked if she was satisfied with Romney's answer. "He told me the way his son shows support for our military and our nation is to buy a Winnebago and ride across Iowa and help him get elected."
The town-hall-style meeting was the first of eight events scheduled for Romney just three days before the Iowa Straw Poll, a nonbinding beauty contest among the Republican presidential contenders.
In the days leading up it, Romney is airing a new television ad in the state in which he encourages supporters to attend the event, portrays himself as an outsider to Washington and takes swipes at both Republicans and Democrats there.
"Washington politicians in both parties have proven they can't control spending, and they won't control our borders," Romney says in the ad. "I will, but I need your help to do it."
While former New York Mayor Rudy Giuliani, Arizona Sen. John McCain and former Tennessee Sen. Fred Thompson, who is considering a campaign are not participating, Romney has been actively organizing with the aim of gaining momentum into January's Iowa caucuses, which kick off the presidential nominating process.

Thanks for reading CBS NEWS.
Create your free account or log in
for more features.